Protest Körpe: Quilting Together 'Real' and Digital Dissent in Kazakhstan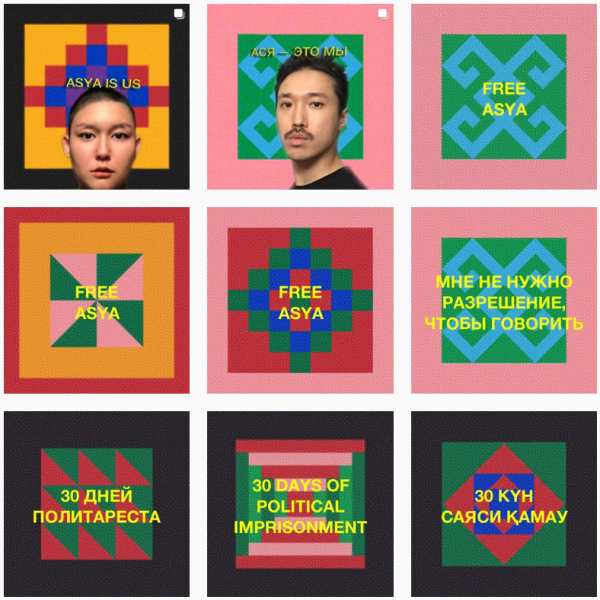 Every day this week, Almaty judges, a slate of cops-cum-wit­ness­es, and lawyers have logged into Zoom to hear crim­i­nal pro­ceed­ings against activist Asya Tulesova. Tulesova – who has been polit­i­cal­ly and civi­cal­ly active in Almaty for sev­er­al years – was arrested in June for "insulting a police officer" and "violence against the police," charges for which she faces three years in prison.
On August 5, quite a crowd showed up to sup­port Tulesova, both in vir­tu­al and phys­i­cal senses. More than 600 people tuned in to watch the court pro­ceed­ings – far more than could have fit in the Medeu dis­trict cour­t­house – while a siz­able crowd chant­ed, "Bostandyk, let her go!" on the building's steps. Online, some of the observers changed their avatars to tiny quilt squares; out­side, a few pro­test­ers held posters with tra­di­tion­al slo­gans, but others held quilted pillowcases and pieces of paper designed to mimic the pat­terns of tra­di­tion­al Kazakh quilt­ing.
The quilt – körpe in Kazakh – is quick­ly becom­ing the symbol of the moment, but at a deeper level it binds the dig­i­tal and real-world forms of par­tic­i­pa­tion in sup­port of Tulesova specif­i­cal­ly and a freer Kazakhstan more broad­ly. The bound­ary between vir­tu­al and "real" forms of civil soci­ety, polit­i­cal engage­ment, and jus­tice were never as neatly cleaved as social sci­en­tists have the­o­rized, but Tulesova's trial and the move­ment to free her are an impor­tant exam­ple of how the two modal­i­ties inter­act to serve broad­er social and polit­i­cal goals.
Aisha Jandosova, Irina Mednikova, Jeff Yu-Warren, and Kuat Abishev – friends of Tulesova's, and activists in their own right – orga­nized the social media project Protest Körpe to draw atten­tion to Asya's arrest. They invit­ed sup­port­ers to create quilt squares with slo­gans about Tulesova and the free­dom of assem­bly in Kazakhstan; when users posted their images to Instagram – and it's impor­tant that it's Instagram, given the platform's design – using a uni­fied hash­tag, they cre­at­ed a sort of "newsfeed quilt."
In an inter­view with KZ.MEDIA, the orga­niz­ers cited Aram Han Sifuentes's quilted protest banners and the AIDS Memorial Quilt as inspi­ra­tion. Other exam­ples of quilts as col­lec­tive memo­r­i­al and polit­i­cal projects abound world­wide. The Tribute to the Disappeared Virtual Memorial Quilt drew atten­tion to 43 miss­ing stu­dents from a col­lege in south­west­ern Mexico; Rohingya refugees collaborated on a quilt as a way to process trauma while pre­serv­ing a record of the hor­rors they expe­ri­enced in Myanmar; the African American Quilters of Baltimore have worked for years to build the Monument Quilt, stitch­ing sto­ries of rape and abuse onto red fabric.
Each quilt serves a dual pur­pose: The work of cre­at­ing the quilt offers a sense of agency to those whose sto­ries have been ignored, and the fin­ished prod­uct hangs in public, demand­ing society's atten­tion and a response from author­i­ties.
A sim­i­lar dynam­ic is at play with Protest Körpe. The results of var­i­ous actions – get­ting sev­er­al hun­dred people to make vir­tu­al quilt squares, for exam­ple – demand atten­tion from author­i­ties, but Protest Körpe's orga­niz­ers told The Diplomat that they are also hoping to cul­ti­vate a dif­fer­ent sense of civic belong­ing in Kazakhstan. "We want to shift the dis­course from a pas­sive 'I am against…' to 'I am for…' in the process of dream­ing up a freer and more just Kazakhstan," they said.
Skeptics of dig­i­tal activism say that vir­tu­al civil soci­ety is not a sub­sti­tute for "real" orga­ni­za­tions, and that par­tic­i­pat­ing in vir­tu­al move­ments – click­ing "like" on a cam­paign, adding a filter to one's pro­file pic­ture – are noth­ing more than "slack­tivism," giving people a feel-good sense of having par­tic­i­pat­ed that cannot ulti­mate­ly scale up to pres­sure author­i­ties to change.
While the vir­tu­al quilt is visu­al­ly inter­est­ing, it's ulti­mate­ly more than an aes­thet­ic gim­mick.
"Like a quraq körpe," the orga­niz­ers wrote in an early Instagram post. "Civic activism and pro­tec­tion of our rights depend on the voices and con­tri­bu­tions of each of us." Indeed, quilt­ing is an apt metaphor for col­lec­tive action, espe­cial­ly in con­texts where mass gath­er­ings – the tra­di­tion­al way polit­i­cal sci­en­tists think about suc­cess­ful social move­ments – are impos­si­ble, either pro­hib­it­ed by gov­ern­ment decree or dan­ger­ous because of the pan­dem­ic.
Diana Fu, an asso­ciate pro­fes­sor at the University of Toronto, pro­posed the concept of "disguised collective action" to describe mobi­liza­tion­al strate­gies that get around top-down restric­tions on public gath­er­ing and orga­nized chal­lenges to state power. On the sur­face, these activ­i­ties look like indi­vid­ual action – people who are frus­trat­ed with the system write let­ters and appeals to reg­is­ter their prob­lem – but just below, Fu finds that this atom­ized approach is a con­scious attempt to get around restric­tion of mass gath­er­ings and orga­nized oppo­si­tion.
Protest Körpe is doing some­thing sim­i­lar. In addi­tion to the hash­tag quilt, they've coor­di­nat­ed mass appeals to Kazakhstani author­i­ties on behalf of Tulesova. From July 27 to August 1, they over­saw a campaign to activate "pressure mechanisms on authorities" through petitions and appeals.
The orga­niz­ers con­sult­ed Google as well as local lawyers and human rights activists to figure out, "Who in our coun­try – even just on paper – should be defend­ing our rights? Who do we have the right to con­tact?" They decid­ed on Kazakhstan's Human Rights Commissioner, the city court, and the pres­i­dent. Their first step to get in touch with Kazakh President Kassym-Jomart Tokayev was through a petition – signed by 4,000 people – and then more direct­ly, by tag­ging him on Twitter and Instagram and using the e‑governance page of his web­site.
What's par­tic­u­lar­ly strik­ing about this ini­tia­tive is how Protest Körpe is demand­ing a free and fair trial through formal gov­ern­ment chan­nels. While the fea­ture for a "virtual appointment" on Tokayev's web­site might be crit­i­cized as noth­ing more than window dress­ing, Protest Körpe has basi­cal­ly forced the regime into a posi­tion to inter­vene on behalf of Tulesova or admit the chan­nel for com­mu­ni­ca­tion is a farce.
Oftentimes, schol­ars who study Eurasia empha­size the divide between "offi­cial" civil soci­ety that has reg­is­tered its oper­a­tions with the state, which pro­vides access to resources and rel­a­tive safety from oppres­sion but at the cost of self-cen­sor­ship and lim­it­ed room for cri­tique, and "unof­fi­cial" orga­ni­za­tions that make up the so-called gen­uine oppo­si­tion. These groups exist out­side the formal bureau­cra­cy of the state, which makes them vul­ner­a­ble to tar­get­ing but lets them oper­ate with­out having "sold out." Just like Protest Körpe is work­ing to bridge the gap between dig­i­tal and phys­i­cal forms of civic engage­ment, the move­ment shows that this silo­ing of non-gov­ern­men­tal orga­ni­za­tions is also ana­lyt­ic dead­weight.
Tulesova's trial has not yet fin­ished; although deci­sions for those arrest­ed the same day or in sim­i­lar con­texts don't paint an opti­mistic pic­ture for her, the sophis­ti­ca­tion of Protest Körpe's strat­e­gy and engage­ment show that civil soci­ety in Kazakhstan is grow­ing teeth.