Pets Are Testing Positive for Coronavirus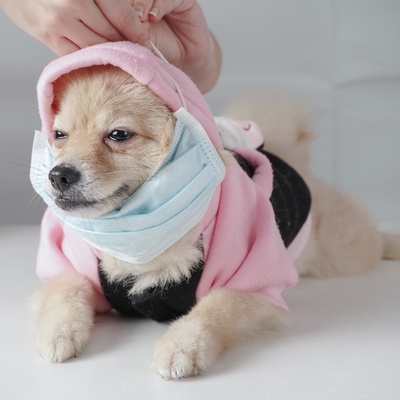 A dog in Louisiana this week tested pos­i­tive for SARS-CoV‑2, the eighth pet in the United States to fall ill with the virus that causes Covid-19 in humans.
"Initially, it was believed pets could not get the dis­ease," Mike Strain, Louisiana's com­mis­sion­er of agri­cul­ture and forestry, said in a statement announc­ing the pos­i­tive test result. "But the Centers for Disease Control (CDC) is now learn­ing that ani­mals can be infect­ed."
Citing pri­va­cy laws, the Louisiana Department of Agriculture and Forestry declined to release the name of the dog or its owner, or any infor­ma­tion about where they live.
Only a hand­ful of ani­mals have tested pos­i­tive for SARS-Cov‑2 since the virus was first con­firmed in the United States. Reported cases include four dogs (a pug in North Carolina, a German shep­herd in New York, a Yorkie in Texas and a shep­herd mix in South Carolina) and three cats (two in different parts of New York and one in Minnesota). Five tigers and three lions in New York City at the Bronx Zoo have also tested pos­i­tive, along with a hand­ful of pets in other coun­tries.
Every infect­ed animal either had mild symp­toms that could be treat­ed at home, or showed no symp­toms at all, accord­ing to the CDC. The risk of pets spread­ing Covid-19 to humans is low, and it's likely that pets with con­firmed cases of the virus caught it from their care­tak­ers.
"A small number of pets (cats and dogs) have been con­firmed to be infect­ed with the virus that causes Covid-19, mostly after close con­tact with a person with Covid-19," the agency says on its web­site. "None of the pets have died … There is no reason to aban­don or sur­ren­der pets that have been con­firmed pos­i­tive for the virus that causes Covid-19."
Testing is avail­able for most types of pets but is rec­om­mend­ed only for ani­mals that have Covid-19 symptoms—includ­ing fever, dif­fi­cul­ty breath­ing, eye dis­charge and lethar­gy — and have also been exposed to a human with a con­firmed case of the virus.
Care instruc­tions for pets that test pos­i­tive are sim­i­lar to the guide­lines rec­om­mend­ed for humans, includ­ing quar­an­ti­ning in a sep­a­rate area of the house and lim­it­ing con­tact with other people. Animals can resume their reg­u­lar activ­i­ties when sub­se­quent tests are neg­a­tive.
No spe­cial bathing or dis­in­fect­ing is nec­es­sary, accord­ing to the CDC. The agency's web­site specif­i­cal­ly cau­tions against wiping or bathing pets "with chem­i­cal dis­in­fec­tants, alco­hol, hydro­gen per­ox­ide or any other prod­ucts not approved for animal use."