Pakistani Navy Commissions New Damen Corvette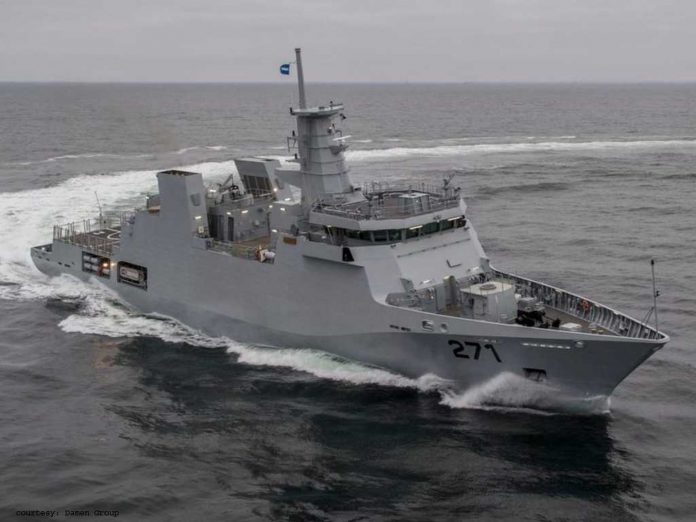 The Pakistan Navy has com­mis­sioned a 2300 Tonnes Corvette PNS YARMOOK (F‑271) – a Damen OPV 1900 – in a cer­e­mo­ny held at Constanta Port, Romania on 13th February 2020. Attending the event was Vice Admiral Muhammad Fayyaz Gilani HI (M), Vice Chief of the Naval Staff as Chief Guest. The cer­e­mo­ny was also attend­ed by teams from Ministry of Defense Production Rawalpindi, Chief Naval Overseer (Romania) and senior man­age­ment of Damen Shipyards Group.
Damen signed the con­tract with the Ministry of Defence Production for two mul­ti­pur­pose OPVs for the Pakistan Navy on 30th June, 2017, fol­low­ing a tender process.
Damen will deliv­er the Second vessel PNS TABUK (Designate) in May this year. PNS YARMOOK is capa­ble of per­form­ing a vari­ety of mar­itime oper­a­tions and can trans­port both a heli­copter and a UAV. The ship can launch two high speed RHIBs of 11.5 meters and 6.5 meters simul­ta­ne­ous­ly and also has the capa­bil­i­ty to accom­mo­date two TEUs for spe­cial mis­sion based oper­a­tions.
Speaking during the launch­ing cer­e­mo­ny, the Chief Guest high­light­ed the impor­tance of the Project for the Pakistan Navy and stated that the ves­sels will sig­nif­i­cant­ly enhance Pakistan Navy's capa­bil­i­ty to safe­guard its mar­itime bor­ders. The Chief Guest also acknowl­edged the pro­fes­sion­al com­pe­tence of Damen and the prospects of future coop­er­a­tion in deliv­er­ing cut­ting-edge naval tech­nolo­gies to the Pakistan Navy.
Damen con­struct­ed the PNS YARMOOK at its yard in Galati. The yard has built nearly 40 ves­sels for the defence and secu­ri­ty seg­ment, includ­ing the last seven com­plex naval ves­sels for the Royal Netherlands Navy and the Stefan cel Mare off­shore patrol vessel, the flag­ship of the Romanian Border Police, show­ing time and time again that is a trust­wor­thy and highly capa­ble inter­na­tion­al player in naval ship­build­ing.
Source: DefenceTalk.com