Malaysian Opposition Leader Anwar Plans New Government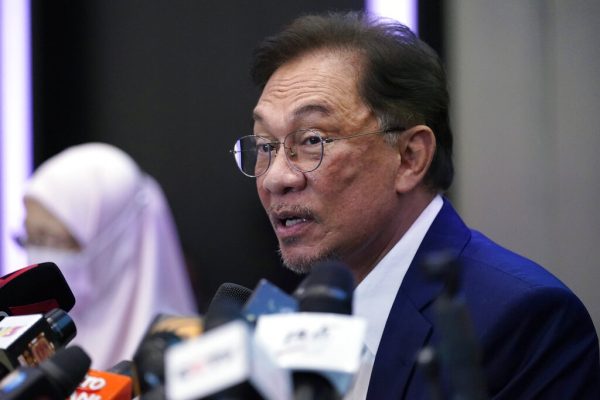 Malaysian oppo­si­tion leader Anwar Ibrahim said Wednesday he has secured a major­i­ty in Parliament to form a new gov­ern­ment that is "strong, stable and for­mi­da­ble."
Anwar said he has been grant­ed an audi­ence with the king Tuesday but it was post­poned because the king was in a hos­pi­tal for treat­ment. He said he will not reveal details until after he has met the king.
"Conclusively, we have a strong, for­mi­da­ble major­i­ty. I am not talk­ing about four, five or six … but much more than that," Anwar said. "With a clear and indis­putable sup­port and major­i­ty behind me, the gov­ern­ment led by … Muhyiddin Yassin has fallen."
There was no imme­di­ate response from Muhyiddin, who is due to give a tele­vised speech later Wednesday. Muhyiddin has been grap­pling to main­tain sup­port amid infight­ing in his coali­tion that has just a slim two-seat major­i­ty.
Science and Technology Minister Khairy Jamaluddin coun­tered Anwar's claim. He tweet­ed a pic­ture of the Cabinet meet­ing, saying: "Cabinet meet­ing just ended. Nothing col­lapsed or fell."
Anwar said his gov­ern­ment will not be an unelect­ed one. He said it will restore his alliance that was elect­ed in 2018 but col­lapsed after Muhyiddin with­drew his party and tied up with cor­rup­tion-taint­ed oppo­si­tion par­ties to form a Malay-cen­tric gov­ern­ment in March.
If Anwar suc­ceeds, it will mark a dra­mat­ic come­back for the politi­cian after his roller-coast­er polit­i­cal jour­ney since the 1990s.
Once a high flyer in the ruling party, Anwar was con­vict­ed of homo­sex­u­al sodomy and cor­rup­tion after a power strug­gle with then-Prime Minister Mahathir Mohamad in 1998. He was impris­oned for a second time for sodomy in 2014.
Anwar and his sup­port­ers have long denied the sodomy alle­ga­tions, saying they were con­coct­ed to destroy his polit­i­cal career. Yet rather than give up, Anwar ended his feud with Mahathir from his prison cell and joined him to estab­lish a new oppo­si­tion alliance that won a stun­ning vic­to­ry in May 2018 nation­al elec­tions. Mahathir became pre­mier a second time. Anwar was freed with a royal pardon days after the polls and was Mahathir's des­ig­nat­ed suc­ces­sor before their alliance fell apart.