Long-Shut Factory Helps COVID-Struck Afghans Breathe Free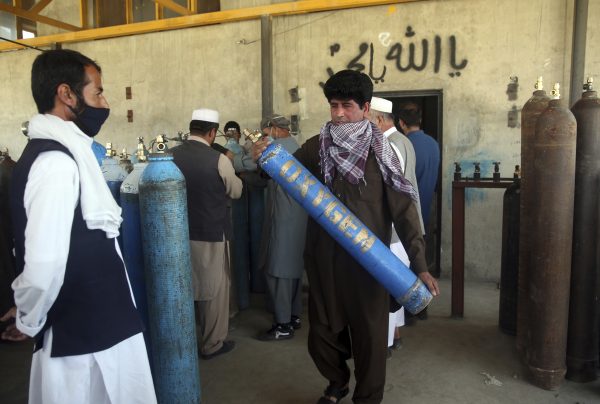 Seven years ago, Najibullah Seddiqi closed his oxygen fac­to­ry, frus­trat­ed with power cuts and with ram­pant cor­rup­tion that kept him from get­ting con­tracts with hos­pi­tals.
But as the coro­n­avirus raced through Afghanistan, he knew he had to help.
"I saw a man crying for his wife who died from coro­n­avirus due to lack of oxygen," Seddiqi said. "That moment I made the deci­sion to reopen my fac­to­ry."
Now rel­a­tives of Afghans ailing with COVID-19 line up at his fac­to­ry in the cap­i­tal city of Kabul for free refills that can keep their loved ones alive.
Afghanistan has strug­gled with short­ages of med­ical oxygen under the pan­dem­ic. The coun­try gets its oxygen cylin­ders from abroad. Until recent­ly, imports were halted by sealed bor­ders.
Prices for new can­is­ters have sky­rock­et­ed 10-fold, to 20,000 Afghanis ($250). With people stock­pil­ing as much as they can, the price to refill a can­is­ter is now 2,000 Afghanis, or $25, five times what it once was. Many accuse retail­ers of price goug­ing and the gov­ern­ment of fail­ing to ensure a supply.
So Seddiqi's free ser­vice is a god­send for the many poor hit by the virus. Minivans of people bring­ing cylin­ders roll in as word of the dis­tri­b­u­tion spreads on social media.
"This fac­to­ry is doing great work offer­ing it for free," said Bilal Hamidi as he waited on the crum­bling con­crete floor.
Hamidi said he fills three small cylin­ders a day for his broth­er, who was infect­ed while caring for their mother. She died of COVID-19 in early June.
The fac­to­ry, closed and long idle, is dusty. Parts are run-down. But when Seddiqi reopened the doors to resume pro­duc­tion, every­thing still worked.
"I'm happy I didn't sell these machines," said Seddiqi, who also owns an ice fac­to­ry.
He hired 12 men, work­ing in two shifts. Seddiqi even moved in tem­porar­i­ly so he's always on hand: "I'm wor­ried that I go home and some­one in intense need comes late at night and doesn't find anyone to help them."
His fac­to­ry refills 200 to 300 small cylin­ders a day free for COVID-19 patients. For hos­pi­tals and retail sell­ers, he fills close to 700 large cylin­ders a day for 300 Afghanis each, or $3.80. That's far cheap­er than the going rate but it's enough to cover his free dis­tri­b­u­tion, he said.
Retailers insist they are not jack­ing up prices. Imports of cylin­ders from the United Arab Emirates and China stopped for months amid pan­dem­ic restric­tions. They recent­ly resumed, but "unbal­anced supply and demand has caused prices to rise," said Khanjan Alkozai, a board member at the Afghanistan Chamber of Commerce and Industry.
Afghan media report­ed last week that sev­er­al COVID-19 patients died in gov­ern­ment hos­pi­tals due to lack of oxygen, though the gov­ern­ment denied it.
Lawmaker Fatima Aziz, who has been infect­ed by the coro­n­avirus, posted a video from her bed, an oxygen tube in her nose. She blamed cor­rup­tion and gov­ern­ment fail­ures.
"People lose their life for two drops of oxygen," she said. "I curse all the mafias in this busi­ness that take advan­tage."
The Health Ministry's deputy spokes­woman, Masooma Jafari, said short­ages at hos­pi­tals are being resolved. She said the Health Ministry ordered oxygen fac­to­ries to give the health sector pri­or­i­ty over indus­try.
Seddiqi's fac­to­ry is one of six in Kabul that pro­duce oxygen — but his is the only one giving free refills.
"My only aim is to save as many lives as I can," he said. "When the virus spread ends, then I'll go home."
By Tameem Akhgar for the Associated Press