Life on Venus? Breakthrough Initiatives Funds Study of Possible Biosignature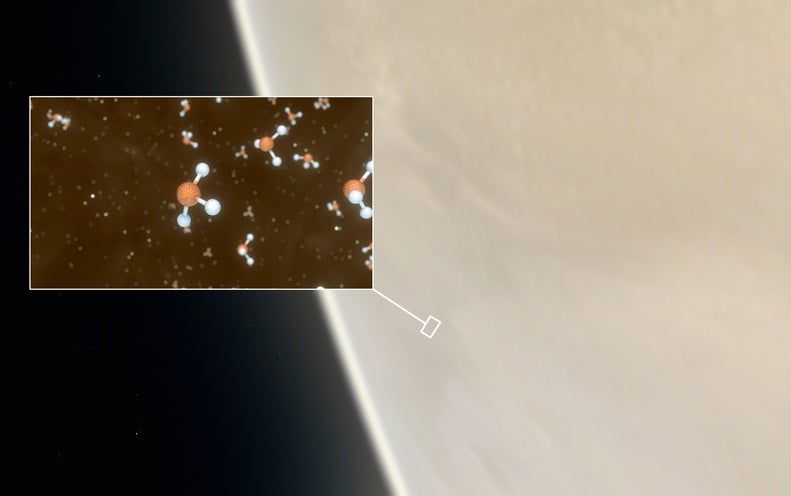 The detec­tion of a possible sign of life in Venus' clouds is just the begin­ning.
On Monday (Sept. 14), researchers announced that they'd spot­ted the fingerprint of phosphine in Venus' atmosphere, at an alti­tude where tem­per­a­tures and pres­sures are sim­i­lar to those here on Earth at sea level.
On our planet, phos­phine is pro­duced only by microbes and by human indus­tri­al activ­i­ty, as far as we can tell. So, find­ing the gas on anoth­er world, in an envi­ron­ment that astro­bi­ol­o­gists had already flagged as potentially habitable, is excit­ing news indeed.
But it's unclear at the moment what the new results actu­al­ly mean, dis­cov­ery team mem­bers stressed. Venusian microbes may be emit­ting the phos­phine, but it's also pos­si­ble that the stuff is being gen­er­at­ed by exotic chem­i­cal reac­tions that we don't under­stand, and that have noth­ing to do with life.
"We have what could be a biosig­na­ture, and a plau­si­ble story about how it got there," Pete Worden, exec­u­tive direc­tor of the non­prof­it Breakthrough Initiatives, said in a state­ment. "The next step is to do the basic sci­ence needed to thor­ough­ly inves­ti­gate the evi­dence and con­sid­er how best to con­firm and expand on the pos­si­bil­i­ty of life."
The Breakthrough Initiatives will help sci­en­tists take that next step, by fund­ing a team to study the phos­phine find and its poten­tial impli­ca­tions in detail. The researchers will be led by MIT plan­e­tary sci­en­tist Sara Seager, an expert on exoplanet atmos­pheres and poten­tial biosig­na­tures who's also a member of the phos­phine dis­cov­ery team.
"The group will inves­ti­gate the sci­en­tif­ic case for life and ana­lyze the tech­ni­cal chal­lenges of an explorato­ry mis­sion in the event that such evi­dence proves com­pelling," Breakthrough Initiatives rep­re­sen­ta­tives said in the state­ment, which did not reveal how much money will be dis­bursed or how long the study will last.
"We are thrilled to push the enve­lope to try to under­stand what kind of life could exist in the very harsh Venus atmos­phere and what fur­ther evi­dence for life a mission to Venus could search for," Seager said in the same state­ment.
To give you an idea of how harsh that atmos­phere is: Venusian clouds are com­posed pri­mar­i­ly of sul­fu­ric acid, which would likely kill Earth-like microbes quick­ly unless they were sur­round­ed by some sort of pro­tec­tive shell, Seager said during a press con­fer­ence yes­ter­day.
But Venus life, if it exists, does not have to be Earth-like. Microbes may have arisen inde­pen­dent­ly on the second rock from the sun, in which case they'd be very dif­fer­ent than the water-depen­dent organ­isms on our planet. (And if Venus microbes do indeed rep­re­sent a "second genesis," we could be pretty sure that life is common through­out the uni­verse.)
Seager will be the newly announced project's prin­ci­pal inves­ti­ga­tor (PI). Joining her on the lead­er­ship team are:
Janusz Petkowski of MIT (deputy PI);
Chris Carr of the Georgia Institute of Technology;
Bethany Ehlmann of the California Institute of Technology;
David Grinspoon of the Planetary Science Institute, a long-time and lead­ing advo­cate for the idea that Venus' clouds are a pos­si­ble abode for life;
Pete Klupar of the Breakthrough Initiatives (chief engi­neer).
The new project is a nat­ur­al fit for the Breakthrough Initiatives, a five-year-old series of sci­ence pro­grams found­ed and funded by tech bil­lion­aire Yuri Milner that aims to help answer some of humanity's biggest ques­tions.
Other projects funded by the Initiatives include Breakthrough Listen, a $100 mil­lion effort to scan the cosmos for signs of extrater­res­tri­al intel­li­gence, and the $100 mil­lion Breakthrough Starshot, which is devel­op­ing tech­nol­o­gy to explore nearby exo­plan­ets up close with tiny robot­ic probes.
"Finding life any­where beyond Earth would be truly momen­tous," Milner said in the same state­ment. "And if there's a non-neg­li­gi­ble chance that it's right next door on Venus, explor­ing that pos­si­bil­i­ty is an urgent pri­or­i­ty for our civ­i­liza­tion."
Copyright 2020 Space.com, a Future com­pa­ny. All rights reserved. This mate­r­i­al may not be pub­lished, broad­cast, rewrit­ten or redis­trib­uted.