Kuwaiti F/A-18E Super Hornet Photographed in Its New Low-Visibility Livery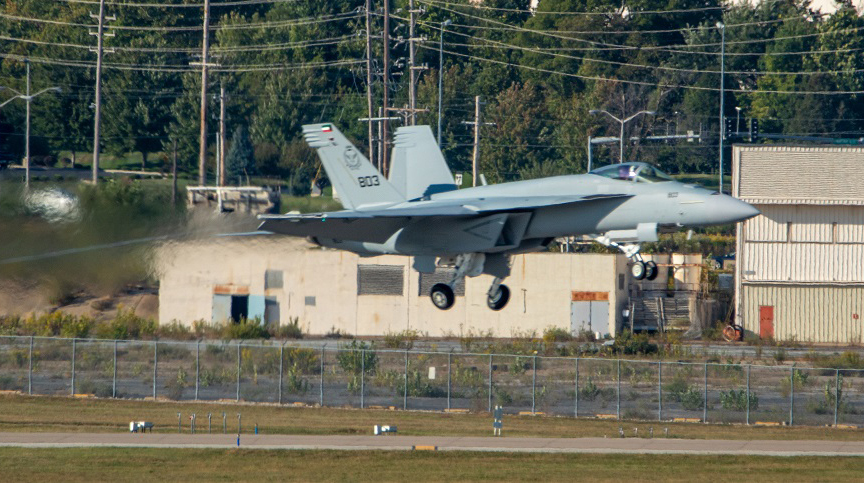 One of the first F/A-18Es Super Hornet for the Kuwait Air Force has recently been photographed sporting its new low-visibility livery while taking off for a flight from Boeing's plant at Lambert International Airport in St. Louis. The photos, sent us by aviation photographer Bryan Baisley (check out his Instagram page @militaryplanespotting), show the aircraft with modex 803 and Bu.No. 169708, which is the first Kuwaiti jet to be seen painted but the second (that we know of) to fly. According to reports, the first one to be spotted was a two-seats F/A-18F, Bu.No. 169731, that flew with only its primer paint in July.
Apart from the change from the classic three-tone livery to a low-visibility livery, the details remain the same, with the flag of Kuwait, the insignia and modex in the same positions already seen on the country's F/A-18C "Legacy Hornet". According to FlightGlobal World Air Forces 2020 report, Kuwait has currently 27 F/A-18Cs and 7 F/A-18Ds in service, all based at Ahmad al-Jaber Air Base.
The government of Kuwait ordered 28 Super Hornets in 2018, of which 22 single-seat F/A-18E and 6 two-seats F/A-18F. Initially, an order for 40 aircraft was expected, however it was decided to return to a two-type frontline with an order also for 28 Eurofighter Typhoons. The Kuwait Air Force has been flying with an F/A-18C/D single-type frontline since the retirement of Mirage F1Ks and A-4KUs Skyhawks after the Gulf War.
The configuration of the Kuwaiti Super Hornet is not exactly a Block III, but it could be a close match. The details have not been disclosed, however Boeing's officials said in 2018 that the Kuwaiti jets will have many features in common with the U.S. Navy Block 3 jets, including the new cockpit with Large Area Displays.
Among the features that were disclosed in the Defense Security Cooperation Agency request for a Foreign Military Sale (FMS) we can find the APG-79 AESA radar, Sniper and ATFLIR targeting pods, ALE-55 Fiber-Optic Towed Decoys, ALQ-214 IDECM radio frequency countermeasures, Link 16 and Conformal Fuel Tanks (CFT).
Meanwhile, for comparison, the advanced cockpit station & large area display of the Boeing Block III Super Hornet – which flew earlier this year. #avgeek #TacFighterTues pic.twitter.com/d5w8iXGl12

— Tim Robinson (@RAeSTimR) May 14, 2019
Meanwhile, the U.S. Navy is testing the first two F/A-18s, and E model and an F model, with limited Block III features that will be used for carrier suitability testing, mission systems checkout and air crew familiarization at NAS Patuxent River and Naval Air Weapons Station (NAWS) China Lake. The service should receive the first of 72 fully configured Block III Super Hornets by the end of the year.
As mentioned before, Kuwait is also set to receive 28 Typhoons, 22 single-seat and twin-seats like the Super Hornets. The Typhoons will be equipped with the first variant of the Captor E AESA radar, the ECRS Mk 0, together with P3Eb (Phase 3 Enhancements Package b) multi-role features and the Sniper Advanced Targeting Pod, in what is considered the most advanced Typhoon in production. This specific configuration was developed and tested in Italy using the Typhoon ISPA 6 (Instrumented Series Production Aircraft). Deliveries are set to start this year and will be completed in 2023, while the Super Hornets are due for delivery by 2022.
Thanks again to Bryan Baisley for the photos he sent us and make sure to follow him on Instagram @militaryplanespotting for more!