Jolted by Her Own Illness, Pandemics Scholar Gains Insight Into Botched COVID-19 Response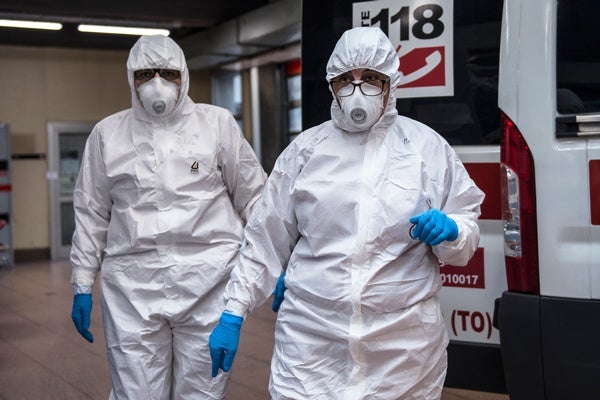 After she arrived at Stevens Institute of Technology six years ago, Theresa MacPhail quick­ly became a friend and go-to source for advice on nasty virus­es. I did a Q&A with Theresa on the 2014 Ebola out­break, and I start­ed get­ting flu shots because she told me I'd be an idiot not to. She is a med­ical anthro­pol­o­gist, with a Ph.D. from the University of California, Berkeley, who spe­cial­izes in global respons­es to pan­demics. As part of her thesis research, she spent a year embed­ded with the Centers for Disease Control, and she was in Hong Kong in 2009 when the H1N1 influen­za out­break occurred. She wrote a book about the global response to that pan­dem­ic. Early in March, Theresa became ill, prob­a­bly because she'd been infect­ed by the new coro­n­avirus, Sars-Cov‑2, which causes the dis­ease called COVID-19. She can't be sure, because she couldn't get tested. She's still strug­gling with symp­toms. She's also teach­ing, taking calls from VICE and other media and writ­ing a book on aller­gies for Random House. And yet she still took the time to answer my ques­tions about our cur­rent crisis. – John Horgan
Horgan: When did you first hear about COVID-19, and what was your reac­tion?
MacPhail: I saw it on Pro-Med in early January. [Just in case you don't know what that is, this is descrip­tion from their web­site: The Program for Monitoring Emerging Diseases (ProMED) is a pro­gram of the International Society for Infectious Diseases (ISID). ProMED was launched in 1994 as an Internet ser­vice to iden­ti­fy unusu­al health events relat­ed to emerg­ing and re-emerg­ing infec­tious dis­eases and toxins affect­ing humans, ani­mals and plants. ProMED is the largest pub­licly-avail­able system con­duct­ing global report­ing of infec­tious dis­eases out­breaks.]
I remem­ber think­ing that it was inter­est­ing, but the ini­tial data coming out of China didn't worry me. I was con­fi­dent that the Chinese CDC and the Chinese gov­ern­ment would handle it, since they have a strong system for deal­ing with out­breaks due to their past expe­ri­ences with SARS (2003) and occa­sion­al out­breaks of avian influen­za. The ini­tial case infor­ma­tion also made this look sim­i­lar to a very bad influen­za strain — obvi­ous­ly much worse than normal, sea­son­al flu, but noth­ing as bad as a strain of avian influen­za like H5N1 would be. I didn't think much about it, other than keep­ing an eye on it.
Horgan: How has your think­ing about the pan­dem­ic evolved since then?
MacPhail: Well, it's changed quite a bit. Initially, I had con­fi­dence that the US CDC would do what they always do — handle the sit­u­a­tion and pro­vide local and region­al public health depart­ments with guid­ance and sup­port. Those of us not cur­rent­ly work­ing in public health didn't know what every­one work­ing inside those cir­cles did: we didn't have viable tests. The ini­tial fail­ure of the CDC's test kits — the assays they had sent to labs across the nation — wasn't read­i­ly avail­able knowl­edge at first. I don't think any of us — and by "us" I mean the gen­er­al public — really under­stood what was going on behind the scenes during the early weeks of January, after China had released the genet­ic infor­ma­tion of the new Sars-Cov‑2 virus. The scram­ble to get test­ing up and run­ning wasn't imme­di­ate­ly obvi­ous to anyone.
Because I had such a good per­spec­tive on our nation­al response to the 2009 H1N1 pan­dem­ic, and knew how well we had respond­ed then, I was over­con­fi­dent that our response to this pan­dem­ic would be sim­i­lar. I felt as though we had "drilled" for this event and that we would be ready. I could not have been more wrong. It's clear to me NOW that we weren't ready and that we didn't have any con­tin­gency plans for when the CDC's test­ing kits failed. The usual pro­to­cols that involve the CDC and the FDA giving approval to devel­op and use tests were not lifted, which seems to have cre­at­ed an odd — and dis­as­trous — delay in get­ting test­ing capa­bil­i­ties up and run­ning through­out the coun­try.
I should say this, how­ev­er, in some defense of what hap­pened. In 2009, what we were deal­ing with was a very dif­fer­ent virus. We had what are called "point of care" diag­nos­tic tests avail­able very early on that required no spe­cial­ized skills or equip­ment to run. Point of care simply means that the tests are avail­able at the site of care; they don't have to be shipped to a sep­a­rate lab­o­ra­to­ry to be per­formed. Now, with Sars-Cov‑2, it's a very dif­fer­ent story. We don't have point of care test­ing avail­able. These tests require spe­cial equip­ment and spe­cial skills and need to be per­formed in a lab­o­ra­to­ry set­ting. Or its equiv­a­lent. And that com­pli­cat­ed things. I still think that we have done a ter­ri­ble job in rela­tion­ship to test­ing, but there were rea­sons for this.
Horgan: You've been ill recent­ly. First, are you feel­ing better? Second, has your per­son­al expe­ri­ence, and espe­cial­ly your attempt to get tested for COVID-19, shaped your schol­ar­ly view of what's hap­pen­ing?
MacPhail: Yes, my think­ing has changed a great deal because of my own expe­ri­ence. I came down with a viral infec­tion on March 1. It start­ed with a sore throat and fatigue. By the 5th day of the ill­ness, I had a fever of 102.5 and for 5 days, that fever never dipped below 100 degrees, despite taking copi­ous amounts of fever reduc­er. I ended up in the ER on March 9 with a fever, dry cough, and tight­ness in the chest. They gave me a flu test — which came back neg­a­tive — and a strep test — also neg­a­tive. I had a chest x‑ray that looked clear, so I was put on a neb­u­liz­er for 30 min­utes, given a steroid short-burst to help with my breath­ing, as well as an inhaler. I was sent home to quar­an­tine. Things pro­gressed and I got more and more con­gest­ed — both nasal and chest con­ges­tion. I went back to urgent care and no tests for Sars-Cov‑2 were avail­able. This was on March 15. The doctor on call at urgent care said she would have tested me if she could, but she had zero kits avail­able. Because I am "low-risk", my reg­u­lar physi­cian, who does have lim­it­ed test­ing avail­able, could not waste one of the test kits on me. I still haven't been tested. It's March 26 and I am slowly recov­er­ing, but still con­gest­ed.
I start­ed to panic about our response after my ER trip on March 9. At that point, I knew we were botch­ing this response. The most impor­tant thing is test­ing. You can't combat or design effec­tive public health respons­es for what you can't see. Where are the hotspots? How big is the prob­lem? It was clear to me that we didn't — and could­n't — know. Thank god for mod­el­ing and bio­sta­tis­ti­cians. Without them, we'd have almost noth­ing to go on. We don't know if the num­bers we're seeing are accu­rate, but they're better than noth­ing. Still, with­out test­ing, we're stuck social­ly iso­lat­ing. Only mas­sive test­ing will make it pos­si­ble to return to "life as normal." And I don't have hopes of that any­time soon. I truly don't under­stand it. Other coun­tries have done so much better than us on this front. Here in NYC, I feel like it's too late. We'll have to do mas­sive test­ing to pre­vent the second wave.
Horgan: Stanford epi­demi­ol­o­gist John Ioannidis has sug­gest­ed that the U.S. might be over­re­act­ing to the virus, given how little data we have. Comment?
MacPhail: He's not wrong about the lack of data, but he's wrong about over­re­act­ing. I think if you look at the data we do have, from sev­er­al coun­tries now, it's clear that this sit­u­a­tion is very bad and will quick­ly over­whelm our hos­pi­tal system. To be honest, I was closer to his stand­point in early January. But we didn't have a clear pic­ture. Now we do. No one should be pooh-poohing this virus at this stage of the game.
Horgan: What wor­ries you most about the pan­dem­ic and our response to it now?
MacPhail: I worry about the lack of a coher­ent nation­al response. I worry that states are doing what they want, and not nec­es­sar­i­ly doing what they should. Usually, the CDC would be pro­vid­ing guid­ance and orches­trat­ing a nation­al response. That's not hap­pen­ing.
I also worry that we're not pre­pared — in any way — for an extend­ed response. This is going to be months, not weeks. There will likely be a second wave. A third wave. We need a vac­cine, but we need a coher­ent plan until we get one. We also don't know what a second wave would look like. Again, that's why we need test­ing on a mas­sive scale. So that we can get in the way of the second wave.
Horgan: What heart­ens you, if any­thing?
MacPhail: Well, I know how ded­i­cat­ed most health­care work­ers are. I know that they're out there, doing every­thing they can. And I know that sci­en­tists around the globe are doing their best. They're in their labs, nearly killing them­selves to make assays, to do test­ing, to study this virus and come up with a solu­tion.
I also am heart­ened by the local respons­es I've seen. A bunch of young New Yorkers vol­un­teer­ing to buy gro­ceries for the elder­ly and immuno­com­pro­mised, adher­ing to best prac­tices to pre­vent con­t­a­m­i­nat­ing the deliv­er­ies. Just people step­ping into the gap, doing what they can.
Horgan: If you were the Pandemic Czar, what would you advise President Trump to do right now?
MacPhail: No offense to your read­ers, but I'd tell him to shut up for a minute. Let the CDC lead. Let Anthony Fauci lead. Most of the talk­ing and plan­ning and deci­sion-making should be left up to experts. He should give them free rein and sup­port them. He should be echo­ing their advice and let­ting Americans know that our health is of vital impor­tance. After all, if we're not healthy, there is no econ­o­my.
Going for­ward, I think the CDC should be insu­lat­ed from polit­i­cal influ­ence of any kind. I don't think we've done a good enough job of sep­a­rat­ing out sci­ence from state. Places like the NIH and the CDC should large­ly be autonomous bodies with fed­er­al over­sight, run by experts in their respec­tive fields who are elect­ed by their peers, not polit­i­cal­ly appoint­ed. That's just my two cents.
Horgan: What would you rec­om­mend to pro­tect us against future pan­demics?
MacPhail: Three words: Fund public health.
Fund public health pro­grams the way we fund nation­al defense pro­grams. Because, well, public health is nation­al defense…against deadly pathogens.
We know what to do. We just don't do it. We react to things like SARS or HIV and then, once they dis­ap­pear or become more man­age­able, we go back to acting like we're invul­ner­a­ble. In between pan­demics, we pre­tend there's no prob­lem. But people in public health have been warn­ing us some­thing like this was going to happen. They've been warn­ing us for decades.
Horgan: Has any non-author­i­tar­i­an coun­try han­dled the coro­n­avirus espe­cial­ly well?
MacPhail: Germany seems to be doing okay. And, of course, South Korea.
During the 2009 pan­dem­ic, I often heard people in public health joking — but then also not joking — that they wished they had China's abil­i­ty to just force cit­i­zens to do the right thing. China does­n't have to worry about whether or not people line up to get vac­ci­nat­ed; they can just enforce vac­ci­na­tion. I don't think any of the people who made these jokes actu­al­ly want to live under an author­i­tar­i­an regime, but they were envi­ous of China's abil­i­ty to mobi­lize and get things done.
Pandemics tend to make every­one a little more author­i­tar­i­an, at least tem­porar­i­ly. It's a nec­es­sary evil. People aren't always going to stay home vol­un­tar­i­ly, or close their shop will­ing­ly. The trick is bal­anc­ing out those excep­tion­al powers and making sure that they don't become the rule.
Horgan: Experts have offered a broad range of esti­mates about how long we're going to have to prac­tice social dis­tanc­ing to defeat this virus. Care to offer a guess?
After being so wrong about my pre­dic­tions in January and February, I don't even want to hazard a guess. I'd say 2 – 3 months at a min­i­mum. It all depends, really, on how fast we can get mas­sive-scale test­ing up and run­ning. That way we can target iso­la­tion and quar­an­ti­ning prac­tices.
Horgan: We're all sat­u­rat­ed with news about the coro­n­avirus now. Is there any­thing that it's espe­cial­ly impor­tant for us to know?
MacPhail: That there's still a lot of uncer­tain­ty. There's a lot more that we know, but we still don't know a lot about this virus. We're still learn­ing.
Horgan: I wrote a column laying out pos­i­tive pos­si­ble out­comes of this pan­dem­ic. Can you envi­sion any upside?
MacPhail: Yes, I can. I think we're all going to have to rethink our rela­tion­ship to each other. This has made clear that there's a limit to American indi­vid­u­al­ism. We live and sur­vive in inter­con­nect­ed com­mu­ni­ties. We ran out of toilet paper in one minute. We can't sur­vive alone.
Also, I think we'll need to reex­am­ine our work cul­ture. We may get paid sick leave for every­one out of this. And the brava­do of work­ing through an ill­ness? That should change. We need to stay home when we're sick and wear masks in public if we can't. Again, it's a shift from think­ing about our­selves all the time, to think­ing about our com­mu­ni­ties and neigh­bors.
And, final­ly, if these events aren't the best damn argu­ment for uni­ver­sal health­care that I've ever seen, then I don't know what else is.
Further Reading:
Ebola "Fear Mongering" Critiqued by Medical Anthropologist
The Coronavirus and Right-Wing Postmodernism
See also my free, online book Mind-Body Problems: Science, Subjectivity & Who We Really Are.
Read more about the coro­n­avirus out­break here.