Jaswant Singh and George Nathaniel Curzon: The Minister and the Viceroy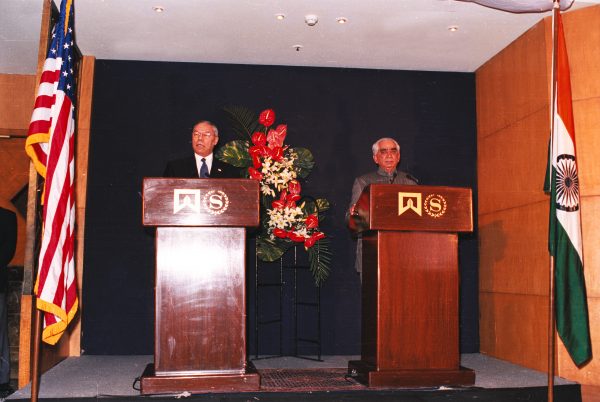 Veteran Indian politi­cian Jaswant Singh – who, during the Atal Bihari Vajpayee-led National Democratic Alliance gov­ern­ments, var­i­ous­ly served as the country's exter­nal affairs, defense, as well as finance min­is­ters between 1996 and 2004 – died on September 27 after a pro­longed ill­ness, leav­ing behind a sto­ried legacy. Present at cre­ation – to borrow the title of former U.S. Secretary of State Dean Acheson's mem­oirs – Singh's tenure at the helm of India's for­eign min­istry, as well as work as Vajpayee's inter­locu­tor with the U.S., was during a time India deci­sive­ly rene­go­ti­at­ed its place in the world, as a brash nuclear power realign­ing itself to the real­i­ties of American mil­i­tary unipo­lar­i­ty while the specter of global Islamist ter­ror­ism loomed large.
It also came at a time of sig­nif­i­cant ten­sions with Pakistan but also, para­dox­i­cal­ly, pos­si­bil­i­ty of peace with that coun­try. It was, above all, during the Vajpayee era that New Delhi went back to the draw­ing board about India's place in the world, shaped by incip­i­ent eco­nom­ic and mil­i­tary might — a project that con­tin­ues to date with anoth­er Bharatiya Janata Party (BJP) gov­ern­ment at the helm.
And it was in this task that Singh, a found­ing member of the BJP — a party not nor­mal­ly pre­dis­posed to think­ing highly of the colo­nial British Raj and its rep­re­sen­ta­tives — found an unlike­ly source of inspi­ra­tion –– in George Nathaniel Curzon, a former viceroy of British India between 1898 and 1905 and, later, Britain's for­eign sec­re­tary. While Curzon was and is widely reviled in India for his role in par­ti­tion­ing (what was then called) the Bengal Presidency in 1905, it was a lecture of Singh's in 2002 and, sub­se­quent­ly, ana­lyst C. Raja Mohan's expli­ca­tion of Singh's thinking in several articles, that the former viceroy once again became a source of inspi­ra­tion for grand strate­gists of India.
At the heart of these efforts were two lec­tures by Curzon, one in 1907 in Oxford and the other, two years later, in Edinburgh. Both dwelt on the chal­lenges of fron­tiers for the Raj; ques­tions raised in both remain unre­solved for con­tem­po­rary India: How does one settle fron­tiers with recal­ci­trant neigh­bor­ing powers, because set­tled they must be? What role should res­o­lu­tion of fron­tier dis­putes play for a coun­try whose nat­ur­al sphere of influ­ence, by dint of mar­itime geog­ra­phy, is expan­sive? How should India manage its con­tra­dic­to­ry inter­ests simul­ta­ne­ous­ly?
Speaking in January 2002, Singh quoted Curzon's 1907 lec­ture but added a twist: Not all fron­tiers, unlike Curzon's time, are phys­i­cal – some are eco­nom­ic, for exam­ple, but like blurred lines on maps mark over­lap­ping sov­er­eign equi­ties. In fact, Singh's con­tem­po­ra­ne­ous con­cern was what hap­pens when polit­i­cal fron­tiers dis­solve – as they did with the European Union – mark­ing "the begin­ning of the end of a phase of 'polit­i­cal geog­ra­phy' of the Earth," as he put it. Remember Singh was speak­ing at a time when the EU seemed to be on a solid foot­ing, old European cur­ren­cies been replaced by a common Euro just ear­li­er that month in 12 coun­tries. Without China's push into the west­ern Pacific, or Russia's into Georgia or Crimea, yet to happen bor­ders looked "large­ly invi­o­late," as he assumed them to be.
The view that ana­lysts who, con­se­quent­ly, set out to explore the impli­ca­tions of Singh's "neo-Curzonianism" was ulti­mate­ly that of a sphere of soft hege­mo­ny for India in its epony­mous ocean, where New Delhi aligns itself with mul­ti­ple powers to devel­op an "India Center" (inspired by Curzon's other, 1909, lec­ture). In this frame­work, India's tra­vails with Pakistan were to be man­aged by blunt­ing the "razor edge" that the India-Pakistan Line of Control (LoC) in Kashmir formed which could – and did lead – to war between the two. (Remember that while Singh was deliv­er­ing his lec­ture, the Indian mil­i­tary was mobi­lized to fight a war with Pakistan fol­low­ing a seri­ous ter­ror­ist attack on the Indian Parliament the month before.) This, according to Singh and others, could be through con­vert­ing the LoC into a per­ma­nent border (which'd involve both coun­tries relin­quish­ing claims over ter­ri­to­ry the other admin­is­ters) or "soft­en­ing" it to allow much greater flow of people and trade between the two and there­by making it irrel­e­vant.
As I noted in these pages last month, by the middle of 2016 this cru­cial com­po­nent of the neo-Curzonian vision was all but dis­card­ed, instead, for a vari­ety of rea­sons, Curzon's original emphasis on phys­i­cal fron­tiers and bor­ders once again rising to the fore. Since then, as India has sought to deci­sive­ly tame its fron­tiers, "the worst it has gotten for the coun­try in terms of expen­di­ture of mil­i­tary and diplo­mat­ic efforts direct­ed at con­tain­ing the fall­out of such deci­sions," I wrote – a ver­i­ta­ble para­dox.
At the same the ques­tions around pro­tec­tion of non-phys­i­cal fron­tiers — of trade, eco­nom­ics and influ­ence — that Singh raised in his 2002 lec­ture has also become increas­ing­ly promi­nent for New Delhi, not the least because of struc­tur­al cir­cum­stances. India's China chal­lenge – as the Modi gov­ern­ment now sees it – is as much a matter of pro­tect­ing (or assert­ing) the non-phys­i­cal fron­tier as it is defend­ing the phys­i­cal, the two being inter­linked. Over the summer, as the People's Liberation Army showed no signs of back­ing down in Ladakh, India has for­bid­den auto­mat­ic flow of for­eign direct invest­ment from China, banned Chinese apps, and hinted at the exclu­sion of Chinese firms from 5G trials – all due to national-security concerns.
At one point in his 2002 lec­ture, Singh described Curzon noting that the "most urgent task of Foreign Ministers was the con­clu­sion of fron­tier con­ven­tions so that sources of dis­cord could be elim­i­nat­ed by an adjust­ment of rival inter­ests…" How his suc­ces­sor – the cur­rent India External Affairs Minister, who described Singh as having influenced him the most – man­ages to do so, with China but also Pakistan, remains to be seen.
But Curzon lives on in India – for better or worse.