India's Chinese App Ban Is Just the Beginning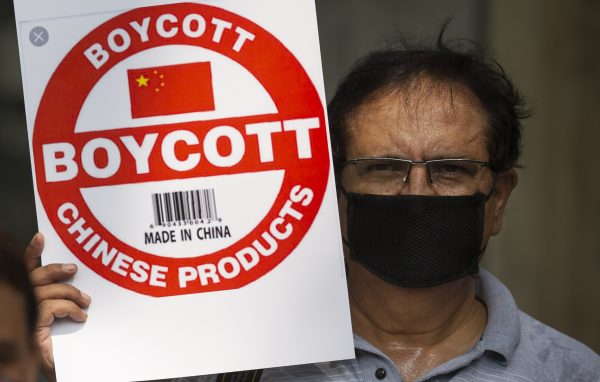 While the jury is still out on whether there has been a Chinese incur­sion in the Galwan Valley or which coun­try right­ful­ly lays claim to the dis­put­ed stretch of land along the Sino-India border, within India, dig­i­tal and real bor­ders are being hur­ried­ly drawn. On June 29, the Indian gov­ern­ment banned 59 Chinese apps includ­ing WeChat and TikTok citing the "threat to sov­er­eign­ty and integri­ty" that these apps pose through the misuse and trans­mis­sion of user data to servers out­side India. As an imme­di­ate reac­tion, Chinese Foreign Ministry spokesper­son Zhao Lijian said that the Chinese gov­ern­ment was "strong­ly con­cerned" about the ban and that it is India's respon­si­bil­i­ty to "uphold the legit­i­mate rights of inter­na­tion­al investors." On the telecom­mu­ni­ca­tions front, the Indian gov­ern­ment is report­ed­ly mulling bar­ring Chinese com­pa­nies such as Huawei and ZTE from pro­vid­ing equip­ment to state-run telcos in their 5G upgrade, an action that could even­tu­al­ly include pri­vate play­ers too.
Even prior to this offi­cial inti­ma­tion, many Indians were ready and roar­ing to boy­cott any­thing Chinese. What began as a call to boy­cott Chinese apps such as TikTok imme­di­ate­ly, and all Chinese prod­ucts even­tu­al­ly, quick­ly engulfed var­i­ous sec­tors. On June 25, the Delhi Hotel and Restaurant Owners Association announced that Chinese nation­als were no longer wel­come in over 3,000 hotels and guest­hous­es across the cap­i­tal city. This came close on the heels of the Confederation of All India Traders' (CAIT) deci­sion to boy­cott Chinese prod­ucts. On June 17, CAIT released a list of over 450 Chinese cat­e­gories of prod­ucts that were to be boy­cotted over "con­tin­ued border skir­mish­es."
Employing boy­cotts as a means of reg­is­ter­ing strong dis­ap­proval and con­vey­ing an expres­sion of protest has been a huge part of Indian nation­al­ism. One of the biggest cam­paigns of the Indian inde­pen­dence strug­gle was the Swadeshi Movement. Within this cam­paign, any­thing that was not Swadeshi or the country's own — from books to clothes to edu­ca­tion and gov­er­nance — was boy­cotted. One of the most mem­o­rable images from the period is that of Mahatma Gandhi in the early 1930s using a spin­ning wheel to create thread in the tra­di­tion­al manner pre-dating impe­r­i­al rule. It was an act of absolute rejec­tion of the exploitive and con­trol­ling eco­nom­ic and polit­i­cal system that had entan­gled Indian tex­tile man­u­fac­tur­ing. This, accord­ing to Gandhi, would create the basis for eco­nom­ic inde­pen­dence before total inde­pen­dence or Purna Swaraj — absolute self-gov­er­nance — from the British rule.
Shortly after the June 15 clash between Indian and Chinese sol­diers where 20 Indian sol­diers were killed, Union Minister Ramdas Athawale said that restau­rants serv­ing Chinese food should be banned and Indians should boy­cott Chinese food alto­geth­er. While con­cerned restau­ra­teurs called the demand "bizarre" and "ridicu­lous," social media plat­forms went into a tizzy over whether the Chinese food served in India — fondly addressed as Indo-Chinese cui­sine — is even authen­tic and there­by worthy of such a rep­ri­mand. Other inci­dents of protest and boy­cotting Chinese prod­ucts involved cit­i­zens destroy­ing Chinese brand tele­vi­sions, van­dal­iz­ing a shop in Mumbai sell­ing Chinese toys, and burn­ing effi­gies of Chinese President Xi Jinping. While many Indians are ques­tion­ing this hyper-nation­al­ism and the logic behind destroy­ing that which has already been pur­chased by fellow cit­i­zens with good money, the call for boy­cotting all that is Chinese — whether already pur­chased or yet to be bought — seems to be rapid­ly gath­er­ing trac­tion.
Bowing to the strong con­sumer demand to cor­rect­ly demar­cate and single out Chinese prod­ucts, e‑commerce web­sites such as Amazon and Walmart Inc.'s Flipkart have agreed to promi­nent­ly dis­play "coun­try of origin" for all goods sold online in India. For its part, the Indian gov­ern­ment has man­dat­ed coun­try of origin infor­ma­tion on its mas­sive Government e‑Marketplace (GeM) for all gov­ern­ment pur­chas­es and has also enabled a Made in India filter on the plat­form in a bid to pro­mote local prod­ucts.
While the Himalayan neigh­bors are locked in a mil­i­tary stand­off and engage in defense and diplo­mat­ic dia­logues to de-esca­late the sit­u­a­tion, public opin­ion in India is split over whether recent gov­ern­ment actions are apt or enough. Some believe that an alter­ation of the Indian map cannot be right­ful­ly respond­ed to through gov­ern­ment action against Chinese apps; others, mean­while, opine that it is a strong eco­nom­ic move and a har­bin­ger of what could follow, espe­cial­ly in the tech­nol­o­gy and telecom­mu­ni­ca­tions sector.
Pallavi Shahi is a project con­sul­tant at the Center for Peace and Conflict Studies at the Seton Hall University. She holds a Master of Arts in Diplomacy and International Relations from Seton Hall University and has pre­vi­ous­ly worked as a jour­nal­ist in India.