In Hard-Hit New Jersey, COVID-19 Saddles Some Small Health Departments With Crushing Workload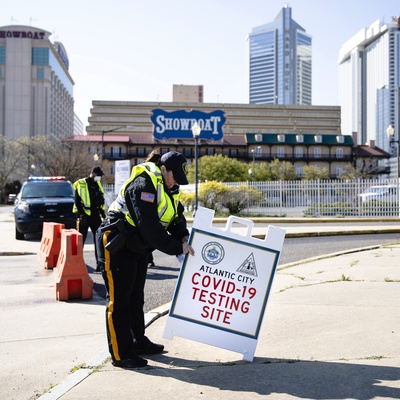 The beach­es of the Jersey Shore are set to reopen on Friday. But in a state where nearly 11,000 people have been killed by COVID-19, the same public health system that strug­gled to imple­ment wide­spread test­ing faces what could be an even larger chal­lenge: pre­vent­ing a second wave of infec­tion that experts say is almost inevitable with­out coor­di­nat­ed, aggres­sive efforts.
And more than almost any state in the coun­try, New Jersey relies on small, local health depart­ments, which have found them­selves stretched far beyond their mis­sions by the pan­dem­ic.
In Kearny, a town of 41,000 where the coro­n­avirus has killed more people than in eight states, the Health Department has four full-time work­ers. Before the pan­dem­ic, one of them, Kristine Schweitzer Budney, was respon­si­ble for dog vac­ci­na­tions, tattoo parlor licens­ing and restau­rant safety plans.
Now Budney runs the town's con­tact trac­ing efforts, and on top of that, she is expect­ed to close­ly mon­i­tor nurs­ing homes as they imple­ment new infec­tion con­trols.
The town of Princeton had one of the state's first "super­spread­ing events," a dinner party in February that would be linked to at least 15 infec­tions. When Dr. George DiFerdinando Jr., chair of the town's Board of Health, con­tact­ed the state for help inves­ti­gat­ing the inci­dent, he said he was told the town was on its own. There may have been far more than 15 cases, he told ProPublica, but "with­out state coor­di­na­tion, we couldn't get a final number."
The struc­ture of New Jersey's public health system, which is made up of rough­ly 100 local agen­cies, along with the state Department of Health, has left some cities depen­dent on per­son­al con­nec­tions and good for­tune to secure crit­i­cal resources during the pan­dem­ic. The state, with 9 mil­lion res­i­dents, has far more local health depart­ments than California or Texas. In New Jersey, some depart­ments cover small towns and have as few as two full-time work­ers. Others span an entire county and have as many as 75 employ­ees.
Like no crisis in the state's his­to­ry, the pan­dem­ic has high­light­ed the lim­i­ta­tions of the patch­work system and the chal­lenges of coor­di­nat­ing a response among such a dis­parate array of agen­cies.
Many of those local depart­ments used to receive ded­i­cat­ed state fund­ing. But in 2010, in the after­math of the last reces­sion, that state sup­port was elim­i­nat­ed. Over the last decade that has meant the loss of tens of mil­lions of dol­lars for the often modest bud­gets of local health depart­ments.
Per capita, New Jersey ranks 31st in the nation in state fund­ing for public health, accord­ing to a recent report by the non­prof­it Trust for America's Health, and it ranks last in grant fund­ing from the Centers for Disease Control and Prevention.
"Public health has been cut to the bone, and because of that, when you are faced with the pan­dem­ic, or any kind of epi­dem­ic, you know that you do not have all the staff that you need to fight it the way that you should," said Paschal Nwako, the health offi­cer in Camden County in the south­west part of the state, just out­side Philadelphia. "We should have been pre­pared for this kind of public health pan­dem­ic. We pre­pare for emer­gen­cies. We go through train­ing, but still, we are under­fund­ed."
When the pan­dem­ic hit New Jersey in March, the state health agency's top public health job was vacant, and more than two months later, the agency is still work­ing to hire a per­ma­nent appointee. In the inter­im, the job's respon­si­bil­i­ties have been given to the state's chief med­ical exam­in­er.
ProPublica spoke with over 30 local health direc­tors, munic­i­pal offi­cials and health care lead­ers across the state, and many of them say that in respond­ing to the pan­dem­ic, they've had to carry out crit­i­cal tasks, like rolling out test­ing and secur­ing per­son­al pro­tec­tive equip­ment, with little guid­ance or sup­port from the state.
In some of the com­mu­ni­ties cov­ered by small­er depart­ments, sec­re­taries and recre­ation work­ers have been enlist­ed to follow up with people who were tested, pro­vide test results, and in pos­i­tive cases, con­duct con­tact trac­ing to iden­ti­fy and alert anyone who was con­nect­ed to the infect­ed person.
And as COVID-19 deaths in New Jersey nurs­ing homes were mount­ing last month, the state del­e­gat­ed over­sight of out­breaks in the facil­i­ties to local health agen­cies, sad­dling them with a respon­si­bil­i­ty that sev­er­al said they were ill-pre­pared to handle.
The state has defend­ed its response to the pan­dem­ic, and some local offi­cials have praised the Health Department's lead­er­ship, includ­ing Commissioner Judith Persichilli, who, along with Gov. Phil Murphy, has presided over daily brief­in­gs in Trenton, the state cap­i­tal.
Other states, includ­ing Massachusetts and Pennsylvania, took a more cen­tral­ized approach to con­tact trac­ing, with the states taking the lead and shar­ing the work with local depart­ments. By con­trast, New Jersey's effort has been "large­ly a region­al or local" one, said Nancy Kearney, a state Health Department spokes­woman.
Last week, as Murphy faced ques­tions about the need to expand test­ing so restric­tions could be relaxed for reopen­ing, the state announced a part­ner­ship with the School of Public Health at Rutgers University to bring in more con­tact trac­ers and increase test­ing.
Even as New Jersey bol­sters its efforts to con­tain the dis­ease, offi­cials are also begin­ning to scru­ti­nize the state's early han­dling of the out­break, par­tic­u­lar­ly the calami­tous toll of COVID-19 on nurs­ing homes across the state. Residents and employ­ees in long-term care facil­i­ties account for rough­ly 40% of all New Jersey's COVID deaths that have been con­firmed by a lab. According to state reports, there have been out­breaks in over 500 facil­i­ties, with more than 28,000 people infect­ed and at least 4,000 dead. This month, the Murphy admin­is­tra­tion hired a team of out­side experts to eval­u­ate the state's nurs­ing home reg­u­la­tions and over­sight mech­a­nisms.
Many local health depart­ments have ques­tions of their own about how the state respond­ed to the surge in deaths in nurs­ing homes, and in par­tic­u­lar the sur­prise direc­tive to local health depart­ments on April 22 that they would be the pri­ma­ry point of con­tact for infec­tion con­trol at and inspec­tion of long-term care facil­i­ties.
DiFerdinando of Princeton said his Health Department was blind­sided by the order and didn't have the expe­ri­ence or legal author­i­ty to effec­tive­ly over­see the three facil­i­ties in his town, two of which have active out­breaks.
"But by this memo, you are respon­si­ble for making sure the nurs­ing homes in your area are fol­low­ing guide­lines," he told ProPublica.
Dr. David Barile, med­ical direc­tor of the Princeton Care Center nurs­ing home, said that when his work­ers start­ed get­ting sick, he reached out to the local Health Department for help with staffing and acquir­ing pro­tec­tive equip­ment.
Barile ini­tial­ly told ProPublica that he did not receive PPE from the Princeton Health Department, but after this story was pub­lished, he said that he mis­spoke and did receive 50 gowns from the depart­ment. He also sent staff to the local hard­ware store to buy painter jump­suits and masks. And in the end, 18 of his 110 res­i­dents died from the virus or relat­ed com­pli­ca­tions.
Barile called the deci­sion to task the local Health Department with over­see­ing nurs­ing homes "asi­nine."
Asked about such con­cerns, Donna Leusner, a state Health Department spokes­woman, cited the direc­tive, saying that the state "pro­vides guid­ance on sur­veil­lance and report­ing and infec­tion con­trol," but local depart­ments are "required to work with the facil­i­ty to ensure these rec­om­men­da­tions are imple­ment­ed" and to inves­ti­gate out­breaks.
For weeks, as thou­sands died in New Jersey's nurs­ing homes, Barile wrote let­ters to the gov­er­nor plead­ing for Murphy to send in the National Guard to help over­whelmed nurs­ing homes. In one open letter on May 1, he described facil­i­ties using trash bags and rain­coats as per­son­al pro­tec­tive equip­ment. "As of today," Barile wrote, "all you have done for our sick­est, most frail pop­u­la­tion is to loosen require­ments and turn on the lights so every­one can watch as cases climb, and more people die."
The next day, a reporter asked Murphy about Barile's letter, and within a week Murphy announced he was deploy­ing Guard mem­bers to long-term care facil­i­ties.
This month, the state has direct­ed nurs­ing homes to have all staff and res­i­dents tested. But when the state had tried to get nurs­ing home res­i­dents tested in Kearny, it did not go as planned.
On May 4, state offi­cials informed Budney that they would be send­ing sup­plies to Kearny's nurs­ing homes so that they could test all res­i­dents. But when the tests arrived, there weren't nearly enough to test every­one, she said, and some of the kits were broken or miss­ing swabs. They also came with­out instruc­tions. Budney has repeat­ed­ly called var­i­ous state offices to ask for guid­ance, but she said that after more than a week, she's been unable to get an answer.
Budney is trou­bled by the over­sight duties that have fallen on her shoul­ders. "I don't think I should ever have been respon­si­ble for over­sight of the care facil­i­ties in that way," she told ProPublica. use I didn't have any train­ing."
The early weeks of the crisis in par­tic­u­lar were marked by a lack of com­mu­ni­ca­tion from the state, Kearny's mayor, Alberto Santos, said. "We felt that we were on our own. It felt like I'd woken up in this Hobbesian world where there's no struc­ture and every­one had to figure it out for them­selves."
For crit­i­cal tasks like test­ing and secur­ing PPE for first respon­ders, Kearny was left to its own devices. To get test­ing for all of Kearny's res­i­dents, includ­ing the unin­sured, Santos had to per­son­al­ly con­tact a cor­po­rate lab CEO.
Budney has expe­ri­ence inves­ti­gat­ing out­breaks like Legionella and food poi­son­ing, but noth­ing of this mag­ni­tude. While she said that the state has been "incred­i­bly sup­port­ive" with med­ical ques­tions, for con­tact trac­ing, she's spent many hours tack­ling bureau­crat­ic hur­dles on her own. For instance, she said that fre­quent­ly, when a lab tells Kearny a patient tested pos­i­tive, the lab won't pro­vide a phone number or address for the patient.
Some New Jersey agen­cies use com­mer­cial data­bas­es to track down phone num­bers, and Budney has been trying to get access to one for nearly a month. Weeks after sign­ing a con­tract, how­ev­er, she's still making calls to the com­pa­ny to be approved for access. Until then, Kearny's con­tact trac­ers have no way to track down many of the people who have tested pos­i­tive.
Many health depart­ment employ­ees told ProPublica they were con­cerned that as the state reopens, the demands on their time will increase, as they have to resume normal work, like restau­rant and beach inspec­tions, while con­tin­u­ing to con­tact trace if cases spike. (Leusner said as much, in noting that local health work­ers who "may have been help­ing with con­tact trac­ing have to inspect com­mu­ni­ty pools for reopen­ing this week­end.")
In recent days, the state has been mar­shal­ing addi­tion­al resources for local health agen­cies. It is prepar­ing to send 10 retired health offi­cers to assist some of the local agen­cies, and it is also devel­op­ing the more cen­tral­ized con­tact trac­ing work­force with Rutgers. Leusner fur­ther said the state has award­ed $5 mil­lion in fed­er­al emer­gency funds this week to the non­prof­it New Jersey Association of County and City Health Officials to dis­trib­ute to local depart­ments. The state also brought in McKinsey, a cor­po­rate con­sult­ing firm, to advise on "public health infra­struc­ture work, mod­el­ing and long-term care issues."
Since the state fund­ing was cut in 2010, many depart­ments have had to reduce staffing, said John Saccenti, exec­u­tive vice pres­i­dent of the New Jersey Local Boards of Health Association and a past pres­i­dent of the nation­al orga­ni­za­tion for local health boards.
When Saccenti became involved in the nation­al group, he saw how much local health fund­ing varies from state to state: "I thought every­one was like New Jersey. And then I real­ized, 'Oh my God, the rest of them are func­tion­al.'"
Last year, New Jersey's Health Department announced it would send $2.3 mil­lion to local health depart­ments for work on com­mu­ni­ca­ble dis­eases. Unlike the old fund­ing struc­ture, juris­dic­tions had to com­pete for grants and the money ended up going pri­mar­i­ly to larger county depart­ments, not small­er munic­i­pal ones.
"We haven't up until now acknowl­edged that we should be giving to public health," said state Sen. Joseph Vitale, chair of the senate's health com­mit­tee. "Without a thought­ful public health dynam­ic in our state, we set our­selves up for fail­ure."
While other hard-hit states sig­nif­i­cant­ly increased their test­ing over the last two months, New Jersey's num­bers remained rel­a­tive­ly con­stant. In daily press con­fer­ences, Murphy peri­od­i­cal­ly described plans to expand test­ing, but New Jersey actu­al­ly report­ed more tests in the first week of April than it did in the first week of May.
Last week, New Jersey's test­ing num­bers increased sub­stan­tial­ly, though that came after the state changed its report­ing to include more small labs.
In Hudson County, the choice to place the first test­ing center in the 20,000-person town of Secaucus cre­at­ed issues for the much more pop­u­lous Jersey City. The Secaucus site was drive-thru only, which made it inac­ces­si­ble for many Jersey City res­i­dents with­out cars. This con­cern was echoed by offi­cials across the state, who told ProPublica that the state's early empha­sis on drive-thru test­ing cre­at­ed sig­nif­i­cant bar­ri­ers, par­tic­u­lar­ly for low-income com­mu­ni­ties.
Jersey City even­tu­al­ly set up test­ing on its own, but the city's mayor, Steven Fulop, said the state has far more resources to deal with the pan­dem­ic.
"Absent a coor­di­nat­ed response from the top, munic­i­pal­i­ties have no choice," Fulop said. "We're doing it with glue and Scotch tape and duct tape and paper clips."
In south­ern New Jersey, Camden County's health offi­cer, Nwako, said Camden was on its own, too. But with a single health agency ser­vic­ing all 37 munic­i­pal­i­ties, he and his team of 75 work­ers were in a better posi­tion to battle the virus as it spread south.
"We have been doing the test­ing on our own," he said. "We did not have any kind of help from the state, and I get it." The state was tied up with out­breaks in the north, and every area was trying to adapt to the new demands of the pan­dem­ic, Nwako said. But the oblig­a­tions just kept piling up.
"It was a total shock for me when I heard from the state that it was my respon­si­bil­i­ty to go into the long-term care facil­i­ties," he said. "They didn't call it an inspec­tion, because tech­ni­cal­ly we aren't going in there to inspect."
Perry Halkitis, dean of the Rutgers School of Public Health, said he has been deploy­ing stu­dent vol­un­teers to assist some local depart­ments, but the frag­ment­ed public health struc­ture has made his efforts more com­pli­cat­ed and time-con­sum­ing.
"My chal­lenge with the whole depart­ment of health sit­u­a­tion in New Jersey is that there is not one cen­tral depart­ment of health lead­ing the way," he said.
Santos, the mayor of Kearny, said that New Jersey's system of small health depart­ments was built for things like geese con­trol and peri­od­ic counts of all the dogs in the area (which was required by law until 2015).
"It seems to me that the person doing the dog census and the person fight­ing the worst crisis of our time should be dif­fer­ent," Santos told ProPublica. "That whole model needs to be rethought."
Update, May 22, 2020: This story was updat­ed to reflect that Dr. David Barile, med­ical direc­tor of the Princeton Care Center nurs­ing home, received gowns from the Princeton Health Department. Initially he said he received no assis­tance, but after pub­li­ca­tion of this story he said he mis­spoke.