Ignoring Science During a Pandemic Is Poor Leadership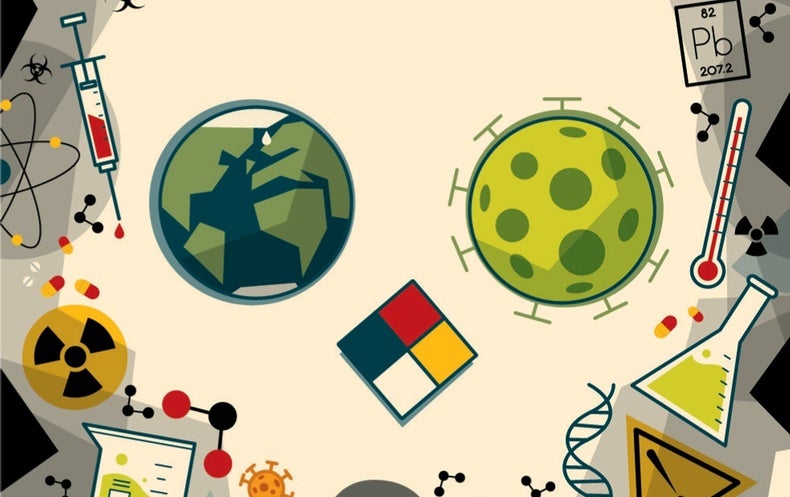 I was lis­ten­ing to the com­fort­ing back­ground hum of the old refrig­er­a­tor in my rented apart­ment. The noise stopped sud­den­ly; the only sound left was the tin­ni­tus ring­ing in my ears. From my chair, I looked out through the slid­ing glass door. Wind and rain ani­mat­ed the bright-yellow flan­nel bushes on the hill­side. California had just had the driest February on record, and the flow­ered branch­es seemed to be stretch­ing like fin­gers to catch the life-giving rain­wa­ter.
I had been self-quar­an­tined at home for a week. After return­ing from a cli­mate change work­shop in Washington, D.C., I came down with a low-grade fever and a dry, hack­ing cough. On day five I was tested for the novel coro­n­avirus and other microbes. After sev­er­al anx­ious days I learned that I had a dif­fer­ent infec­tion — a seri­ous influen­za strain — and as I write this, I am slowly recov­er­ing.
While sequestered, I thought a lot about how com­plex sys­tems respond to big per­tur­ba­tions. That is part of my job. As a cli­mate sci­en­tist, I study the atmos­pher­ic and ocean­ic respons­es to things such as mas­sive vol­canic erup­tions, large changes in the sun's energy output and a dou­bling of atmos­pher­ic carbon diox­ide levels. The novel coro­n­avirus is a major shock to com­plex human sys­tems of gov­er­nance. Here are a few per­son­al thoughts on lessons learned from the cur­rent sit­u­a­tion.
LESSON 1: Scientific igno­rance can be fatal — par­tic­u­lar­ly if it starts with the U.S. pres­i­dent and trick­les down from there. It was sci­en­tif­i­cal­ly incor­rect for Donald Trump to dis­miss the coro­n­avirus as no worse than the sea­son­al flu, as he did on February 26. It was incor­rect to advise U.S. cit­i­zens to engage in busi­ness as usual, which he did as late as March 10. It was incor­rect to imply, as he did in a press brief­ing on March 19, that the malar­ia drugs hydrox­y­chloro­quine and chloro­quine are promis­ing reme­dies for COVID-19 — some­thing that has not been ver­i­fied. Dissemination of such inac­cu­rate infor­ma­tion helped to spread the novel coro­n­avirus in America faster by delay­ing the adop­tion of social dis­tanc­ing. Ignorance served as a potent dis­ease vector.
LESSON 2: A leader tells hard truths in times of crisis, not false­hoods such as "Anybody that wants a test can get a test," as Trump said on March 6 at the Centers for Disease Control and Prevention. A leader does not assume the mantle of exper­tise in areas where he or she has none. A leader accepts respon­si­bil­i­ty for per­son­al and orga­ni­za­tion­al fail­ures. A leader cares more about saving lives than about win­ning reelec­tion.
LESSON 3: "America first" is a sin­gu­lar­ly poor sur­vival strat­e­gy in the middle of a global pan­dem­ic. No nation is safe from a micro­scop­ic agent that can hitch a ride on any air­plane, ship, train or car. Building effec­tive inter­na­tion­al orga­ni­za­tions and alliances is a far better way of sur­viv­ing a global health crisis than going it alone.
The phrase "an abun­dance of cau­tion" has become com­mon­place in the past few months. People use it when explain­ing their deci­sion to self-quar­an­tine. But an abun­dance of cau­tion should have been exer­cised at the begin­ning of the pan­dem­ic. Detailed plans for sci­en­tif­i­cal­ly accu­rate mes­sag­ing should have been ready, along with strate­gies for nation­al and inter­na­tion­al coor­di­na­tion of response efforts.
They were not ready. The capa­bil­i­ty to test tens of thou­sands of cit­i­zens a day and to give hos­pi­tal staffers basic safety gear should have been in place. It was not. Members of the Trump admin­is­tra­tion should have cor­rect­ed the pres­i­den­t's mis­state­ments on the seri­ous­ness of the coro­n­avirus. Instead they large­ly remained silent. After years of belit­tling and neglect­ing sci­ence — most notably the sci­ence of cli­mate change — Trump is sud­den­ly dis­cov­er­ing that sci­ence is imper­a­tive for human sur­vival and per­haps even for his own polit­i­cal sur­vival. Through sci­ence, a vac­cine will be devel­oped for the novel coro­n­avirus. If this coun­try invests in sci­ence now — and if we invest in the main­te­nance of strong global health sys­tems — we will be better pre­pared for the next novel virus wait­ing out there.