How Coronavirus Could Help Change Climate Policy for the Better
Stock mar­kets around the world had some of their worst performance in decades this past week, well sur­pass­ing that of the global finan­cial crisis in 2008. Restrictions in the free move­ment of people is dis­rupt­ing eco­nom­ic activ­i­ty across the world as mea­sures to con­trol the coro­n­avirus roll out.
There is a strong link between eco­nom­ic activ­i­ty and global carbon diox­ide emis­sions, due to the dominance of fossil fuel sources of energy. This cou­pling sug­gests we might be in for an unex­pect­ed sur­prise due to the coro­n­avirus pan­dem­ic: a slow­down of carbon diox­ide emis­sions due to reduced energy con­sump­tion.
Based on new pro­jec­tions for economic growth in 2020, we sug­gest the impact of the coro­n­avirus might sig­nif­i­cant­ly curb global emis­sions.
The effect is likely to be less pro­nounced than during the global financial crisis (GFC). And emis­sions declines in response to past economic crises sug­gest a rapid recov­ery of emis­sions when the pan­dem­ic is over.
But pru­dent spend­ing of eco­nom­ic stim­u­lus mea­sures, and a per­ma­nent adop­tion of new work behav­iours, could influ­ence how emis­sions evolve in future.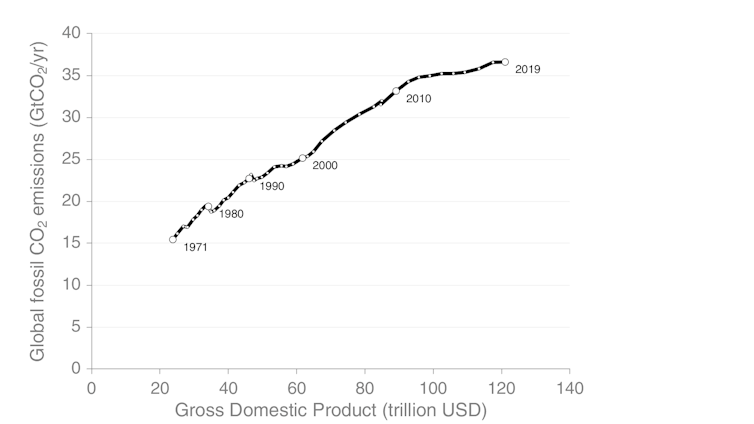 Global fossil CO2 emis­sions (ver­ti­cal axis) have grown togeth­er with eco­nom­ic activ­i­ty (hor­i­zon­tal axis) over extend­ed peri­ods of time. Glen Peters/CICERO
The world in crisis
In just a few short months, mil­lions of people have been put into quar­an­tine and regions locked down to reduce the spread of the coro­n­avirus. Around the world events are being can­celled and travel plans dropped. A grow­ing number of uni­ver­si­ties, schools and work­places have closed and some work­ers are choos­ing to work from home if they can.

Even the Intergovernmental Panel on Climate Change has can­celled a crit­i­cal­ly impor­tant meet­ing and will instead hold it virtually.
The International Energy Agency had already pre­dict­ed oil use would drop in 2020, and this was before an oil price war emerged between Saudi Arabia and Russia.
The unprecedented coronavirus lockdown in China led to an esti­mat­ed 25% reduc­tion in energy use and emis­sions over a two-week period com­pared to pre­vi­ous years (mostly due to a drop in elec­tric­i­ty use, indus­tri­al pro­duc­tion and trans­port). This is enough to shave one per­cent­age point growth off China's emis­sions in 2020. Reductions are also being observed in Italy, and are likely to spread across Europe as lock­downs become more wide­spread.
The emis­sion-inten­sive air­line indus­try, covering 2.6% of global carbon diox­ide emis­sions (both nation­al and inter­na­tion­al), is in freefall. It may take months, if not years, for people to return to air travel given that coro­n­avirus may linger for sev­er­al sea­sons.
Given these eco­nom­ic upheavals, it is becom­ing increas­ing­ly likely that global carbon diox­ide emis­sions will drop in 2020.
Coronavirus is not the GFC
Leading author­i­ties have revised down eco­nom­ic fore­casts as a result of the pan­dem­ic, but so far fore­casts still indi­cate the global econ­o­my will grow in 2020. For exam­ple, the Organisation for Economic Cooperation and Development (OECD) down­grad­ed esti­mates of global growth in 2020 from 3% (made in November 2019) to 2.4% (made in March 2020). The International Monetary Fund has indi­cat­ed sim­i­lar declines, with an update due next month.
Assuming the carbon effi­cien­cy of the global econ­o­my improves in line with the 10-year average of 2.5% per year, the OECD's post-coro­n­avirus growth pro­jec­tion implies carbon diox­ide emis­sions may decline 0.3% in 2020 (includ­ing a leap year adjust­ment).
But the GFC expe­ri­ence indi­cates that the carbon effi­cien­cy of the global econ­o­my may improve much more slowly during a crisis. If this hap­pens in 2020 because of the coro­n­avirus, carbon diox­ide emis­sions still could grow.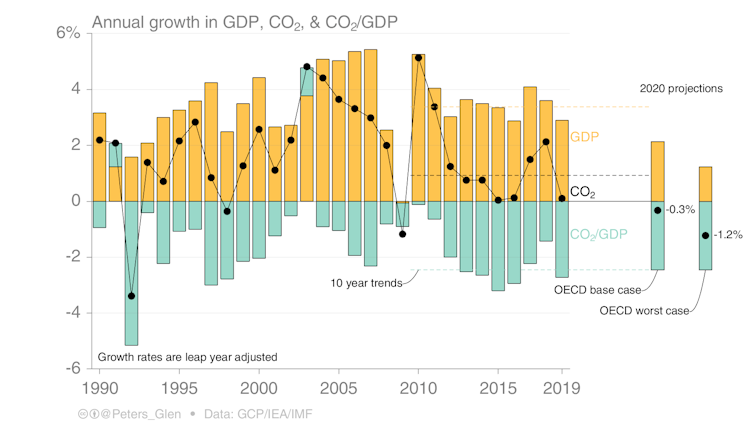 A decom­po­si­tion of CO2 emis­sions growth into eco­nom­ic growth (orange) and carbon effi­cien­cy improve­ments (green) to esti­mate future emis­sions based on OECD eco­nom­ic growth pro­jec­tions. Glen Peters/CICERO
Under the worst-case OECD forecast the global econ­o­my in 2020 could grow as little as 1.5%. All else equal, we cal­cu­late this would lead to a 1.2% decline in carbon diox­ide emis­sions in 2020.
This drop is comparable to the GFC, which in 2009 led to a 0.1% drop in global GDP and a 1.2% drop in emis­sions. So far, nei­ther the OECD or International Monetary Fund have sug­gest­ed coro­n­avirus will take global GDP into the red.
The emis­sions rebound
The GFC prompt­ed big, swift stim­u­lus pack­ages from gov­ern­ments around the world, lead­ing to a 5.1% rebound in global emis­sions in 2010, well above the long-term aver­age.
Previous finan­cial shocks, such as the col­lapse of the former Soviet Union or the 1970s and 1980s oil crises, also had peri­ods with lower or neg­a­tive growth, but growth soon returned. At best, a finan­cial crisis delays emis­sions growth a few years. Structural changes may happen, such as the shift to nuclear energy after the oil crises, but evi­dence sug­gests emis­sions con­tin­ue to grow.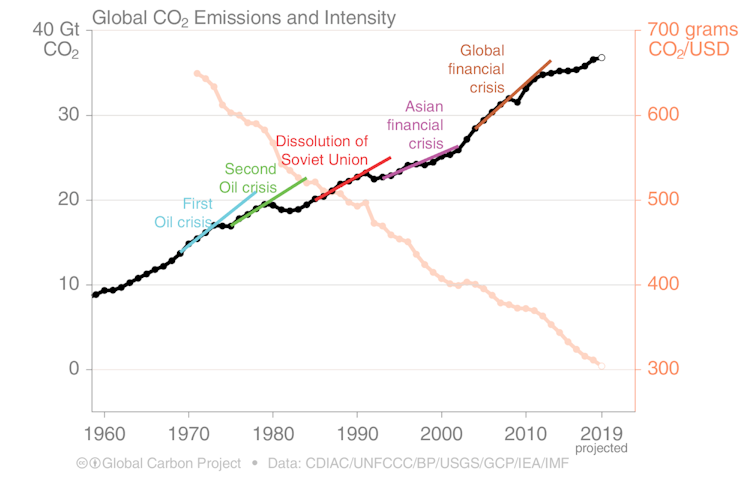 Global fossil CO2 emis­sions (in Gigatons or bil­lions of tonnes of CO2) and carbon inten­si­ty of world Gross Domestic Product (grams of CO2 per $US, 2000), with the most impor­tant finan­cial crises. Global Carbon Project
The eco­nom­ic legacy of the coro­n­avirus might also be very dif­fer­ent to the GFC. It looks more like a slow burner, with a drop in pro­duc­tiv­i­ty over an extend­ed period rather than wide­spread job losses in the short term.
Looking to the future
The coro­n­avirus pan­dem­ic will not turn around the long-term upward trend in global emis­sions. But gov­ern­ments around the world are announc­ing eco­nom­ic stim­u­lus mea­sures, and they way they're spent may affect how emis­sions evolve in future.
There is an oppor­tu­ni­ty to invest the stim­u­lus money in struc­tur­al changes lead­ing to reduced emis­sions after eco­nom­ic growth returns, such as fur­ther devel­op­ment of clean tech­nolo­gies.
Also, the coro­n­avirus has forced new work­ing-from-home habits that limit com­mut­ing, and a broad­er adop­tion of online meet­ings to reduce the need for long-haul busi­ness flights. This raises the prospect of long-term emis­sions reduc­tions should these new work behav­iours per­sist beyond the cur­rent global emer­gency.
The coro­n­avirus is, of course, an inter­na­tion­al crisis, and a per­son­al tragedy for those who have lost, and will lose, loved ones. But with good plan­ning, 2020 could be the year that global emis­sions peak (though the same was said after the GFC).
That said, past eco­nom­ic shocks might not be a great ana­logue for the coro­n­avirus pan­dem­ic, which is unprece­dent­ed in modern human his­to­ry and has a long way to go.

Glen Peters, Research Director, Center for International Climate and Environment Research - Oslo
This arti­cle is repub­lished from The Conversation under a Creative Commons license. Read the original article.
Image: Reuters