How Can the World Help Hong Kong?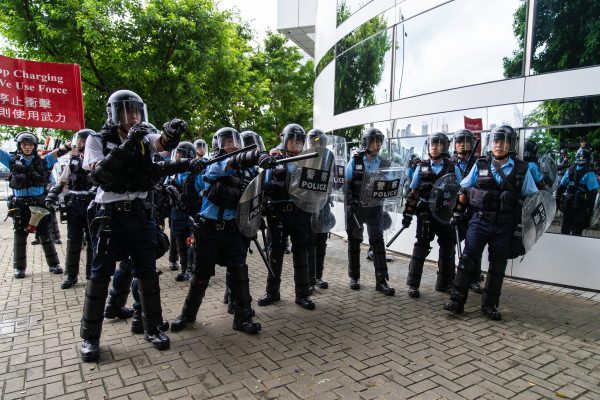 When Hong Kong was handed over from Britain to China with great fan­fare on July 1, 1997, there was a cloud hang­ing over the process. The shadow of the 1989 Tiananmen Massacre loomed large, cast­ing doubt on whether the promis­es that Beijing had made in inter­na­tion­al law could be trust­ed.
23 years later, Beijing's deci­sion to bull­doze through nation­al secu­ri­ty leg­is­la­tion with­out con­sult­ing the Hong Kong gov­ern­ment vin­di­cates those skep­ti­cal about the via­bil­i­ty of the han­dover set­tle­ment. The Chinese Communist Party con­sid­ers the illu­sion of Hong Kong's high degree of auton­o­my to be so irrel­e­vant that even the city's puppet leader, Carrie Lam, did not see a draft of the law until it had been rat­i­fied.
Global out­rage has erupt­ed. More than 900 par­lia­men­tar­i­ans from over 40 coun­tries have co-signed a crit­i­cism of the deci­sion, con­demn­ing it as a "fla­grant breach" of the han­dover agree­ment. This is a rare bipar­ti­san issue every­where from Washington to Tokyo, from London to Canberra.
Foreign min­istries are now asking what can be done that is a pro­por­tion­ate response. Coordinated sanc­tions are an obvi­ous first step, but polit­i­cal dif­fer­ences between Brussels and Washington, com­bined with the alarm­ing depen­den­cy of so many states on China, means that this is unlike­ly.
In the long run, there is a grow­ing aware­ness that the geopo­lit­i­cal map is moving, and that much of the West has been caught nap­ping. Diplomats are start­ing to con­sid­er how to reduce strate­gic depen­den­cy and strength­en free world coun­tries and mul­ti­lat­er­al insti­tu­tions. The new International Parliamentary Alliance on China, China Research Group in the United Kingdom, and China Task Force in the United States have all been estab­lished with this aim.
But in the imme­di­ate term, there is one obvi­ous course of action. Hong Kong has long been the bridge between East and West, but it is fast becom­ing a key fault­line. The new nation­al secu­ri­ty leg­is­la­tion will leave thou­sands of young, lib­er­al­ly minded people in Hong Kong vul­ner­a­ble to pros­e­cu­tion under the same charges that con­fined the Nobel Peace prize winner Liu Xiabo to more than a decade in prison, right up until his death.
An inter­na­tion­al lifeboat policy is urgent­ly needed, with coun­tries work­ing togeth­er to ensure that there is a way out for Hong Kongers. This is not meant as a white flag of sur­ren­der, but rather gives each cit­i­zen the oppor­tu­ni­ty to stand for free­dom in their home city in the knowl­edge that there is a way out if they absolute­ly need it.
The British gov­ern­ment has already taken bold steps to this effect. Prime Minister Boris Johnson has com­mit­ted to offer­ing a path­way to cit­i­zen­ship for up to 3 mil­lion Hong Kongers who hold British National (Overseas) pass­ports, if the bill to that effect passes.
It is right that London is taking the lead on this, as the 1997 han­dover agree­ment increas­ing­ly looks like a his­toric fail­ure in British for­eign policy, peace­ful­ly ceding Hong Kong to an author­i­tar­i­an state. But the British gov­ern­ment must not stand alone. No one born since 1997 holds a BNO pass­port. The irony is that this act of British mag­na­nim­i­ty helps every­one except the youth­ful pro­test­ers who have cap­tured the world's imag­i­na­tion.
As geopo­lit­i­cal ten­sions between China and the West ratch­et up, there is a gen­uine risk that these brave young people will be the col­lat­er­al damage in the cycle of nation­al­ist polar­iza­tion. The bang­ing drum of dem­a­goguery may see Hong Kong's bright and enter­pris­ing people caught in the middle. We must not let that happen.
This is why inter­na­tion­al coor­di­nat­ed action is sen­si­ble. Nations should club togeth­er to ensure that there is a life­line for every­one who needs it. Senators and rep­re­sen­ta­tives in the United States have made the call, as have Australian and Canadian par­lia­men­tar­i­ans. The Taiwanese and Japanese gov­ern­ments are both taking tan­gi­ble steps. If each of these gov­ern­ments takes steps to leg­is­late for Hong Kong refugees, every­one will have the life­line that is needed.
Too often through his­to­ry, refugee poli­cies come after repres­sive mea­sures are imple­ment­ed. But the world can see that this nation­al secu­ri­ty law will have pro­found impli­ca­tions and should take the pre­cau­tion­ary steps to ensure that an inter­na­tion­al lifeboat is offered before it is too late.
Benedict Rogers is co-founder and Chair of Hong Kong Watch. Johnny Patterson is Director of Hong Kong Watch.