Hong Kongers Scrub Social Media History in Face of Security Law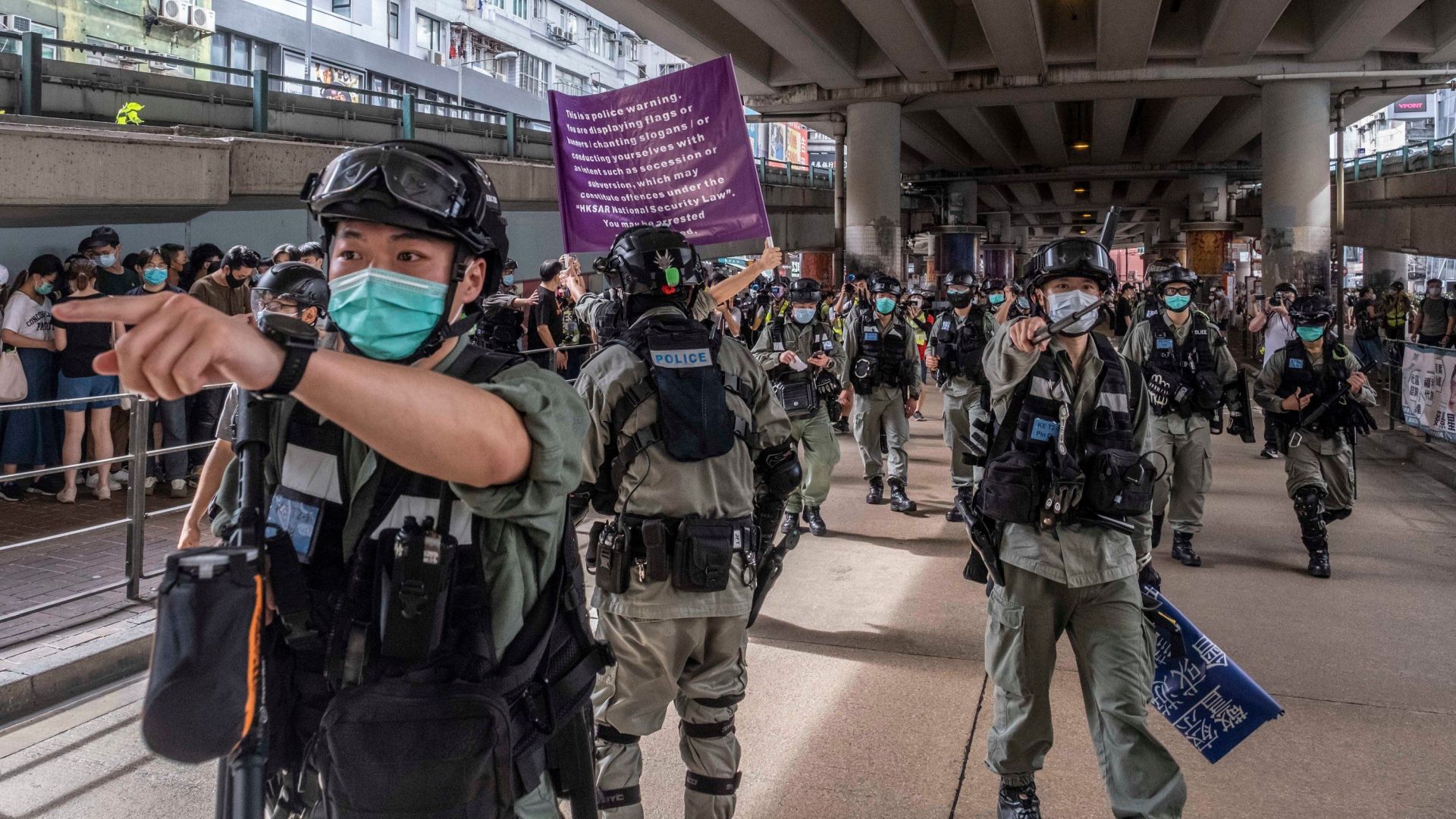 Hong Kongers are scrub­bing their social media accounts, delet­ing chat his­to­ries and mug­ging up on cyber pri­va­cy as China's newly imposed secu­ri­ty law blan­kets the tra­di­tion­al­ly out­spo­ken city in fear and self-cen­sor­ship.
China's author­i­tar­i­an lead­ers enact­ed sweep­ing new powers on Tuesday — keep­ing the con­tents secret until the last minute — after more than a year of often vio­lent protests in a finan­cial hub increas­ing­ly chaf­ing under Beijing's rule.
Certain polit­i­cal views such as want­i­ng inde­pen­dence became out­lawed overnight and legal ana­lysts and rights groups warn the broad word­ing of the law — which bans sub­ver­sion, seces­sion, ter­ror­ism and col­lud­ing with for­eign forces — will choke civil lib­er­ties and free speech.
Despite assur­ances from Beijing that polit­i­cal free­doms would not be hin­dered, many Hong Kongers moved to delete dig­i­tal ref­er­ences of their oppo­si­tion to China's ruling Communist Party, which uses sim­i­lar laws on the main­land to crush dis­sent.
"I changed my pro­file name and switched to a pri­vate account so that my employ­er will not be able to see future posts which they deem to be offen­sive to China or have breached the nation­al secu­ri­ty law," Paul, an employ­ee of a large com­pa­ny whose man­age­ment he described as "pro-Beijing", told AFP.
He said he would be "very care­ful" about post­ing in the future, fear­ing col­leagues or even friends might report him, and asked not to be iden­ti­fied.
VPNs and delet­ed chats
After the law came in, many Hong Kongers took to Twitter and other social media plat­forms such as Telegram and Signal to either announce their depar­ture or share tips on inter­net safety.
"We will clear all the mes­sages for your safety," one pop­u­lar Telegram group used by pro-democ­ra­cy pro­test­ers wrote. "Please watch out for what you say."
One lawyer with pro-democ­ra­cy lean­ings mes­saged an AFP jour­nal­ist asking for their entire WhatsApp his­to­ry to be delet­ed.
Another announced they were moving all com­mu­ni­ca­tions to Signal, which they felt was a more secure mes­sag­ing app.
Beijing has said some seri­ous cases will be pros­e­cut­ed on the main­land, dis­man­tling the legal fire­wall that has exist­ed between Hong Kong's judi­cia­ry and China's Communist Party-con­trolled courts since the 1997 han­dover from Britain.
Local police have been grant­ed wider sur­veil­lance powers to mon­i­tor sus­pects, includ­ing wire­tap­ping and access­ing dig­i­tal com­mu­ni­ca­tions, with­out a judge's approval.
The new law also allows China's feared secu­ri­ty agen­cies to set up shop in Hong Kong for the first time.
Beijing says it can now pros­e­cute nation­al secu­ri­ty crimes com­mit­ted out­side it bor­ders — even by for­eign­ers — rais­ing con­cerns that people vis­it­ing of tran­sit­ing through Hong Kong could be arrest­ed.
Companies pro­vid­ing vir­tu­al pri­vate net­work (VPN) tools — which can make inter­net access more secure — have report­ed a spike in down­loads since the law was announced.
Billie, a 24-year-old assis­tant to a dis­trict coun­cil­lor, said he start­ed using a VPN in May when China announced plans for the new law.
He culled many of his social media fol­low­ers and removed some "sen­si­tive" posts — even though Beijing's new law is not sup­posed to be retroac­tive.
"I feel very ashamed and embar­rassed. I never wanted to do so, but I felt I have to, in order to sur­vive," he told AFP, also asking for anonymi­ty.
"A part of me is gone."
'Lennon Walls' removed
It is not just dig­i­tal walls being scrubbed.
Several pro-democ­ra­cy restau­rants and shops have taken down their "Lennon Wall" dis­plays express­ing sup­port for protests or crit­i­cism of China's lead­er­ship.
Gordon Lam, a pro-democ­ra­cy activist promi­nent within the city's cater­ing sector, told AFP at least one restau­rant sought his advice after police vis­it­ed and warned their dis­play "might vio­late the nation­al secu­ri­ty law".
"It seems the gov­ern­ment is using the nation­al secu­ri­ty law to put pres­sure on the yellow eco­nom­ic circle," Lam said, using a local phrase to describe busi­ness­es that sup­port calls for democ­ra­cy and are pop­u­lar with pro­test­ers.
The first arrests under the new secu­ri­ty law were made during protests on Wednesday when thou­sands defied a ban on ral­lies, many chant­i­ng slo­gans.
Most were arrest­ed for having flags and leaflets in favour of Hong Kong inde­pen­dence, a clear signal that even pos­ses­sion of such items was now ille­gal.
Others vowed to avoid cen­sor­ing them­selves.
"It's not that I am not at all wor­ried," Chow Po-chung, an asso­ciate pro­fes­sor at the Chinese University of Hong Kong, wrote on Facebook.
"I just don't want to be overly wor­ried and live in fear all the time. Because once fear takes root in our minds, we can't live up to what we want for our­selves."
Source: DefenceTalk.com