Here Are All the Best Photos of the B‑52s Escorted by NATO Fighters During Their Unprecedented Tour of Europe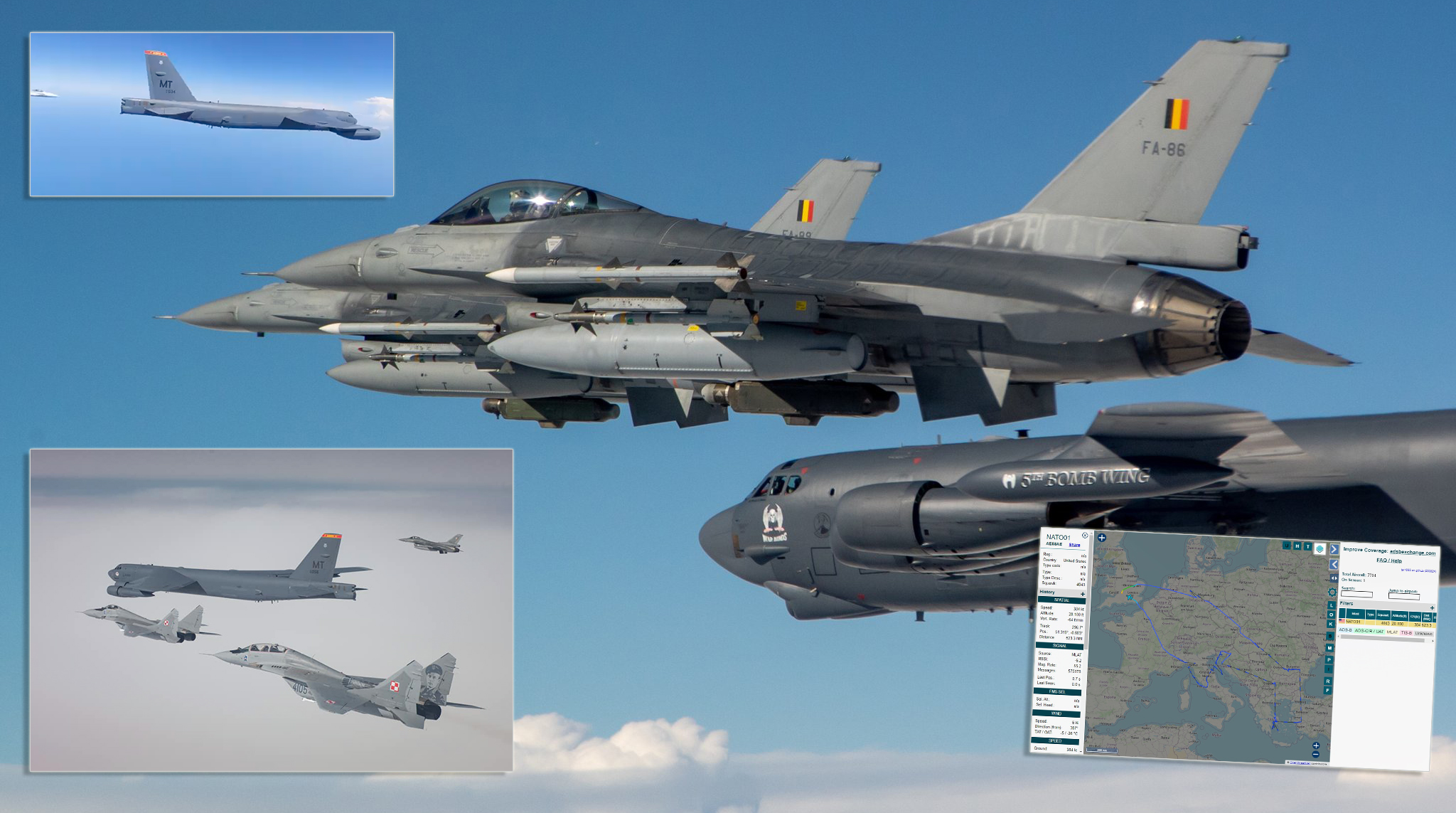 On Aug. 28, 2020, four B‑52H Stratofortress bombers, belong­ing to the 5th Bomb Wing, from Minot Air Force Base, North Dakota, deployed to RAF Fairford, UK, as part of the latest Bomber Task Force Europe, car­ried out an unprece­dent­ed mis­sion across Europe.
Allied Sky was a single-day mis­sion that saw 6 B‑52s over­fly­ing all 30 NATO nations to demon­strate NATO sol­i­dar­i­ty, enhance readi­ness and pro­vide train­ing oppor­tu­ni­ties aimed at enhanc­ing inter­op­er­abil­i­ty for all par­tic­i­pat­ing air­crews from the U.S. and NATO allies.
Allied Sky was con­duct­ed by two teams: four B‑52 Stratofortresses out of six cur­rent­ly deployed to Royal Air Force (RAF) Fairford, U.K., were tasked to cover European por­tion of the mis­sion (that would see also the inte­gra­tion with with sev­er­al NATO nations' air force fight­er air­craft and aerial refu­el­ing air­craft in the skies above each host nation); two B‑52 Stratofortresses assigned to the 5th Bomb Wing at Minot Air Force Base, N. D., flew over the NATO nations of Canada and the United States.
During the mis­sion, out of the four B‑52 flying in Europe, only 61 – 0034 used its Mode‑S transpon­der and could be tracked online during its long trip (the others, seri­als 60 – 0005, 60 – 0007 and 60 – 0056, could not be tracked online using the pop­u­lar flight track­ing web­sites ADSBExchange, PlaneRadar, Airnav RadarBox etc.).
Using the radio call­sign "NATO 01" (a first, con­sid­ered that the call­sign NATO xx is usu­al­ly reserved to the Alliance's E-3A AWACS home-based at Geilenkirchen Air Base), the B‑52H/61 – 0034, under­took an inter­est­ing tour flying from RAF Fairford across Eastern Europe to the Black Sea area and then back via (among the others) Turkey, Greece, Croatia, Slovenia and Italy.
Overall, the B‑52s in Europe were escort­ed by combat air­craft of all types: RAF Typhoons and FAF Mirage 2000 over the Baltic off Lithuania; while flying over Belgium, 60 – 0005 was escort­ed by BAF F‑16s; over Poland, the B‑52 60 – 0056 was escort­ed by F‑16s and MiG-29s; while the BUFF 61 – 0034 was accom­pa­nied by JAS 39 Gripen over the Czech Republic; by F‑16s and MiG-21 Lancers over Romania; MiG-29s over Bulgaria; MiG-21s over Croatia; F‑16s over Greece; Italian Air Force Typhoons and F‑35s inter­cept­ed and escort­ed NATO 01 over Italy.
In what was a rather sym­bol­ic first, a U.S. B‑52 flew over Rome escort­ed by two @ItalianAirForce F‑35s and two Eurofighter Typhoons. The fight­ers escort­ed the B‑52 until it reached NW Italy, then RTB: the F‑35s returned to Amendola and the Typhoons returned to Grosseto. https://t.co/GG9hlJCqRW

— David Cenciotti (@cencio4) August 28, 2020
During the Turkish seg­ment, the B‑52 NATO 01 was also refu­eled by a Turkish Air Force KC-135 tanker:
2 F‑16 ve 2 KC-135R uçağımız ile ABD'ye ait B‑52 uçağı­na destek ver­ilmiş, ABD uçağı­na yakıt ikmali yapılarak F‑16 uçak­larımız tarafın­dan Ege Denizi üzerinde­ki ulus­lararası hava sahasının derin­lik­ler­ine kadar eskort görevi icra edilmiştir.https://t.co/Zssa5ZHsGq#MSB #TSK pic.twitter.com/87udEQdnIx

— T.C. Millî Savunma Bakanlığı (@tcsavunma) August 29, 2020
Noteworthy, the BUFF NATO 01 was also escort­ed by the Russians, as it was inter­cept­ed by Russian Air Force Su-27 Flankers over the Black Sea:
Russian Air Force Su-27 fight­ers, pre­sum­ably from the 38th Fighter Aviation Regiment, inter­cept­ed a US B‑52 bomber over the Black Sea today. The Su-27 fight­ers got quite close to the B‑52. 73/https://t.co/s6THo3DeXZ pic.twitter.com/X186CPIhdB

— Rob Lee (@RALee85) August 28, 2020
Here are some of the images released by the var­i­ous NATO mem­bers. Unfortunately, not all nations and air forces did take aerial shots, but some made an out­stand­ing job!
Belgium:
Today we par­tic­i­pat­ed with 🇧🇪 #F16 in the exer­cise Operation Allied Sky. This is a Bomber Task Force Mission exer­cise car­ried out by 🇺🇸#B52 air­craft togeth­er with @NATO allies and organ­ised by @US_Stratcom & @US_EUCOM. pic.twitter.com/cZA414VXSZ

— Belgian Air Force🇧🇪 (@BeAirForce) August 28, 2020
Czech Republic:
Legendární amer­ické🇺🇸 letad­lo B‑52 dnes křižo­va­lo české🇨🇿 nebe za doprovo­du Gripenů Armády ČR. https://t.co/OvRgdpPLTs #WeAreNATO 📸: @ArmadaTweetuje pic.twitter.com/axutYuwW9n

— U.S. Embassy Prague 🇺🇸🇨🇿 (@USEmbassyPrague) August 28, 2020
Croatia:
The @NATO Mission Allied Sky sym­bol­izes the future of the Alliance: stronger than ever before, united, bound by common values. Yesterday while over­fly­ing Croatia 🇭🇷, the B‑52 Bomber was accom­pa­nied by the Croatian Air Force. #WeAreNATO

PHOTO: @MORH_OSRH pic.twitter.com/HOu1ObBlNG

— U.S. Embassy Zagreb (@USEmbZagreb) August 29, 2020
RAF on BAP (Baltic Air Policing mis­sion):
.@RoyalAirForce Typhoons based in #Lithuania on Op. AZOTIZE joined other #NATO part­ners to escort US B‑52 Bombers on their epic mis­sion to fly around all 30 NATO nations in a single day #WeAreNATO pic.twitter.com/9hWGxCWioV

— Defence Operations 🇬🇧 (@DefenceOps) August 29, 2020
Romania:
B‑52 bombers and Romanian Air Force F‑16s and MiG-21 Lancers took part today at Allied Sky 2020. Photos: ROAF. @TheAviationist @cencio4 @MIL_Radar @CivMilAir @MilitaryTimes @usairforce @SHAPE_NATO @NSPA_NATO @NATOpress @HQUSAFEAFAF pic.twitter.com/Kg20bQXUj3

— Aeronews (@AeronewsGlobal) August 28, 2020
Poland:
#ICYMI 🇵🇱 F‑16 and MiG-29 accom­pa­nied 🇺🇸 @usairforce B‑52 Stratofortress bombers as they flew over Poland on August 28, as part of @NATO Operation Allied Sky. #WeAreNATO #StrongerTogether #AlliedSky

📸 Piotr Łysakowski pic.twitter.com/pXYmpUKfZB

— PLinNATO (@PLinNATO) August 29, 2020
Greece:
Απάντηση σε ανάρτηση του Τουρκικού Υπουργείου Άμυνας για την Αποστολή Συνοδείας Αεροσκάφους Β‑52 https://t.co/i3tcUYD9aS μέσω @Γενικό Επιτελείο Εθνικής Άμυνας – Επίσημη Ιστοσελίδα

— ΓΕΕΘΑ (GEETHA)-HNDGS (@hndgspio) August 29, 2020
Over Canada, the two B‑52s launched from Minot AFB as NATO 05 and 06, were escort­ed by RCAF CF-188s.
#WeAreNATO in the skies above Europe and North America! @RCAF_ARC CF-188s Hornets accom­pa­nied @usairforce B‑52 Stratofortress bombers as they soared above Ontario and Quebec for Ex ALLIED SKY to show alliance sol­i­dar­i­ty between NATO member coun­tries. #PartnerStrong pic.twitter.com/y69QL0WxFu

— Canadian Armed Forces Operations (@CFOperations) August 28, 2020
Although such mis­sions are "long-planned and not in response to any cur­rent polit­i­cal events occur­ring in Europe", Allied Sky and the sym­bol­ic fly­over of the NATO cap­i­tals sent a clear mes­sage of unity to poten­tial adver­saries and proved U.S. abil­i­ty to launch strate­gic mis­sion from both CONUS and Europe.