He Was Ordered to Self-Isolate. He Didn't. Now He's Facing Criminal Charges.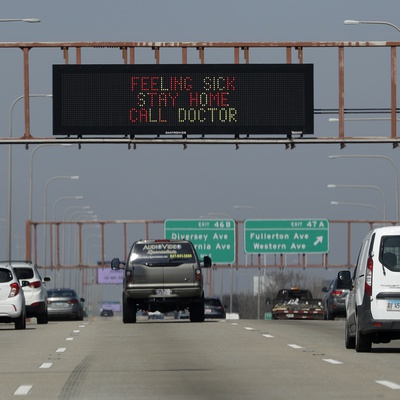 In what may be the first case of its kind in Illinois, a man who walked into a busy gas sta­tion store after post­ing on Facebook that he had been ordered to self-iso­late because of coro­n­avirus symp­toms now faces crim­i­nal charges of reck­less con­duct.
The 36-year-old man, who had stopped in the store so his 4‑year-old son could use the bath­room, was rec­og­nized by an employ­ee who had gone to high school with him and saw his social media post. After the man left, the employ­ee alert­ed her super­vi­sor, who then called author­i­ties.
The inci­dent at The Gas Station, a con­ve­nience store in Sainte Marie, a town of 250 people in south­east­ern Illinois, reflects the height­ened anx­i­eties about the coro­n­avirus pan­dem­ic and attempts to halt its spread. Store employ­ees and county offi­cials said the man acted care­less­ly by ignor­ing med­ical advice and putting others at risk.
"That indi­vid­ual entered into a Jasper County busi­ness and was clear­ly not self-iso­lat­ing," Chad Miller, the state's attor­ney in the county, said in a press release. Miller alleged that the man's actions "showed a will­ful and wanton dis­re­gard for the safety of others."
But the man said he feels fine, stayed away from people at the store and is being unfair­ly sin­gled out. If he can be charged with a crime, he warned, every­one else should be on alert that they could be next. He was not tested for the virus, he said.
"I feel like I am being rail­road­ed over some­thing and being made an exam­ple," said Jason Liddle, of Olney. The state's attor­ney did not iden­ti­fy him, but Liddle agreed to talk with ProPublica Illinois. Liddle said he learned of the mis­de­meanor charge against him on a com­mu­ni­ty Facebook page Friday. He received offi­cial notice of the charge and a sum­mons in the mail Monday.
The state's attor­ney and county Health Department offi­cials declined to com­ment through their offices.
As of Monday, Illinois had report­ed 5,057 known cases of COVID-19, includ­ing 73 deaths, spread over more than half of the state's 102 coun­ties. Nationwide, there have been about 159,000 known cases and more than 2,800 deaths.
The crim­i­nal charges come as Illinois remains under Gov. J.B. Pritzker's stay-at-home order that has closed all schools, dine-in restau­rants and nonessen­tial busi­ness­es in an attempt to stem the spread of the novel coro­n­avirus.
Governors in at least 26 states have issued stay-at-home orders, affect­ing 229 mil­lion people, but enforce­ment of those orders has been spo­radic. A New Jersey man who hosted a party at his home Friday night was issued two dis­or­der­ly per­sons tick­ets, and in North Carolina, four men were arrest­ed while protest­ing out­side an abor­tion clinic. An Indiana man charged with drunk­en dri­ving last week also was charged with dis­obey­ing the state's stay-at-home order, and a California man was fined $1,000 for surf­ing in defi­ance of beach clo­sures there.
The Jasper County case is dif­fer­ent in that the man was not charged with vio­lat­ing the statewide shut­down order, which applies to every­one. Pritzker has pre­vi­ous­ly acknowl­edged enforce­ment of the order is dif­fi­cult and not "an option that anyone prefers."
Nadav Shoked, a pro­fes­sor at the Northwestern University Pritzker School of Law, likened the Jasper County case to those of people charged crim­i­nal­ly with expos­ing others to HIV.
"This case is unique because it is a person not just vio­lat­ing the order and there­by endan­ger­ing him­self and us in gen­er­al, but some­body arguably specif­i­cal­ly endan­ger­ing some­one else," Shoked said.
Constitutional law pro­fes­sor Steven Schwinn said state and local author­i­ties have the power to enforce stay-at-home and self-iso­la­tion orders, though there are "prac­ti­cal imped­i­ments" to doing so.
"I don't think any­body is really wildly excit­ed about impos­ing a fine or some other crim­i­nal pun­ish­ment for vio­lat­ing an iso­la­tion or quar­an­tine order," said Schwinn, who teach­es at UIC John Marshall Law School.
"In a dif­fer­ent sit­u­a­tion, if we weren't deal­ing with COVID-19 and some­one walked into a con­ve­nience store with a cold and start­ed cough­ing, could they be arrest­ed? Maybe, but prob­a­bly they wouldn't be," he said. "In this envi­ron­ment, yes, they prob­a­bly can be."
The Jasper County case began when Liddle, who lives in neigh­bor­ing Richland County, posted on his Facebook page a note from a med­ical pro­fes­sion­al stat­ing he couldn't go to work and had to stay home for 14 days, until April 5, because of "pos­si­ble COVID 19 ill­ness."
Liddle said he was having chest pains and was told to go to a res­pi­ra­to­ry clinic. The nurse prac­ti­tion­er who saw him said he couldn't get tested for the novel coro­n­avirus because the tests were being reserved for health offi­cials and the elder­ly, he said. There are no report­ed COVID-19 cases in Jasper or Richland coun­ties, accord­ing to state health offi­cials.
Three days after get­ting the iso­la­tion orders, on March 25, Liddle and his family were dri­ving to his in-laws' home, about 30 min­utes away, when they stopped at The Gas Station so his son could use the bath­room. He said it was the only time he has left the house during his self-iso­la­tion.
"I took him to the restroom and took him out. I didn't think any­thing of it," Liddle said. "I didn't get close to anyone, just my son."
Ashton Osborne was work­ing at the store when Liddle walked in, she said in an inter­view. She had recent­ly seen his Facebook post with the note from the med­ical provider.
"He knew coming out in public was not a good idea to do," Osborne said. "So the moment I saw him," she said, "I got hold of my boss and told her."
Osborne said the gas sta­tion was the "busiest it had been in days."
"We have elder­ly people who come in here. It is a small, home­grown town, and it is an old, old town with old people," she said. "I have been check­ing my tem­per­a­ture every few hours just to make sure and if I see any signs myself I will stay home."
That evening, The Gas Station posted on its Facebook page that it was "bleach­ing every sur­face" in the store and, with­out naming Liddle, called his behav­ior "absolute­ly unac­cept­able."
Liddle, a satel­lite TV installer, said he obeyed the order by stay­ing home from work during the iso­la­tion period. "I didn't even real­ize there was a crime I was com­mit­ting," said Liddle, who says he has never pre­vi­ous­ly been charged with a crime. "I am not out there rob­bing anyone or com­mit­ting a crime. I get up every day and go to work — or I used to."
He said his symp­toms never wors­ened, and he feels con­fi­dent he doesn't have the virus. He said he doesn't under­stand why he's being charged. He said he never was inter­viewed by the state's attor­ney or other law enforce­ment.
"I am not trying to down­play the fact that this is some­thing major. It is very con­cern­ing for a lot of people," Liddle said. "I get that people are afraid, but I am not going to go out and will­ing­ly get people sick."
Liddle, who was charged Friday, has been ordered to appear in court in May, court records show.
If con­vict­ed, he could face a max­i­mum fine of $2,500 and up to a year's impris­on­ment.
The Jasper County state's attorney's office inves­ti­gat­ed the inci­dent along with the county Health Department and con­tact­ed the man's health care provider, Miller said in the release. He also added that he is work­ing with the county Health Department and local law enforce­ment "to mon­i­tor com­pli­ance with COVID-19 safety pre­cau­tions."
"I am not releas­ing this infor­ma­tion in order to cause panic which is why names and loca­tions have been exclud­ed, how­ev­er, I want Jasper County res­i­dents to know that public health is some­thing I take very seri­ous­ly and bla­tant acts of dis­re­gard for others safety will not be tol­er­at­ed," Miller wrote. "Stay safe, stay healthy, wash your hands, and [let's] all con­tin­ue to pray and care for each other."
ProPublica researcher Doris Burke con­tributed to this report.
Source: Route Fifty