France, Israel, S. Korea, Japan, Others Join Pentagon's AI Partnership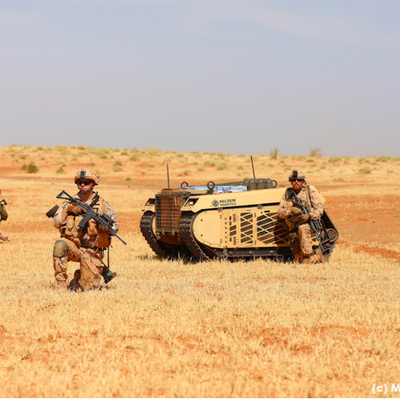 Allies and part­ners from Europe, Asia, and the Middle East are join­ing the Pentagon's recently announced part­ner­ship around AI prac­tices, defense offi­cials said Wednesday.
The first "AI Partnership for Defense" meet­ing, held Sept. 15 – 16, includ­ed del­e­ga­tions from 13 part­ner nations: Australia, Canada, Denmark, Estonia, Finland, France, Israel, Japan, Norway, the Republic of Korea, Sweden, and the United Kingdom and the United States.
Over the two days, del­e­gates "shared lessons learned and best prac­tices in har­ness­ing AI for their respec­tive and shared defense mis­sions," accord­ing to a state­ment from the host orga­ni­za­tion, the Pentagon's Joint Artificial Intelligence Center, or JAIC.
But the bigger goal is to bring togeth­er like-minded coun­tries to "shape what respon­si­ble AI looks like," said Mark Beall, the JAIC's chief of strat­e­gy.
In addi­tion to being like-minded democ­ra­cies, the coun­tries on the list rep­re­sent those that were the "fur­thest along and most inter­est­ed in work­ing with the JAIC" on key issues, Beall said.
Some of the coun­tries on the list are more obvi­ous play­ers in AI than others. Japan has long been a key inno­v­a­tive force in AI and robot­ics, with research efforts going back to the 1960s, with a Kyoto University research group led by Toshiyuki Sakai. (The group unveiled a pri­mor­dial facial recog­ni­tion system at the 1970 Osaka Expo.)
Others have emerged more recent­ly. Estonia, which hosts a NATO Center of Excellence for cyber, is quickly becoming a major center for ground robot­ics. It is work­ing to devel­op and make ground robots with Finland, which in 2017 pub­lished an AI strategy to help govern its devel­op­ment in the field.
Missing from the list are some obvi­ous allies, such as Germany. But Beall said he expects more coun­tries to join in later dia­logues, espe­cial­ly those that have an inter­est in exer­cis­ing and col­lab­o­rat­ing with the U.S. mil­i­tary. The part­ner­ship is also about inter­op­er­abil­i­ty, "espe­cial­ly around data shar­ing, ontolo­gies and devel­op­ment that helps make sys­tems secure. And it's about who has great talent and great tech­nol­o­gy and how do we figure out how to share it."
The con­ver­sa­tions around best prac­tices and ethics will "lay the foun­da­tion for inter­op­er­abil­i­ty in lots of dif­fer­ent ways" said Stephanie Culberson, the JAIC's chief of inter­na­tion­al affairs. "We want to make sure our treaty allies, part­ners, people that — if we're forced to go to war, we'll go to war with — that they're taking safety and respon­si­ble AI very seri­ous­ly."
In February, the Pentagon adopt­ed a list of AI principles to guide the build­ing, test­ing, and deploy­ing of AI. While the part­ner­ship dia­logues will touch on those prin­ci­ples, Beall says that the point is not nec­es­sar­i­ly to get the other coun­tries to follow the United States. "I would def­i­nite­ly advo­cate for our allies to adopt their own set of eth­i­cal prin­ci­ples. Many of them are on this jour­ney right now."
Said Culberson, "The goal of this not to talk them into adopt­ing ours at all but more the process of how we got to ours."