Fleet Commanders Meet Virtually on USS Blue Ridge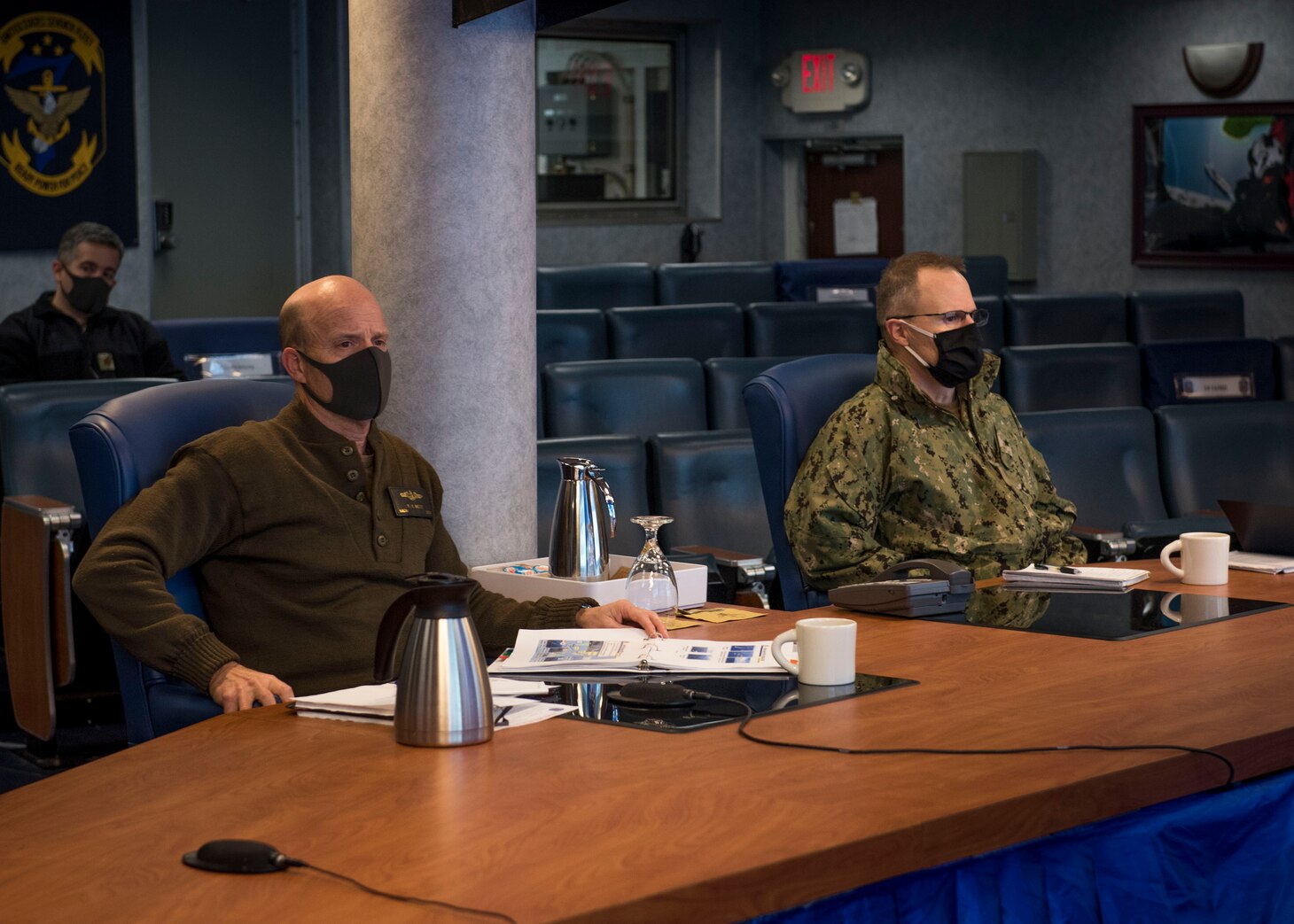 YOKOSUKA, Japan – Commander, U.S. 7th Fleet Vice Adm. Bill Merz hosted a virtual Fleet Commander's Roundtable (FCRT) from the 7th Fleet flagship USS Blue Ridge (LCC 19) Jan. 20, with naval leaders from across the Indo-Pacific to discuss maritime issues, laws and norms.
The FCRT included Commander Australian Fleet Rear Adm. Mark Hammond, Commander-in-Chief, Self-Defense Fleet Vice Adm. Hideki Yuasa, Commander, Republic of Korea Fleet Vice Adm. Jongho Lee.
This year's iteration of the FCRT was virtual due to COVID-19 mitigations.
"When we work together, there's a multiplication of the benefit of the outcome," said Merz. "In the end, I think COVID has made us stronger, and brought us together in many ways. This is where we can really come together as nations and come up with solutions."
All four nations completed maritime training in Exercise Pacific Vanguard in September of 2020. These nations have participated in numerous cooperative deployments both together and independently with the U.S. in the Indo-Pacific region in 2020 and plan to continue their partnerships in the maritime domain in 2021 and beyond.
Each Fleet Commander stressed the importance of multilateral cooperation, synchronized communication and continued operations while respecting the COVID environment.
"Everything we have achieved bilaterally and multilaterally we are looking to continue," said Rear Adm. Hammond. "We must continue to fight through the challenges of COVID-19."
The maritime leaders also discussed interoperability at sea through strategic port visits, theater security cooperation events with partner nations, and effective contribution to capacity building.
"Cooperation with an ally and partners is essential for our "Free and Open Indo-Pacific" vision," said Vice Adm. Yuasa. "Even during COVID-19, the Self-Defense Fleet maintains an immediate response posture and continues to further conduct activities that can contribute to peace and stability in the Indo-Pacific region together with partner navies."
Since 2018, each iteration of the FCRT has shown a continued commitment to improved cohesion with U.S. allies and partners in the Indo-Pacific.
7th Fleet is the U.S. Navy's largest forward-deployed fleet and employs 50 to 70 ships and submarines across the Western Pacific and Indian Oceans. 7th Fleet routinely operates and interacts with 35 maritime nations while conducting missions to preserve and protect a free and open Indo-Pacific region.