Figuring Out School Bus Routes Is More Complicated Than Ever. Districts Are Turning to Technology for Help.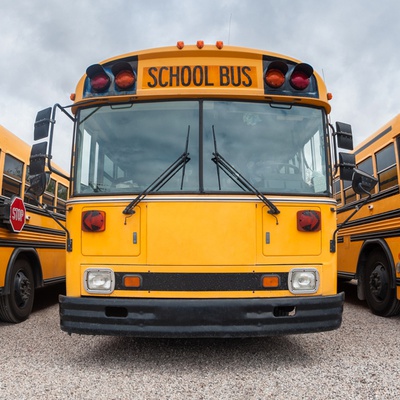 A stan­dard school bus usu­al­ly shut­tles around 70 chil­dren between their homes and school build­ing each morn­ing — or at least that was the stan­dard before the coro­n­avirus pan­dem­ic. Social dis­tanc­ing require­ments will make car­ry­ing that many stu­dents impos­si­ble this year in places like Arlington, Virginia, where school offi­cials figure that keep­ing kids six feet apart means that buses can only accom­mo­date 11 stu­dents.
"We trans­port a little over 11,000 stu­dents every day. How do we make that work?" asked Kristin Haldeman, the direc­tor of mul­ti­modal trans­porta­tion plan­ning for Arlington Public Schools.
Arlington, like many other sys­tems across the coun­try, is turn­ing to tech­no­log­i­cal solu­tions in the face of stag­ger­ing trans­porta­tion chal­lenges brought on by the pan­dem­ic. The dis­trict is used to deploy­ing soft­ware to deter­mine how its rough­ly 200 buses nav­i­gate 154 daily routes, but this year has brought a unique set of cir­cum­stances. The plan for the school year is "a moving target," with all stu­dents start­ing the fall semes­ter remote­ly, Haldeman said. But, even­tu­al­ly, some kids could be headed back to the class­room, with the dis­trict likely using A/B sched­ul­ing that means stu­dents would be coming to school build­ings in shifts two times a week. The busing puzzle this sit­u­a­tion presents is too com­pli­cat­ed for the system's cur­rent rout­ing soft­ware, which isn't able to accom­mo­date the ever-shift­ing sce­nar­ios that schools now have to plan for.
"The more effi­cient we can be with rout­ing the better off we are given all the other chal­lenges," Haldeman said.
Instead, Haldeman turned to Dynamic Ideas Routing, a com­pa­ny found­ed by MIT researchers who worked with Boston Public Schools to route buses with an algorithm that saved the school system $5 mil­lion. Dynamic Ideas is help­ing dis­tricts around the coun­try plan for all the dif­fer­ent sce­nar­ios schools might encounter this year by using algo­rithms that can show trade­offs between poli­cies like those that pri­or­i­tize in-person learn­ing for stu­dents learn­ing the English lan­guage and those with dis­abil­i­ties, along with the con­se­quences of tiered start times and stag­gered sched­ul­ing for dif­fer­ent class­rooms.
"Most school dis­tricts are having these con­ver­sa­tions with­out num­bers," said Diogo Lousa, the company's co-founder. "We're giving them the abil­i­ty to test mil­lions of 'what if' sce­nar­ios so they can make a data-driven, fea­si­ble deci­sion. The worst case sce­nario for a dis­trict would be pass­ing a policy they can't ful­fill or would cost them a ton of money they don't have."
Even though the number of chil­dren taking school buses is likely to be down this year as some fam­i­lies choose all-vir­tu­al school­ing, the severe lim­i­ta­tions on bus capac­i­ty mean that dis­tricts may be forced to con­sid­er expand­ing their bus fleets — an expen­sive propo­si­tion in a year filled with addi­tion­al costs for school sys­tems. In Arlington's case, even if the system had the money, Haldeman said there isn't the nec­es­sary avail­able space to park new buses or the capac­i­ty to recruit new dri­vers, a notoriously difficult position to fill. Without increas­ing the bus fleet, buses will need to make mul­ti­ple runs, which will impact school start times, pickup loca­tions, and more.
Arlington has a con­tract "not to exceed $75,000" for the new rout­ing assis­tance. The com­pa­ny said the cost of the soft­ware varies based on the number of stu­dents in a dis­trict and number of sce­nar­ios they want to sim­u­late.
John Hanlon, the former chief of oper­a­tions for Boston Public Schools who is now work­ing with Dynamic Ideas Routing, said that new lim­i­ta­tions on how many stu­dents can ride a bus "sets domi­noes in motion."
"Suddenly dis­tricts are faced with a number of deci­sions unlike any­thing they've had to deal with before," he said. "And the sce­nario that works for August may not work in October because things are chang­ing in this pan­dem­ic. Districts are just now coming to grips with how dif­fi­cult this prob­lem will be to solve."
The delayed start of in-person school will give Arlington more time to figure out how to handle the needs of its 28,000 stu­dents spread over 39 schools. But in other dis­tricts, the trans­porta­tion chal­lenges will need to be solved more quick­ly. Rensselaer Central Schools in rural Indiana are expect­ing the system's 1,500 stu­dents to head back into class­rooms as sched­uled on August 13. With their 28 buses run­ning at full capac­i­ty, the dis­trict needs seat­ing charts, addi­tion­al aides to enforce safety mea­sures like the required wear­ing of masks, and, most impor­tant­ly, a way to con­tact trace should anyone at their four schools get sick.
Contact trac­ing on buses isn't as easy as it might seem. A stu­dent might stay for a club after school one day and be picked up by a parent, for exam­ple, making it dif­fi­cult to pin­point who is on the bus.
"As far as know­ing who is on and off the buses every day, we didn't have a clue," said Angie Tomlinson, the schools' trans­porta­tion sec­re­tary.
To con­tact trace, the dis­trict needs a way to know which stu­dents, aides, and bus dri­vers are in con­tact with one anoth­er on a given day, so they recruit­ed the help of Tyler Technologies, one of the largest providers of bus rout­ing soft­ware in the coun­try. The com­pa­ny recent­ly debuted an app that allows aides to check stu­dents on and off the bus, giving admin­is­tra­tors a better pic­ture of exact­ly which people were on which bus at a par­tic­u­lar time.
"Some stu­dents ride the bus one day but not anoth­er … that changes all the time in a normal year," said Ted Thien, the vice pres­i­dent for Tyler Technology's stu­dent trans­porta­tion group. "We need to know the whole ecosys­tem of who is riding with who this year."
Tomlinson said she wasn't sure what the cost of the app will be to the dis­trict, as they are still work­ing out the con­tract, but that the new tech­nol­o­gy will be "huge" for help­ing the dis­trict plan out its trans­porta­tion response to the pan­dem­ic through­out the year.
In Arlington, Haldeman agreed that offi­cials would have been flying blind with­out the help of new tech­no­log­i­cal tools. "Technology is saving the day," she said.