FBI Feeds Intel to DoD for Offensive Cyber Ops, Director Tells Congress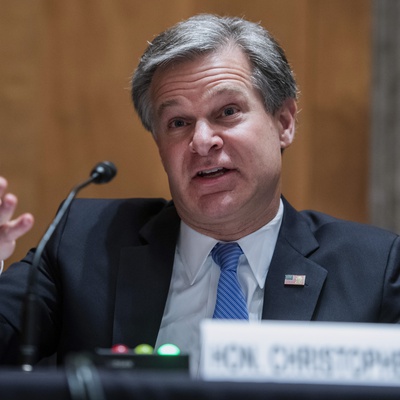 The FBI's new strat­e­gy to estab­lish costs for enti­ties per­pe­trat­ing cyber­at­tacks will include sup­ply­ing intel­li­gence to the Department of Defense and relat­ed intel­li­gence agen­cies to carry out offen­sive cyber oper­a­tions, the direc­tor of the bureau told mem­bers of Congress.
"An impor­tant part of fight­ing back against our for­eign adver­saries in the cyber realm is offense as well as defense," FBI Director Christopher Wray said tes­ti­fy­ing before the Senate Homeland Security and Government Affairs Committee Thursday during an annual hear­ing on world­wide threats to the home­land. "That's a big part of this new FBI strat­e­gy that I rolled out."
The strat­e­gy, which Wray announced Sep. 16 during the Cybersecurity and Infrastructure Security Agency Summit, is to "impose risk and con­se­quences on cyber adver­saries."
Wray also point­ed to a recent esca­la­tion of indict­ments against alleged cyber crim­i­nals, includ­ing those the FBI has tied to the gov­ern­ments of China, Iran and Russia during inves­ti­ga­tions where it some­times part­nered with CISA and the Treasury Department.
Wray added the cyber offense com­po­nent in response to a ques­tion from Sen. Mitt Romney, R‑Utah. "I think we can agree the best defense is a good offense," Romney said, asking whether the gov­ern­ment is doing enough on that front.
"Sometimes, the way to max­i­mize impact is through law enforce­ment action that we would take, some­times it's through sanc­tions," Wray said. "But some­times it's through offen­sive cyber oper­a­tions, and we are very focused on making sure that intel­li­gence and infor­ma­tion that we devel­op through our inves­tiga­tive work is shared with our part­ners to enable their oper­a­tions offen­sive­ly, so through our nation­al cyber inves­tiga­tive joint task force we're much more effec­tive in part­ner­ing with the rel­e­vant [intel­li­gence com­mu­ni­ty] and DOD agen­cies on that."
The Defense Science Board, a panel of public and pri­vate enti­ties that advis­es DOD, recent­ly released an executive summary of its recommendations for "the future of U.S. mil­i­tary supe­ri­or­i­ty." It meshes with Wray's com­ments.
"The Department, along with its stake­hold­ers at the whole-of-gov­ern­ment level, needs to be more aggres­sive in the Gray Zone and treat every action as a cam­paign to deter com­peti­tors from behav­ior counter to U.S. objec­tives," the doc­u­ment reads, noting a need to expand cyber capa­bil­i­ties to combat great power com­pe­ti­tion in areas such as "under­min­ing elec­tions, mali­cious use of social media, and employ­ing unfair busi­ness prac­tices glob­al­ly."
Wray was not opposed to more resources being put toward aug­ment­ing the FBI's abil­i­ties in the field.
"I think obvi­ous­ly it's a grow­ing area and we're get­ting more sophis­ti­cat­ed all the time, and you will never find an FBI direc­tor that wouldn't wel­come more tools," he said. "But I do think we're moving in the right direc­tion, and I think you're right to raise the issue."
Responding to Sen. Rob Portman, R‑Ohio, Wray reit­er­at­ed comments about China pre­sent­ing the most com­pre­hen­sive threat to U.S. democ­ra­cy, inno­va­tion and eco­nom­ic secu­ri­ty.
He wel­comed bipar­ti­san legislation Portman said has "gone to the floor in the sense that it's part of a pro­pos­al by Sen. [Mitch] McConnell" that would make fail­ing to dis­close for­eign ties in fed­er­al grant appli­ca­tions a crim­i­nal offense. The Safeguarding American Innovation Act cleared com­mit­tee July 22.
Portman also hinted at leg­is­la­tion to address what he said was a failure of federal agencies in imple­ment­ing the Federal Information Security Modernization Act.
"I'm very con­cerned about FISMA imple­men­ta­tion at some of our fed­er­al agen­cies," he said, direct­ing his com­ments to Homeland Security's Kenneth Cuccinelli. "They're just not doing it. We're going to get some leg­is­la­tion on that but we've got to work togeth­er to put the fire­walls in place more effec­tive­ly."
Testifying before the House Oversight Committee in July, Rep. Mike Gallagher, R‑Wisc., who is co-chair of the Cyberspace Solarium Commission, noted a dramatic imbalance between resources devot­ed to offen­sive cyber oper­a­tions, in com­par­i­son to those spent on cyber defense.