Face Masks Are In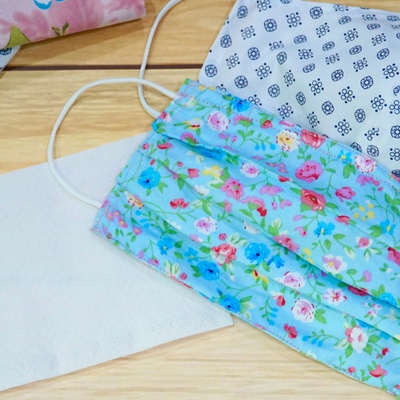 "We want our coun­try back. We're not going to be wear­ing masks for­ev­er," Donald Trump said this week when asked whether his admin­is­tra­tion would con­sid­er call­ing on Americans to wear masks en masse as the coro­n­avirus pan­dem­ic rav­ages the nation, sig­nal­ing that he wasn't exact­ly com­fort­able with the idea.
His com­ments came amid reports that the Centers for Disease Control and Prevention is rethink­ing guid­ance it's been issu­ing for months: that people who aren't sick or caring for some­one who is need not wear face masks when they ven­ture out in public.
The pres­i­dent seemed to be imply­ing that a masked coun­try couldn't be our coun­try — that such a sight would be alien and alarm­ing, and thus hope­ful­ly a short-lived ordeal. It was an expres­sion of the stigma long attached to mask-wear­ing in the Western world, unlike in many Asian coun­tries, where those who don't wear masks during public-health crises are the ones who are stig­ma­tized. While an American might walk into a gro­cery store these days and view the pro­lif­er­at­ing number of masked shop­pers as crush­ing con­fir­ma­tion that the apoc­a­lypse is nigh, some­one in Hong Kong or South Korea might see the same scene as an uplift­ing indi­ca­tion that the com­mu­ni­ty is coa­lesc­ing to fend off cat­a­stro­phe.
It would be sim­plis­tic to state that the stigma­ti­za­tion of mask-wear­ing in the West, and the cor­re­spond­ing lag in Westerners adopt­ing the prac­tice, are respon­si­ble for the strug­gles to con­tain the coro­n­avirus. The sci­ence on the effi­ca­cy of face masks just isn't there. But these fac­tors do illus­trate a number of the chal­lenges — the fail­ure to take the threat of pan­demics seri­ous­ly and pre­pare accord­ing­ly, the lack of social sol­i­dar­i­ty during public-health emer­gen­cies, the absence of com­pre­hen­sive gov­ern­ment con­tain­ment strate­gies — that proved dis­as­trous as the virus moved west­ward.
"In the West, I think we need to over­come — I wouldn't call it a fear of the mask, but [the] stigma with a mask," Christos Lynteris, a med­ical anthro­pol­o­gist at the University of Street Andrews, in Scotland, told me. "I've heard people say, 'I was car­ry­ing a mask in the air­plane but I was too ashamed to wear it.' Where does this shame come from? Is it because people will think you are a wimp? Because people will think you are ill?"
That shame simply doesn't exist in East Asia. China has had an ethic of wear­ing masks during public-health emer­gen­cies since the out­break of the pneu­mon­ic plague in 1910, and Japan has a long tra­di­tion of doing so as well. In other East Asian coun­tries, the public prac­tice was first forged in 2003 as SARS, anoth­er lethal coro­n­avirus, spread from China, pum­meled the health sys­tems of neigh­bor­ing coun­tries, and left a ter­ri­fy­ing, indeli­ble impres­sion of the damage that viral res­pi­ra­to­ry dis­eases can inflict.
Judy Yuen-man Siu, a med­ical anthro­pol­o­gist at Hong Kong Polytechnic University, told me by email that mask-wear­ing went from being uncom­mon in Hong Kong before SARS to being widely adopt­ed after­ward — as an impor­tant com­po­nent of con­tain­ing a viral out­break, and as a civic duty and a signal of "sup­port to health-care providers." Today in Hong Kong, "if you do not use a face mask in public areas, you will be stig­ma­tized and dis­crim­i­nat­ed against, not just because people would [be] afraid of you as a poten­tial virus-spread­er, but [also because] it can mean you have low civic respon­si­bil­i­ty," she wrote. Siu noted that face-mask usage has been thor­ough­ly "social­ized" in the semi­au­tonomous Chinese region, by public-health offi­cials who stressed the need for it in the throes of the SARS crisis as well as by school­teach­ers. Governments "can create cul­ture," she observed, just as the Trump admin­is­tra­tion has during the coro­n­avirus crisis by advis­ing Americans not to wear masks unless they are sick.
Lynteris said that ever since SARS, Westerners have asso­ci­at­ed mask-wear­ing with China and East Asia more broad­ly. He attrib­uted the result­ing stigma in the West in part to xeno­pho­bia and the idea of "China being the origin of infec­tious dis­eases and Chinese people spread­ing them."
If you wear a mask in a British super­mar­ket, he noted, "people react strange­ly," for a number of pos­si­ble rea­sons: the asso­ci­a­tion with East Asian coun­tries, a sus­pi­cion that you're using some­thing that others are more in need of, a con­cern that you're wear­ing it because you're ill and shouldn't be there, a con­vic­tion that you're "unnec­es­sar­i­ly spread­ing panic."
Still, face masks likely "played an active role in slow­ing down the dis­ease trans­mis­sion progress in Asian coun­tries" rel­a­tive to Western coun­tries, Elaine Shuo Feng, a University of Oxford epi­demi­ol­o­gist who has stud­ied coun­tries' vary­ing face-mask poli­cies during the COVID-19 out­break, told me. But their usage should be part of a pack­age of con­tain­ment mea­sures, includ­ing social dis­tanc­ing, school clo­sures, and pos­si­bly lock­downs to slow the spread of the coro­n­avirus through com­mu­ni­ties.
In places such as Hong Kong, South Korea, and Taiwan, which have had rel­a­tive suc­cess so far in con­tain­ing COVID-19, the public and its lead­ers under­stood this real­i­ty from the start of the out­break. As my col­league Ed Yong has cau­tioned, the fact that sev­er­al coun­tries that have made the most progress in con­tain­ing the coro­n­avirus also have robust mask tra­di­tions doesn't nec­es­sar­i­ly imply cau­sa­tion. "China advo­cat­ed mask use early on and still strug­gled to con­tain the dis­ease," he points out, while "Singapore reserved them for health-care work­ers but still flat­tened the curve of infec­tions." What can be said more defin­i­tive­ly is that mask-wear­ing tends to be wide­spread in coun­tries that view dis­ease out­breaks with the grav­i­ty that comes from first­hand expe­ri­ence with the horror of an epi­dem­ic.
There's plenty of debate among experts about the risks and rewards of people wear­ing home­made or sur­gi­cal masks in public. And in a coun­try such as the United States, which is cur­rent­ly grap­pling with an acute short­age of masks (a reflec­tion of the government's fail­ure to pre­pare for a pan­dem­ic by stock­pil­ing per­son­al pro­tec­tive equip­ment), pri­or­i­ty for the most effec­tive ones must go to health-care and other essen­tial work­ers who are most at risk of expo­sure, along with those seg­ments of the pop­u­la­tion that are most vul­ner­a­ble to the virus. In such an envi­ron­ment, an Oprah-esque "every­one gets a mask!" policy works only as a hypo­thet­i­cal exer­cise.
Nevertheless, the gen­er­al con­sen­sus among experts is that while wear­ing some type of mask might not do much to pro­tect you from catch­ing the coro­n­avirus, it might help pre­vent you from infect­ing others if you have COVID-19. Relative to mea­sures such as social dis­tanc­ing, diag­nos­tic test­ing, and better equip­ping hos­pi­tals, public mask-wear­ing (even if it's a DIY kind) is an inex­pen­sive inter­ven­tion in the midst of a pan­dem­ic — maybe not as effec­tive as good hand-wash­ing hygiene, but prob­a­bly better than the alter­na­tive of no one cov­er­ing up. And it may be espe­cial­ly effec­tive when com­bined with other hygien­ic prac­tices such as hand-wash­ing. Plus, it has socio­cul­tur­al advan­tages that go beyond the narrow sci­en­tif­ic ques­tion of masks' capac­i­ty to dis­rupt the trans­mis­sion of the virus.
"Whether the masks actu­al­ly work or not, having a com­mu­ni­ty wear them brings it togeth­er sym­bol­i­cal­ly, visu­al­ly against this dis­ease," which is par­tic­u­lar­ly vital during peri­ods of social dis­tanc­ing and iso­la­tion, Lynteris said. For the gen­er­al public, masks are less a reli­able pro­phy­lac­tic against a virus than a sign that a soci­ety has learned painful lessons about taking epi­demics seri­ous­ly — more seri­ous­ly than many in the United States and Europe have, until very recent­ly at least.
Already, the threat of COVID-19 has eclipsed the stigma of mask-wear­ing in sev­er­al nations, such as Austria, the Czech Republic, and Israel, where gov­ern­ments have instruct­ed every­one to cover their face out­side the home. The United States could be next; sport­ing a black cloth mask yes­ter­day as he urged all of his con­stituents to follow his lead, Los Angeles Mayor Eric Garcetti said, "I know this looks sur­re­al [but] we're going to have to get used to seeing each other like this." Even Trump, within the space of a day this week, went from reluc­tant­ly con­tem­plat­ing mask-wear­ing to telling Americans that "there's cer­tain­ly no harm" in cov­er­ing their face with a scarf. Taiwan is now donat­ing mil­lions of face masks to the U.S. and around the world.
It's pos­si­ble that Americans and Europeans will emerge from the cur­rent crisis, as East Asians emerged from the trau­mas of SARS and sub­se­quent epi­demics, with the con­vic­tion that an object they once asso­ci­at­ed with over­re­ac­tion and oth­er­ness can actu­al­ly be a means of cul­ti­vat­ing pru­dence and togeth­er­ness.
Source: NextGov