EURONAVAL 2020: The Not-to-Be-Missed Event for Maritime Industry
EURONAVAL, the only world exhi­bi­tion ded­i­cat­ed to the naval defence and mar­itime secu­ri­ty is set to place at Paris – Le Bourget from Oct 20 – 23, 2020.
This excep­tion­al edi­tion will of course be unique. EURONAVAL is the major world meet­ing place for the naval and mar­itime sector. Major indus­tri­al­ists, SME-ISE, offi­cial del­e­ga­tions, start-ups, all have been con­gre­gat­ing at Paris Le Bourget from all over the world for the last 50 years to dis­cov­er tech­nolo­gies of the future, prepar­ing future of navies in terms of war­fare and polic­ing, nego­ti­at­ing con­tracts and exchang­ing exper­tise on major naval issues.
As the health con­cerns around the world due to the COVID-19 pan­dem­ic forced many exhi­bi­tion organ­is­ers to cancel their events since March, it is now nec­es­sary to carry on living and work­ing, while being aware of the virus threat. This is why GICAN, with the sup­port of the French Ministry of the Armed Forces, has taken a coura­geous deci­sion: to main­tain EURONAVAL 2020, an essen­tial event not only for the naval sector, but also for the econ­o­my as a whole.
EURONAVAL to Adhere to Strict Procedures
Health pro­to­col: in order to wel­come all groups of public in com­plete safety, EURONAVAL's teams have been work­ing for months to build a 2020 edi­tion adapt­ed to the health sit­u­a­tion. A spe­cif­ic pro­to­col has been imple­ment­ed: no more than 5,000 people present at the same time inside the enclo­sure, masks must be worn, alco­hol-based gel must be freely avail­able at all strate­gic points, floor mark­ings to ensure that people respect social dis­tanc­ing in high den­si­ty loca­tions (entrances, exits, restau­rants, etc.). Full protocol here
Web-Conference: Three the­mat­ic web con­fer­ences will be organ­ised in part­ner­ship with the Foundation for Strategic Research (FRS) to replace the open­ing con­fer­ence ini­tial­ly planned at the Maison de la Chimie. High level speak­ers from polit­i­cal, mil­i­tary, indus­tri­al and aca­d­e­m­ic fields will address major naval defence and mar­itime secu­ri­ty issues. To attend the event live, reg­is­tra­tions can be com­plet­ed online using the badge order module on the exhibition website.

CYBER Naval Hub by FIC: This year, in part­ner­ship with CEIS, the EURONAVAL 2020 teams will be pre­sent­ing a new pavil­ion ded­i­cat­ed to cyber­se­cu­ri­ty: the Cyber Naval Hub. Workshops and meet­ings on this sub­ject will take place through­out the week.
Six com­pa­nies will be par­tic­u­lar­ly promi­nent in this space pre­sent­ing their inno­va­tions:
France Cyber Maritime: The mar­itime sector is facing increas­ing attacks on its sys­tems. Ports, ships, logis­tics oper­a­tors and all activ­i­ties can have their activ­i­ties deeply impact­ed. France Cyber Maritime, its sec­toral Maritime CERT (M‑CERT) and the ser­vices it deliv­ers are the adapt­ed mar­itime response to counter the cyber threats for SME's up to crit­i­cal infra­struc­tures.
Gatewatcher (FR): pro­duces the Trackwatch® advanced intru­sion and threat detec­tion system.
Holiseum (FR): A global approach to secu­ri­ty to secure crit­i­cal infra­struc­tures by offer­ing ser­vices across the entire value chain of cyber­se­cu­ri­ty ser­vices: gov­er­nance, audits, solu­tions, reme­di­a­tion and oper­a­tions.
KUB Cleaner (FR): has devel­oped the KUB sta­tion (Kiosk for Universal Blocking). A kiosk avail­able to users, main­te­nance providers, sup­pli­ers, which decon­t­a­m­i­nates remov­able media in order to pro­tect infor­ma­tion and pro­duc­tion sys­tems from USB media infec­tions.
Stormshield: A European leader in dig­i­tal infra­struc­ture secu­ri­ty and a wholly-owned sub­sidiary of Airbus CyberSecurity, the com­pa­ny offers smart, con­nect­ed solu­tions to antic­i­pate attacks and pro­tect dig­i­tal infra­struc­tures.
Tixeo (FR): designs and pro­vides secure video­con­fer­enc­ing solu­tions that guar­an­tee organ­i­sa­tions strict con­fi­den­tial­i­ty for their com­mu­ni­ca­tions.
Naval-Online
Aware that a cer­tain number of coun­tries will prob­a­bly not be able to send del­e­ga­tions and indus­tri­al­ists to visit the exhi­bi­tion this year, the organ­is­ers, SOGENA have decid­ed to create Naval-Online, the dig­i­tal com­ple­ment to the EURONAVAL exhi­bi­tion. For exhibitors, it will be an excep­tion­al oppor­tu­ni­ty to extend the vis­i­bil­i­ty of their offer and prod­ucts. Each exhibitor will be able to invite vis­i­tors, clients and part­ners who are far­away and unable to attend. J2C-Communication will con­tact all exhibitors to accom­pa­ny them on Naval-Online and offer them ways to cus­tomise their dig­i­tal stand.
Exhibitors, Visitors Will Be Present
As of Sep 15, 35 days before the show's open­ing, nearly 300 exhibitors from 20 coun­tries have already con­firmed their pres­ence. The organ­is­ers are ready to wel­come major French and foreign industrialists. Start-ups will once again be given pride of place this year in the SEAnnovation area.
In addi­tion, more than 40 coun­tries have so far con­firmed their inten­tion to send an offi­cial del­e­ga­tion to the event.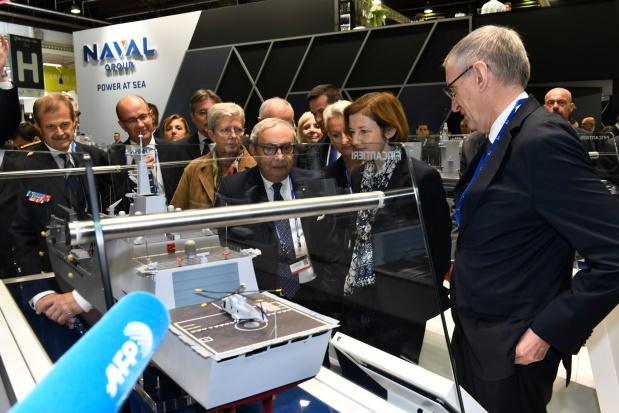 "We would like to thank all our exhibitors, new and old, for­eign del­e­ga­tions and reg­is­tered vis­i­tors who, despite the health crisis we are going through, have renewed their con­fi­dence in us. This com­mit­ment con­firms the resilience of our indus­try and high­lights the spirit of enter­prise and market com­pe­ti­tion that char­ac­teris­es our sector as a whole," said EURONAVAL Managing Director, Hugues d'Argentré,