Don't Want to Wear a Mask? in Some Places, It Could Cost You.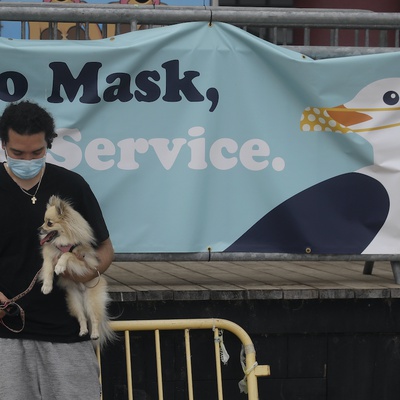 When Delaware Gov. John Carney reopened the state's beach­es in May, he encour­aged res­i­dents to wear masks on the sand — but man­dat­ed them on the board­walks.
"Summer at the beach and the pool is a huge part of life for so many Delawareans," Carney said in a state­ment announc­ing the May 22 reopen­ing. "As we ease our way into a new normal, we're trying to find ways for Delawareans to enjoy the out­doors and the com­pa­ny of their fam­i­lies."
Since then, police in Rehoboth Beach—one of the state's most pop­u­lar coastal cities — have issued just one cita­tion for non-com­pli­ance, to a Pennsylvania man who, despite "numer­ous warn­ings," refused to give police his name or show iden­ti­fi­ca­tion after being told he had to wear a mask on the board­walk. He spent an hour in cus­tody in early June and was released with a civil cita­tion — and a mask.
In that same time period, police have handed out more than 12,500 masks to people on the board­walk. Last week, spurred by rising Covid-19 cases, city offi­cials voted to make face cov­er­ings manda­to­ry in all public spaces.
"As we are seeing right now, with­out these pre­cau­tions, the com­mu­ni­ty spread is real," City Manager Sharon Lynn said in a state­ment. "The city has crowd­ed streets and people who are not wear­ing masks and ignor­ing social dis­tanc­ing."
At this point in the coro­n­avirus pan­dem­ic, most public offi­cials at all levels of gov­ern­ment agree that people should wear masks in public places where it's dif­fi­cult to avoid others. But the ques­tion of whether that advice should become a require­ment con­tin­ues to divide lead­ers, with local offi­cials often bemoan­ing the lack of state man­dates or, in some cases, agi­tat­ing for the author­i­ty to imple­ment their own rules.
As the patch­work of Covid-19 mask reg­u­la­tions has con­tin­ued to evolve, typ­i­cal­ly fol­low­ing surges in cases, other state and local lead­ers are now con­tem­plat­ing what, if any, penal­ty should be put in place to enforce com­pli­ance. In Virginia, for exam­ple, the mask policy—enforced by public health offi­cials rather than law enforce­ment agen­cies — requires a court order to issue any kind of civil penal­ty. In North Carolina, cita­tions are given only to busi­ness owners who don't comply with the man­date — not to indi­vid­ual res­i­dents, while in Miami, people who "repeat­ed­ly" refuse to wear masks in public can be fined up to $500, though penal­ties begin with a warn­ing in an attempt to "edu­cate" people.
The addi­tion of penal­ties comes after elect­ed offi­cials in many places spent months encour­ag­ing vol­un­tary com­pli­ance with mask orders or sug­ges­tions, urging res­i­dents to pro­tect them­selves and others by don­ning face cov­er­ings in public spaces where social dis­tanc­ing — remain­ing at least 6 feet apart — is unre­al­is­tic. For some people, the deci­sion to wear or require a mask became a polit­i­cal state­ment, while other res­i­dents expressed con­fu­sion about shift­ing guid­ance from public health agen­cies, which had ini­tial­ly dis­cour­aged mask-wear­ing among healthy people. (As stock­piles of med­ical sup­plies rebound­ed and researchers learned more about the virus and its trans­mis­sion, health offi­cials now rec­om­mend that every­one wear a mask in public.)
"The need to wear a mask is defin­i­tive," said Dr. Brian Castrucci, pres­i­dent of the public health-focused de Beaumont Foundation. "There is little debate among public health lead­ers. Despite this, people are refus­ing to wear masks, often citing free­dom or the Constitution — nei­ther of which pro­hib­it a mask-wear­ing ordi­nance. The poli­cies are sym­bol­ic, but, at this point, it is not clear that we have the where­with­al to enforce mask-wear­ing."
The logis­tics of enforce­ment are par­tic­u­lar­ly dif­fi­cult during a pan­dem­ic. Multiple gov­er­nors have said they have no inter­est in jail­ing people for refus­ing to wear masks, as plac­ing people in indoor cells is likely to accel­er­ate trans­mis­sion of the virus. In Texas, for exam­ple, Gov. Greg Abbott said explic­it­ly that enforce­ment of his manda­to­ry mask policy, enact­ed last week, would not include jail time.
"All of us have a col­lec­tive respon­si­bil­i­ty to edu­cate the public that wear­ing a mask is the best thing to do," he said at a news con­fer­ence. "Putting people in jail, how­ev­er, is the wrong approach for this thing."
Fines could be a more effec­tive deter­rent, other offi­cials said. In Hillsborough County, Florida, com­mis­sion­ers voted to require "indoor busi­ness oper­a­tors" to enforce mask-wear­ing or be sub­ject to a second-degree mis­de­meanor, pun­ish­able with a $500 fine, six months pro­ba­tion and, poten­tial­ly, jail time. The addi­tion of a penal­ty was driven large­ly by Les Miller, chair­man of the Board of County Commissioners, who said that pass­ing a mask policy with­out some sort of enforce­ment mech­a­nism was no dif­fer­ent than urging vol­un­tary com­pli­ance.
"I cannot see us sit­ting here and making anoth­er strong rec­om­men­da­tion," he said at a June meet­ing of the county's emer­gency policy group, which approved the order 5 to 3.
Since the county imposed the man­date, Miller, who is Black, report­ed receiv­ing racist emails. The county has also been sued over the mask require­ment, includ­ing a law­suit brought by a state law­mak­er.
Even with penal­ties in place, enforce­ment can be dif­fi­cult. States and munic­i­pal­i­ties are large­ly not track­ing com­pli­ance with mask poli­cies, and some law enforce­ment offi­cials have been reluc­tant to enforce them. A dozen police depart­ments and sheriff's offices in east­ern Texas respond­ed to Abbott's order by saying they would rely on "vol­un­tary com­pli­ance" and would not issue cita­tions to people who refuse to wear masks in public.
"We are in a public health crisis and we will use this oppor­tu­ni­ty to edu­cate our com­mu­ni­ty while still respect­ing indi­vid­ual lib­er­ties," Lt. Scott Spencer, a spokesman for the Montgomery County Sheriff's Office in south­east­ern Texas, said in a state­ment. "We encour­age all cit­i­zens to take rea­son­able pre­cau­tions in their own life to mit­i­gate pos­si­ble expo­sure by fol­low­ing all health depart­ment guide­lines."
Civil rights groups have also raised con­cerns about local enforce­ment. Fines may not address the under­ly­ing rea­sons that people don't wear masks, said Jag Davies, a spokesman for the Fines and Fees Justice Center.
"There's a cer­tain pop­u­la­tion that's not wear­ing masks because of access. You fix that by giving them better access to masks," he said. "For people who are not wear­ing masks on pur­pose, that's where better public edu­ca­tion needs to come in. There's no evi­dence that these fines will have a deter­rent effect, and the ben­e­fits of polic­ing mask behav­ior likely do not out­weigh the draw­backs."
Multiple mask ordi­nances seem to acknowl­edge that risk, rely­ing heav­i­ly on police and public health offi­cials to issue warn­ings to first offend­ers and attempt to edu­cate people about the impor­tance of wear­ing masks. Some cities, includ­ing Tampa, have also sent offi­cers into crowd­ed areas to dis­trib­ute masks to people who aren't wear­ing them instead of writ­ing tick­ets.
Theoretically, the intro­duc­tion of fines could be a game-chang­er, Castrucci said. But for any mask man­date to be suc­cess­ful, a major­i­ty of the pop­u­la­tion still has to buy in.
"This will be about people more than poli­cies," he said. "Masks are uncom­fort­able. Quarantine fatigue is real. But, the virus is unre­lent­ing. It doesn't get frus­trat­ed or tired. It is there, just wait­ing until our resolve weak­ens. Mask wear­ing, while not per­fect, is some­thing that we can do to keep the econ­o­my moving while we wait for a vac­cine or better med­ica­tion."