DoD Pours Millions of Dollars Into Print-on-Demand Drugs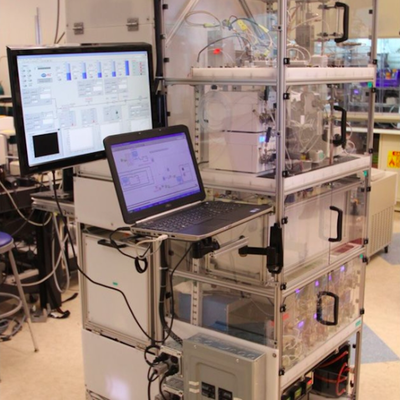 An idea born of bat­tle­field need — print-on-demand phar­ma­ceu­ti­cals — may ulti­mate­ly help ease COVID-era con­cerns about for­eign supply chains.
On Monday, the Defense Department announced a $20 mil­lion con­tract to On Demand Pharmaceuticals, to fur­ther devel­op machines that can pro­duce drugs at the point of care. ODP's minia­ture drug fac­to­ries are built on research first funded in 2016 by the Battlefield Medicine project of the Defense Advanced Research Projects Agency. DARPA's goal was to create a drug-making machine that could be shipped to harsh envi­ron­ments and mix med­i­cines on demand for a wide vari­ety of ill­ness­es or con­di­tions.
"It can often take weeks to months to man­u­fac­ture and air­lift organ­ic phar­ma­ceu­ti­cals and pro­tein ther­a­peu­tics to bat­tle­field front­lines, mean­ing that crit­i­cal med­ical sup­plies often do not arrive in time where they are needed most," reads the pro­gram descrip­tion on DARPA's website.
ODP's device con­tin­u­ous flow chem­istry to com­bine ingre­di­ents in a spe­cial tube or pipe, reduc­ing the time and space needed for the mul­ti­ple steps of traditional batch production. A process called con­tin­u­ous bio­pro­cess­ing does some­thing sim­i­lar for bio­log­ics such as anti­body ther­a­peu­tics. ODP's device can make both types of med­i­cines.
"These sys­tems make drugs from start­ing mate­ri­als to fin­ished prod­uct in hours instead of weeks or months," the com­pa­ny says on its Linkedin page.
Such machines may prove useful far closer to home than DARPA orig­i­nal­ly envi­sioned. The pan­dem­ic has under­scored how depen­dent the United States has become on for­eign com­pa­nies to supply var­i­ous drugs and their com­po­nents, called active phar­ma­ceu­ti­cal ingre­di­ents, or APIs. Lawmakers and others have expressed con­cern. "Critical APIs and their start­ing mate­ri­als have long been sourced from over­seas, and the col­lab­o­ra­tion with ODP is expect­ed to increase the onshore pro­duc­tion of three crit­i­cal APIs that ulti­mate­ly form the build­ing blocks for final for­mu­lat­ed med­i­cines used to treat crit­i­cal­ly ill U.S. ser­vice mem­bers and COVID-19 patients," notes the Monday state­ment from the Defense Department.