Deepfakes Are Getting Better, Easier to Make, and Cheaper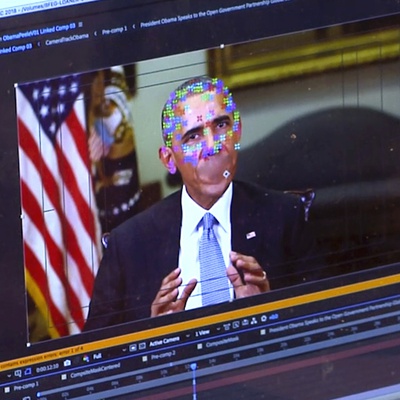 Deepfakes —com­put­er-gen­er­at­ed images and footage of real people — have emerged as a major worry among the nation­al secu­ri­ty set. A new paper from researchers at FireEye finds that tools pub­lished to open source repos­i­to­ries such as GitHub are reduc­ing the amount of tech­ni­cal exper­tise required to pro­duce ever-more-con­vinc­ing deep­fakes. Moreover, they are increas­ing­ly easy to pur­chase from dis­rep­utable mar­ket­ing and PR firms.
In the paper pub­lished online today and pre­sent­ed (vir­tu­al­ly) at the cyber­se­cu­ri­ty con­fer­ence Black Hat, researchers Philip Tully and Lee Foster write that it takes thou­sands of dol­lars and weeks to pro­duce new soft­ware tools for syn­thet­ic media gen­er­a­tion. "However, the appli­ca­tion of transfer learning can dras­ti­cal­ly reduce the amount of time and effort involved," they write. In other words, a set of com­mon­ly-avail­able tools has emerged that lends itself to the cre­ation of faked images and voice record­ings.
They men­tion a gen­er­a­tive adver­sar­i­al [neural] net­work or GAN model dubbed StyleGAN2, the under­ling code of which is avail­able on GitHub. Tully and Lee showed that with a dataset of com­piled Tom Hanks pics, struc­tured to be of the same size and gen­er­al direc­tion, they could easily use StyleGAN2 tools to create new, con­vinc­ing images of the actor, which they revealed in their Wednesday demon­stra­tion.
They next showed how easy it was to use soft­ware called Transfer Learning from Speaker Verification to Multispeaker Text-To-Speech Synthesis, or SV2TTS, to clone the voice of the actor to go with the fab­ri­cat­ed images. Programmers have, sim­i­lar­ly, con­tributed to the SV2TTS GitHub page. "All we need to do is col­lect some audio sam­ples [of the intend­ed target] which are freely avail­able to record via the Internet, load up a few of the result­ing M4A files into the pre-trained SV2TTS model, and use it as a fea­ture extrac­tor to syn­the­size new speech wave­forms," they write.
Researchers, includ­ing many with funding from the U.S. military, have been work­ing on ways to auto­mat­i­cal­ly detect deep­fakes using biometric signals (the fact that cer­tain phys­i­cal indi­ca­tors like pulse don't repro­duce well in faked video) The good news from Tully and Foster's research is that out-of-the-box deep­fakes are rel­a­tive­ly easy to spot, also using machine learn­ing pro­grams available on GitHub. But the more a would-be actor with money and time is able to cus­tomize the soft­ware or the under­ly­ing dataset, the harder it becomes to detect. "Detection accu­ra­cy dipped to around 78% for fine-tuned gen­er­a­tions as the dis­tri­b­u­tion of scores output by the clas­si­fi­er shifts closer to chance, as shown in red. So if threat actors were to fine-tune on a custom dataset they them­selves col­lat­ed, this could present a prob­lem­at­ic asym­me­try between the data used to create the syn­thet­ic gen­er­a­tions and the data blue teams would have access to — or even knowl­edge of — with which to build a com­men­su­rate detec­tion model," they write.
In their pre­sen­ta­tion, they noted that some mar­ket­ing firms had already begun to offer deep­fakes as a ser­vice, with prices vary­ing based on time spent and sophis­ti­ca­tion of the prod­uct. Very few of those firms includ­ed any safe­guards to make sure that the deep faked footage was pro­duced with the con­sent of the indi­vid­ual whose like­ness was stolen.
As strate­gist Peter Singer has pointed out, the enor­mous volume of new, grainy, filmed-at-home video footage, over plat­forms such as Zoom, means deep­fakes will be more dif­fi­cult to stop simply because people are becom­ing more used to con­sum­ing lots of grainy, choppy, video-footage. "The qual­i­ty bar does not need to be exceed­ing­ly high when it comes to syn­thet­ic gen­er­a­tions; it only needs to be "good enough" for even just a subset of vocal users to not ques­tion it in a world char­ac­ter­ized by rapid, high-volume infor­ma­tion con­sump­tion."
There's a reason deep­fakes are emerg­ing as a major nation­al secu­ri­ty con­cern, imper­son­at­ing groups like jour­nal­ists is becom­ing an increas­ing­ly common tactic among key adver­sary groups. Pro-Iranian actors have imper­son­at­ed jour­nal­ists in order to solic­it com­ments to pro­duce pro-regime pro­pa­gan­da (in February, Facebook announced that they had removed sev­er­al accounts based in Iran for that reason.) Russia, too, has taken to hack­ing legit­i­mate news sites in order to push fake news sto­ries aimed at under­min­ing NATO in places like Lithuania, Poland, and Ukraine. Ultimately, easier-to-access deep­fak­ing tools sug­gests that behav­ior will accel­er­ate.