Cruise Ship Coronavirus Ordeal Ends With Cambodia Welcome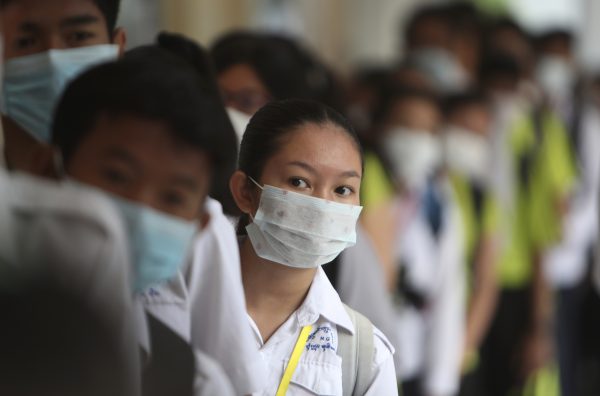 Hundreds of cruise ship pas­sen­gers long strand­ed at sea by virus fears cheered as they final­ly dis­em­barked Friday and were wel­comed to Cambodia by the nation's author­i­tar­i­an leader who handed them flow­ers.
Prime Minister Hun Sen agreed to let the Westerdam dock at the port of Sihanoukville on Thursday after Thailand, Japan, Taiwan, the Philippines and Guam had barred the ship ear­li­er.
"Today, although Cambodia is a poor coun­try, Cambodia has always joined the inter­na­tion­al com­mu­ni­ty to solve the prob­lems that the world and our region are facing," he said as the first pas­sen­gers dis­em­barked.
"How won­der­ful it is to be here. Thank you very much to the prime min­is­ter. He has a won­der­ful heart," said Anna Marie Melon, from Queensland, Australia. "I'm very excit­ed (to be here)," she said as she waved a rose Hun Sen handed to her.
The pas­sen­gers cheered as they walked toward wait­ing buses and waved good­bye to other pas­sen­gers watch­ing from the ship's deck.
"Your coun­try did a great job. Did a won­der­ful job. Thank you very much. We appre­ci­ate it very much," Joe Spaziani, 74, from Florida, told reporters. He and many other pas­sen­gers wore a krama, a tra­di­tion­al Cambodian scarf, around their necks.
"Cambodia alone, even the United States, Guam, did not let us land, but Cambodia did, so that's won­der­ful. Absolutely won­der­ful," Spaziani said. "We appre­ci­ate it very very much. It's been a long strug­gle and we appre­ci­ate every­one being here."
The Westerdam was unwel­come else­where even though oper­a­tor Holland America Line said no cases of the COVID-19 viral ill­ness have been con­firmed among its 1,455 pas­sen­gers and 802 crew mem­bers. Some 20 pas­sen­gers had report­ed stom­achaches or fever, but tests for the virus done at the Pasteur Institute in Phnom Penh showed none had the ill­ness.
Hun Sen has said he acted for human­i­tar­i­an rea­sons and said at the dock he wanted to allow pas­sen­gers to return to their home coun­tries.
"If Cambodia did not allow this ship to dock here, where should this ship go?" he said. "I want to inform Cambodians and the world that I coming here even for a short time means this is no time for dis­crim­i­na­tion and to be scared, but a time for every­one to be in sol­i­dar­i­ty to solve the prob­lems we are facing now."
A strong sup­port­er of China, Hun Sen has down­played threats from the new virus and unlike other Asian nations, he declined to ban direct flights between Cambodia and China, saying that would dis­turb bilat­er­al rela­tions and hurt his country's econ­o­my. Cambodia has one con­firmed case of the virus, a vis­i­tor from China, despite its pop­u­lar­i­ty with Chinese tourists.
Acting as a good Samaritan is an unusu­al role for Hun Sen, who has been in power for 35 years. His party swept 2018 elec­tions that drew sharp con­dem­na­tion as nei­ther free nor fair after a court dis­solved the only cred­i­ble oppo­si­tion party.
The U.S. has imposed diplo­mat­ic sanc­tions due to Cambodia's repres­sive polit­i­cal cli­mate, and the European Union ear­li­er this week declared its inten­tion to do the same, citing human rights and trade union vio­la­tions.
Taking advan­tage of the oppor­tu­ni­ty to boost his country's tourism pro­file, Hun Sen said the pas­sen­gers were free to go to the beach, go sight­see­ing in Sihanoukville or even visit the famous cen­turies-old Angkor Wat temple com­plex in the north­west.
Mang Sineth, the vice gov­er­nor in Preah Sihanouk province, told reporters 414 pas­sen­gers will leave the port Friday and fly to Cambodia's cap­i­tal before trav­el­ing to their final des­ti­na­tions. Three flights from Sihanoukville to Phnom Penh were arranged to take all the ship's pas­sen­gers.
He said that if the flying arrange­ments went smooth­ly, all pas­sen­gers would prob­a­bly be leav­ing Sihanoukville by Sunday.
U.S. Ambassador to Cambodia W. Patrick Murphy on Twitter called the dis­em­bark­ing activ­i­ties "heart­warm­ing sights … with Cambodian hos­pi­tal­i­ty on full dis­play."
He said "joint oper­a­tion 'Homeward Bound' is under­way!"
The COVID-19 ill­ness has sick­ened tens of thou­sands of people in China and a few hun­dred else­where, includ­ing 218 on the Diamond Princess cruise ship, which made stops in Hong Kong and other ports before arriv­ing in Japan last week.
The Westerdam began its cruise in Singapore last month and its last stop before it was refused fur­ther land­ings was in Hong Kong, where 53 cases of the dis­ease and one death have been con­firmed.
By Sopheng Cheang of The Associated Press.
Source: The Diplomat