Coronavirus in Canada: Racism and the Long-Term Impacts of National Emergencies
The dan­gers to public health during the COVID-19 pan­dem­ic are ter­ri­fy­ing, so it's not sur­pris­ing gov­ern­ments around the world are taking extra­or­di­nary mea­sures to curb its spread, includ­ing clos­ing bor­ders to non-nation­als.
Canada has become one of many coun­tries to either par­tial­ly or com­plete­ly close their bor­ders and Prime Minister Justin Trudeau has also announced that Canada will no longer con­sid­er asylum claims.
We are living through an excep­tion­al sit­u­a­tion and gov­ern­ments are taking extreme steps as a result. At the same time, we know extra­or­di­nary mea­sures can have endur­ing and pro­found­ly dam­ag­ing effects.
In Canada, the War Measures Act, the pre­de­ces­sor to the Emergencies Act (the leg­is­la­tion that Trudeau has con­sid­ered invok­ing as part of the government's response to the pan­dem­ic), was used on three occa­sions: during the First World War, the Second World War and the 1970 FLQ Crisis in Québec. On each of these occa­sions, there was broad sup­port for its enact­ment and then sub­se­quent con­cern about the scope of its appli­ca­tion.
Thousands interned during WWI
During the First World War, 8,579 "enemy aliens" were interned  — the term referred to cit­i­zens of coun­tries that were at war with Canada who resided in Canada — as well as hun­dreds of con­sci­en­tious objec­tors.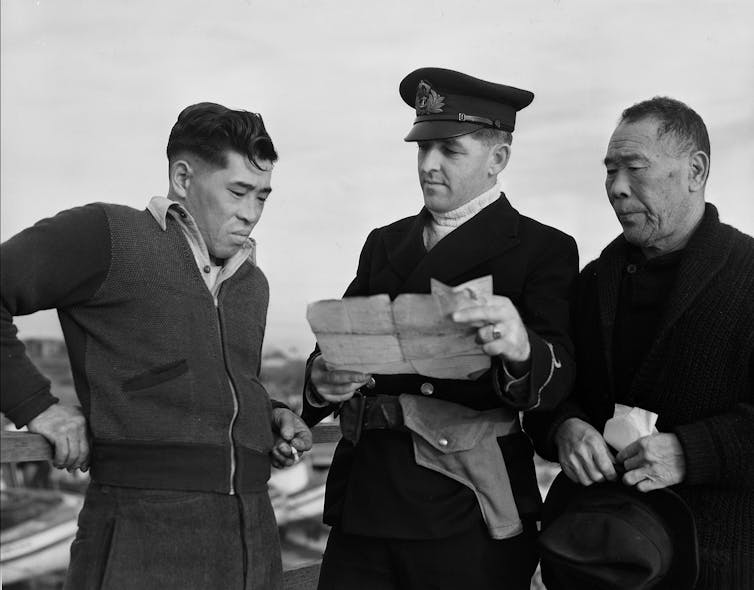 In this photo from Dec. 9, 1941, two days after the attack on Pearl Harbor, a Canadian Navy offi­cer ques­tions Japanese Canadian fish­er­men while con­fis­cat­ing their boat in Esquimault, B.C. National Archives of Canada/THE CANADIAN PRESS
Almost 22,000 Japanese Canadians were interned during the Second World War fol­low­ing the attack on Pearl Harbor and the dec­la­ra­tion of war against Imperial Japan. About 75 per cent of those interned were Canadian cit­i­zens, includ­ing 13,000 people who were Canadian-born. Under the sweep­ing powers of the War Measures Act, the fed­er­al gov­ern­ment con­fis­cat­ed their prop­er­ty — includ­ing land, fish­ing boats and busi­ness­es — and sold it at a dis­count, using some of the funds to pay for the costs of intern­ment.

During the FLQ crisis fol­low­ing the kid­nap­pings of British diplo­mat James Cross and Québec cab­i­net min­is­ter and deputy pre­mier Pierre Laporte, the mil­i­tary and police con­duct­ed 3,000 search­es, detained 497 people, includ­ing Québec nation­al­ists and labour activists, in the pur­suit of sus­pect­ed accom­plices. Only 62 people were ever crim­i­nal­ly charged.
The fall­out from all of these excess­es was tan­gi­ble: Ukrainian Canadians, who made up the bulk of the "enemy aliens" in the First World War, fought for decades to be rec­og­nized as full cit­i­zens; Japanese Canadians sought and received redress more than four decades after their intern­ment; René Levesque and the Parti Québecois roared to power just six years after the FLQ crisis and very nearly achieved the sep­a­ratist dream of an inde­pen­dent Québec in 1980.
And so with great power, comes great respon­si­bil­i­ty.
This old adage is all the more rel­e­vant if one con­sid­ers the way many of the travel bans have been insti­tut­ed along nation­al lines: allow­ing cit­i­zens to move but restrict­ing the move­ment of others.
Citizenship can be exclu­sion­ary
In efforts to combat the spread of COVID-19, lines of respon­si­bil­i­ty and account­abil­i­ty are being force­ful­ly drawn around the lines of cit­i­zen­ship. This is trou­bling if one con­sid­ers that cit­i­zen­ship can be exclu­sion­ary, espe­cial­ly when it cre­ates hier­ar­chies of pri­or­i­ty and, seem­ing­ly, of human value.
It means, for instance, refugees and unac­com­pa­nied minors have been "effec­tive­ly aban­doned," accord­ing to NGO work­ers in Europe.
Canada has won inter­na­tion­al praise over the last few years for its com­mit­ment to refugee reset­tle­ment in par­tic­u­lar, as evi­denced by the arrival of 25,000 Syrian refugees in a few short months.
But Trudeau has announced that due to these "excep­tion­al times," a new agree­ment has been signed with the United States that would see asylum-seek­ers cross­ing the border on foot returned to the U.S. This excep­tion­al reac­tion goes against Canada's com­mit­ments under the 1951 United Nations Convention Relating to the Status of Refugees and a 1985 Supreme Court ruling that says refugee claimants have a right to a fair hear­ing (the Singh deci­sion).
The implic­it and explic­it nation­al­ism appar­ent in many state respons­es to COVID-19, includ­ing in the Canadian con­text, is not nec­es­sar­i­ly "con­trary to our values" as some have argued.
Rather, some of Canada's ear­li­est restric­tions on migra­tion and mobil­i­ty relat­ed to people who were "phys­i­cal­ly defec­tive," "feeble-minded" or "afflict­ed with any loath­some dis­ease" to use the lan­guage of the 1910 Immigration Act. This same act effec­tive­ly pro­hib­it­ed Black migra­tion to Canada from the United States and the Caribbean on the basis of that they were "unsuit­ed to the cli­mate or require­ments of Canada."
A ban on Chinese immi­gra­tion
Prior to that, the fed­er­al gov­ern­ment used immi­gra­tion laws in the forms of puni­tive taxes to exclude Chinese migrants who were con­sid­ered unde­sir­able, in part because of com­mon­ly held stereo­types that people from China were immoral, dis­hon­est, unclean, dis­ease-prone and would never assim­i­late. These per­ceived dif­fer­ences and the inef­fec­tive­ness of the orig­i­nal head tax led to a near total ban on Chinese migra­tion from 1923 to 1947.
Structurally, Canada's immi­gra­tion system — and its sub­se­quent and relat­ed border con­trols — was designed to exclude as much as to include. This remains the case today.
As we nav­i­gate our cur­rent public health issues, it bears con­tem­pla­tion not only about imme­di­ate chal­lenges but also what will come after.
During the pan­dem­ic, there have been many dis­turb­ing sto­ries of Asian Canadians being tar­get­ed and harassed because of racist per­cep­tions about who they are and where they come from — a sit­u­a­tion com­pound­ed by U.S. President Donald Trump's delib­er­ate, nation­al­is­tic and racist insis­tence to give the coro­n­avirus an ethnic and geo­graph­ic asso­ci­a­tion.
It took Canada almost 80 years to offi­cial­ly apol­o­gize for refus­ing a ship car­ry­ing hun­dreds of Jewish refugees to land in 1939.
It is notable that this vio­lence has been direct­ed at people of Asian descent, even though the dis­ease has been spread by trav­ellers of many dif­fer­ent eth­nic­i­ties. This dif­fer­ence reflects the easy asso­ci­a­tions of oth­er­ness of the kind that shaped foun­da­tion­al exclu­sion­ary immi­gra­tion laws and reg­u­la­tions and, appar­ent­ly, con­tin­ue to res­onate in the present.
This is an easy moment to draw lines between us and them, to talk about "our neigh­bours" and "for­eign trav­ellers" as though they are not one and the same. But the long-term damage could be very great, par­tic­u­lar­ly for racial­ized and vul­ner­a­ble com­mu­ni­ties that have expe­ri­enced the impact of exclu­sion­ary migra­tion mea­sures his­tor­i­cal­ly.
The deci­sion to close the border to refugees is bit­ter­ly ironic in light of Trudeau's 2018 offi­cial apol­o­gy for the Canadian government's exclu­sion in 1939 of Jewish refugees aboard the MS St. Louis.
The past and the future should be part of our think­ing in the present. And to be clear, now is no time for nation­al­ism.
This arti­cle is repub­lished from The Conversation under a Creative Commons license. Read the orig­i­nal arti­cle.
Laura Madokoro is an Associate Professor at the Department of History at Carleton University.
Image: Reuters