Companies Prodded to Rely Less on China, but Few Respond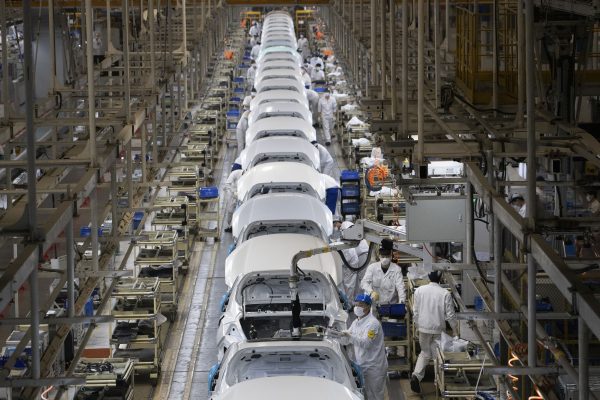 The United States, Japan, and France are prod­ding their com­pa­nies to rely less on China to make the world's smart­phones, drugs, and other prod­ucts. But even after the coro­n­avirus derailed trade, few want to leave China's skilled work­force and effi­cient sup­pli­ers of raw mate­ri­als to move to other coun­tries.
Disruptions from the pan­dem­ic, on top of the U.S.-Chinese tariff war, fueled warn­ings that rely­ing too much on China leaves global com­pa­nies vul­ner­a­ble to costly break­downs in the event of dis­as­ters or polit­i­cal con­flict.
Drug makers stand out as one indus­try that is trying to reduce reliance on Chinese sup­pli­ers by set­ting up sources of raw mate­ri­als in the United States and Europe. But con­sumer elec­tron­ics, med­ical devices, and other indus­tries are stick­ing with China.
"I don't know of a single com­pa­ny right now that is moving ahead with any plans to move," said Harley Seyedin, pres­i­dent of the American Chamber of Commerce in South China.
China's explo­sive rise as the world's low-cost fac­to­ry helped to hold down con­sumer prices and boost­ed Western cor­po­rate prof­its. But it has fueled polit­i­cal ten­sion over lost American and European blue collar jobs. Governments and indus­try con­sul­tants fret that depen­dence on China can be a threat to supply chains and pos­si­bly nation­al secu­ri­ty.
Chinese fac­to­ries assem­ble most of the world's smart­phones and con­sumer elec­tron­ics and a grow­ing share of med­ical equip­ment, indus­tri­al robots, and other high-tech goods. This coun­try is a dom­i­nant sup­pli­er of vit­a­min C and ingre­di­ents for antibi­otics and other med­i­cines. The ruling Communist Party has spent two decades build­ing ports, rail­ways, tele­com net­works, and other facil­i­ties that are regard­ed as among the world's best.
"China still offers an unpar­al­leled supply chain for any indus­try," said Jit Lim of Alvarez & Marsal, a man­age­ment con­sult­ing firm.
Philip Richardson, who man­u­fac­tures loud­speak­ers in Panyu, near Hong Kong, said he has looked at Vietnam and other coun­tries. But he said while their wages might be as low as 60 per­cent of China's, the sav­ings will be eaten up by the cost of giving up his net­work of Chinese sup­pli­ers.
"We gave it con­sid­er­a­tion for about a minute, and it doesn't make sense," said Richardson, who has worked in China for 22 years. "When you buy mag­nets, now you have to pay for trans­porta­tion and cus­toms duties into other coun­tries, where­as in China we just buy the mag­nets and they are ship­ping to us."
President Donald Trump took office in 2017 promis­ing to "bring back our jobs." The next year's tariff hikes on goods from China in a fight over tech­nol­o­gy and trade prompt­ed some exporters to shift pro­duc­tion. But changes were small. Most went to other devel­op­ing coun­tries.
The pan­dem­ic has raised polit­i­cal pres­sure for com­pa­nies to move.
The Japanese gov­ern­ment, which sees China as a strate­gic rival, is offer­ing 220 bil­lion yen ($2 bil­lion) to com­pa­nies that move pro­duc­tion to Japan in a virus aid pack­age announced in April. It offers 23.5 bil­lion yen ($220 mil­lion) for Japanese com­pa­nies in China to move to other coun­tries.
The tariff war prompt­ed con­cern about China's dom­i­nance as a sup­pli­er of active phar­ma­ceu­ti­cal ingre­di­ents, or APIs, used in antibi­otics and vit­a­mins. Some American com­men­ta­tors warned Beijing might retal­i­ate by with­hold­ing APIs, though was there no sign that hap­pened.
"There will be an increase in the repa­tri­a­tion of nation­al drug supply chains and the re-estab­lish­ment of nation­al strate­gic man­u­fac­tur­ing capa­bil­i­ties for key drugs," Sakshi Sikka, who fol­lows the indus­try for Fitch Solutions, said in an email.
In May, the U.S. gov­ern­ment award­ed a con­tract worth up to $812 mil­lion over 10 years to Phlow Corp., a Virginia com­pa­ny set up to insure against drug short­ages by pro­duc­ing ingre­di­ents and gener­ics.
In Europe, French drug­mak­er Sanofi SA is set­ting up an API sup­pli­er to reduce reliance on China. Sanofi says the com­pa­ny will be the No. 2 global pro­duc­er, with annual sales of 1 bil­lion euros by 2022.
India and Indonesia have announced plans to increase their own pro­duc­tion of phar­ma­ceu­ti­cal raw mate­ri­als.
Those changes are polit­i­cal­ly driven and will push up costs, while China's dom­i­nance as a global sup­pli­er is unlike­ly to change in the near future, accord­ing to Fitch's Sikka.
Companies includ­ing Nike Inc. that used to make shoes, fur­ni­ture, clothes, and other low-margin goods in China have been migrat­ing for a decade to Southeast Asia, Africa and other economies in search of cheap­er labor.
For higher-end shoes, how­ev­er, U.S. import duties would have to rise even fur­ther before sites such as Ethiopia or Southeast Asia can com­pete with expe­ri­enced Chinese work­ers and flex­i­ble sup­pli­ers, said Robert Gwynne, who pro­duces women's shoes for brands includ­ing Steve Madden in Dongguan, near Hong Kong.
"All my clients say, we have to diver­si­fy," said Gwynne. But when shown costs in other coun­tries, "90 per­cent take the China sce­nario."
Companies also increas­ing­ly are tied to China by the appeal of its 1.3 bil­lion con­sumers at a time when the West's spend­ing growth is anemic.
Makers of auto­mo­biles and higher-value goods are spend­ing bil­lions of dol­lars to expand Chinese pro­duc­tion. As the econ­o­my reopened, Volkswagen AG said in May it would spend 2 bil­lion euros ($2.2 bil­lion) to buy con­trol of its Chinese elec­tric vehi­cle ven­ture and a con­trol­ling stake in a bat­tery pro­duc­er.
Instead of using China to export, "now a lot of people are pro­duc­ing 'local for local,'" said Lim.
Only 11 per­cent of com­pa­nies that respond­ed to a survey by the European Union Chamber of Commerce in China said they were "con­sid­er­ing shift­ing invest­ment to other coun­tries," down from 15 per­cent last year.
Some are leav­ing to cut labor costs, but the rest "are really com­mit­ted to China," said a cham­ber vice pres­i­dent, Charlotte Roule.
Moving fac­to­ries or find­ing non-Chinese sup­pli­ers to reduce the risk of dis­rup­tion "means fur­ther invest­ment," Roule said. "Who is going to pay for that?"
Charles M. Hubbs, founder of Premier Guard, which makes sur­gi­cal gowns, masks, and other med­ical devices in China, said he is gear­ing up to pro­duce face masks in Mississippi to avoid prob­lems with ship­ping. But he said such an approach won't work once the pan­dem­ic ends and prices fall back to normal.
"You can afford it now. People are paying $12 for an iso­la­tion gown," said Hubbs, who has worked in China since the late 1980s. "But when COVID is over, you're going to go back to $3 or $4."
Many com­pa­nies already have pur­sued a "China plus one" strat­e­gy in Asia over the past decade. They set up fac­to­ries in Southeast Asia to serve other mar­kets or insure against dis­rup­tion in China, even if that raised their costs.
But as China lifted anti-dis­ease con­trols on busi­ness in March, other Asian economies shut down, forc­ing com­pa­nies to shift work back to Chinese fac­to­ries, which are work­ing over­time to make up the short­fall, said Seyedin.
Some U.S. and other lead­ers are talk­ing about pos­si­ble tax breaks or other incen­tives to lure com­pa­nies home. Trump has threat­ened to raise taxes on American com­pa­nies that move from China to any other coun­try but the United States.
Even if tax breaks or sub­si­dies go ahead, com­pa­nies face the costs of set­ting up a fac­to­ry in unfa­mil­iar ter­ri­to­ry, train­ing rookie employ­ees, find­ing sup­pli­ers and pos­si­ble dis­rup­tion to cus­tomer rela­tions, said Alvarez & Marsal's Lim.
"Shifting is not free," he said.
By AP Business Writer Joe McDonald.