Comet NEOWISE Could Be Spectacular: Here's How to See It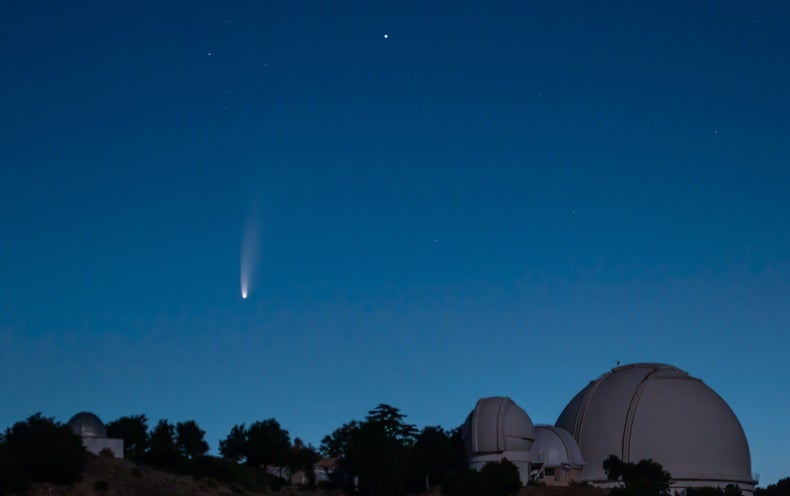 This month a cosmic vis­i­tor is grac­ing the skies. A comet swept past the sun on July 3, and it has since become vis­i­ble to the naked eye. The rare oppor­tu­ni­ty to glimpse the chunk of ancient ice from the outer solar system should con­tin­ue next week, when astronomers hope it will become even brighter.
Scientists using the Near-Earth Object Wide-Field Infrared Survey Explorer (NEOWISE) space tele­scope first spot­ted the comet as it hur­tled toward the sun on March 27. Informally dubbed NEOWISE after the tele­scope but offi­cial­ly labeled C/2020 F3, the comet grad­u­al­ly bright­ened as sun­light and solar wind caused it to release gases and form a tail. In early June it reached the far side of the sun, as seen from Earth. The result­ing glare pre­vent­ed astronomers from observ­ing the comet for sev­er­al weeks. By late June, how­ev­er, it swam back into the optics of anoth­er space tele­scope, the Solar and Heliospheric Observatory (SOHO). Its fate was still unclear, how­ev­er: Would Comet NEOWISE bright­en or fade?
On July 3 observers watched close­ly as the comet began the most per­ilous part of its jour­ney: its near­est approach to the sun, which brought it within 44 mil­lion kilo­me­ters of our star. The intense light and heat from such close prox­im­i­ty tends to make comets dis­in­te­grate and dis­ap­pear from the night sky. Earlier this year, such breakups befell two other comets, ATLAS and SWAN, that astronomers had hoped would light up Earth's skies. But NEOWISE sur­vived and emerged brighter than before to dazzle stargaz­ers — pro­vid­ed they know where to look. Now, for the next few days at least, res­i­dents of the Northern Hemisphere can greet the pass­ing vis­i­tor at dawn.
"For many people in the Northern Hemisphere, espe­cial­ly if you're closer to the mid­lat­i­tudes, [the comet] should be vis­i­ble an hour before sun­rise, very low in the north­east­ern sky," says Kerry-Ann Lecky Hepburn, a mete­o­rol­o­gist and astropho­tog­ra­ph­er who cap­tured an image of Comet NEOWISE over Toronto. "Right now it's locat­ed in the con­stel­la­tion Auriga." She rec­om­mends find­ing the comet's exact spot using spe­cial­ized smart­phone apps with inter­ac­tive maps of the con­stel­la­tions. Although already vis­i­ble to the naked eye, the object is still faint, and binoc­u­lars would offer a better view.
Starting around July 12, Comet NEOWISE will be vis­i­ble in the evening as well, Lecky Hepburn says. About an hour after sunset, it will appear near the north­west­ern hori­zon. As the month pro­gress­es, it will rise higher in the sky, moving from the con­stel­la­tion Lynx toward the Big Dipper. On July 22 the comet will reach its clos­est point to Earth — a dis­tance of 103 mil­lion kilo­me­ters — before con­tin­u­ing its cosmic flight. Whether it will still be vis­i­ble to unaid­ed eyes by then is uncer­tain, how­ev­er.
"Comets are like cats," says Franck Marchis, an astronomer at the SETI Institute. "They are unpre­dictable." If Comet NEOWISE's out­gassing exhausts its reserves of icy mate­r­i­al, its bright tail could dis­si­pate, effec­tive­ly remov­ing the object from view. On the other extreme, ongo­ing heat­ing from the sun could cause the comet to dis­in­te­grate in a bright out­burst, poten­tial­ly result­ing in a highly vis­i­ble "great comet" of his­toric sig­nif­i­cance. This pos­si­bil­i­ty would be "a spec­tac­u­lar event and a great show for the earth­lings," Marchis says. But "per­son­al­ly, I rec­om­mend walk­ing up early and going to see it now, while we know it's here."
After this encounter, astronomers expect Comet NEOWISE to bid farewell for quite some time. Its long, loop­ing orbit around our star will next bring it back to Earth's vicin­i­ty some 6,800 years from now.
Have you man­aged to spot and pho­to­graph Comet NEOWISE? Send Scientific American your favorite images on Twitter @sciam with the hash­tag #EyesOnNEOWISE.