Comet Neowise: An Increasingly Rare Opportunity to Spot an Icy Wanderer With the Naked Eye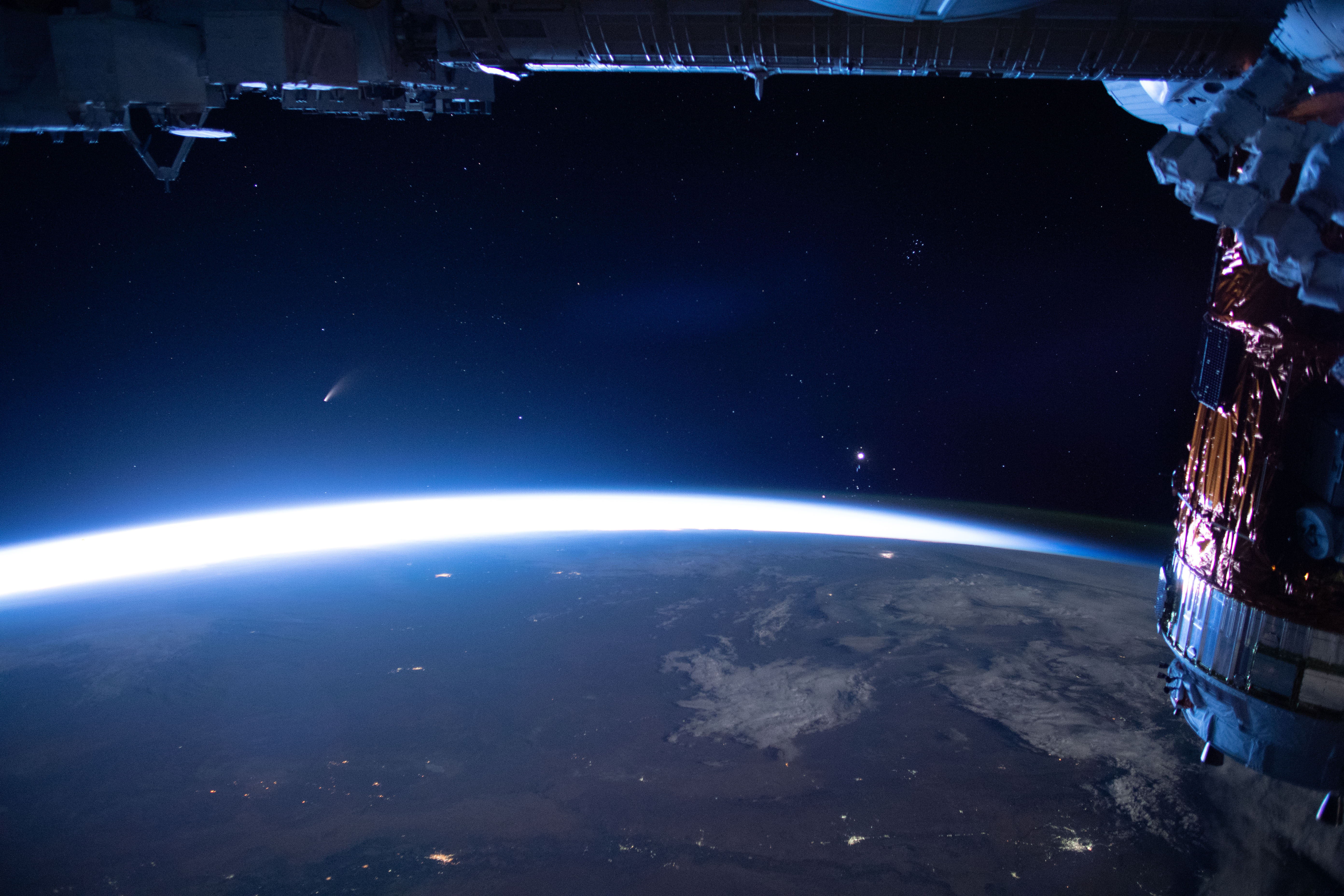 This arti­cle was orig­i­nal­ly pub­lished at The Conversation. The pub­li­ca­tion con­tributed the arti­cle to Space.com's Expert Voices: Op-Ed & Insights.
Gareth Dorrian, Post Doctoral Research Fellow in Space Science, University of Birmingham
Ian Whittaker, Senior Lecturer in Physics, Nottingham Trent University
Neowise is the first bright comet to be vis­i­ble with the naked eye from the north­ern hemi­sphere since the mid-1990s. Another thing that makes this comet inter­est­ing is that it has a rel­a­tive­ly long orbital period, mean­ing it was only dis­cov­ered a few months ago.
Halley's comet, for exam­ple, takes about 75 years to return to the same posi­tion near Earth, mean­ing every­body has the oppor­tu­ni­ty to see it poten­tial­ly twice during their life­time. Neowise has an orbit of almost 6,800 years, mean­ing that the last gen­er­a­tion of people to see it would have lived during the fifth mil­len­ni­um BC. This was a time well before the writ­ten word, when the global human pop­u­la­tion was about 40 mil­lion people.
The cause of this really long return time is the ellip­ti­cal shape of Neowise's orbit around the Sun. In the early 17th cen­tu­ry, astronomer Johannes Kepler derived his laws of plan­e­tary motion, which apply to any object orbit­ing in space, includ­ing comets. These laws state that objects on highly ellip­ti­cal orbits will move fast near the barycen­ter – the centre of mass of two or more bodies that orbit one anoth­er – of the path and much slower fur­ther away.
Related: How to see Comet NEOWISE in the evening sky right now
So comet Neowise will only be seen for a few weeks near Earth while it is near per­i­he­lion (its clos­est approach to the Sun). It will then spend thou­sands of years moving slowly near the other end of its orbit. It's aphe­lion (far­thest point) is esti­mat­ed at 630 astro­nom­i­cal units (AU), with one AU being the dis­tance between the Earth and the Sun.
To put that in per­spec­tive, the Voyager 1 space­craft is the far­thest human craft­ed object from Earth and it is cur­rent­ly at a mere 150 AU. The dwarf planet Pluto also has an ellip­ti­cal orbit, which ranges from just 30 AU at per­i­he­lion to 49 AU at aphe­lion.
Comets often have two tails, and comet Neowise is no excep­tion. One is made of elec­tri­cal­ly neu­tral mate­r­i­al such as water ice and dust par­ti­cles form­ing the dis­tinct white fuzzy shape around the comet and its tail. As the Sun heats up the comet, these tiny par­ti­cles are released and create a shin­ing tail behind it.
The second tail is made from a plasma – an elec­tri­cal­ly charged cloud of gas. This shines by flu­o­res­cence, the same process that causes aurora on Earth, and is used in neon light­ing. Colours can be green or blue depend­ing on the kind of charged gas escap­ing from the comet. As the plasma flows away from the comet it is guided by the Sun's mag­net­ic field and the solar wind. This causes sep­a­ra­tion between the two tails – one being driven by the comet's direc­tion, and the other by the Sun's mag­net­ic field.
Related: Amazing photos of Comet NEOWISE from the Earth and space
How to spot Neowise
Even though Neowise is very dis­tant from Earth, with its clos­est approach on July 22 being almost as far away as Mars, it is still vis­i­ble in the night sky to the naked eye – hov­er­ing near the north­ern hori­zon.
The comet is esti­mat­ed to cur­rent­ly be at mag­ni­tude 1.4 – a mea­sure of bright­ness astronomers use, with small­er num­bers denot­ing brighter objects. Venus, which is the bright­est plan­e­tary object in the sky, is about ‑4. Comet Hale-Bopp reached a max­i­mum mag­ni­tude of 0 in 1997 due to its excep­tion­al­ly large size, while comet McNaught was vis­i­ble from the south­ern hemi­sphere with a max­i­mum mag­ni­tude of ‑5.5.
Neowise may get brighter over the next week, but which level of bright­ness it reach­es will depend pri­mar­i­ly on how much mate­r­i­al erupts from its sur­face rather than the dis­tance from the Earth. This mate­r­i­al con­sists of highly reflec­tive water ice par­ti­cles from the nucle­us of the comet erupt­ing out­wards, shin­ing when they catch the sun­light.
Rich history
The his­to­ry of cometary obser­va­tions is exten­sive, making vital con­tri­bu­tions to the devel­op­ment of modern astron­o­my, and has had quite an impact on human his­to­ry. Halley's comet, for exam­ple, was famous­ly fea­tured on the Bayeux Tapestry as it made an appear­ance in the months lead­ing up to the Norman con­quest of England in 1066 (mag­ni­tude esti­mat­ed at about 1).
In the late medieval period, comets helped astronomers to fun­da­men­tal­ly refine their under­stand­ing of the solar system. An essen­tial com­po­nent of the then stan­dard Ptolemaic geo­cen­tric model of the solar system, which dom­i­nat­ed astron­o­my for 15 cen­turies, man­dat­ed that the plan­ets were fixed to a series of con­cen­tric trans­par­ent celes­tial spheres, with the Earth at the centre.
Even after the Copernican rev­o­lu­tion, which put the Sun at the centre of the solar system, the celes­tial spheres were retained as a con­cept. However, in the late 1500s sev­er­al astronomers, includ­ing Tycho Brahe, noted that comets with their highly ellip­ti­cal orbits seemed to pass through these spheres with­out hin­drance. These obser­va­tions con­tributed to the even­tu­al aban­don­ment of the Ptolemaic system entire­ly, and the sub­se­quent expla­na­tion of plan­e­tary orbits by Johannes Kepler, which is still in use today.
Important obser­va­tions during the space age include the first close encounter between a comet and space­craft. Halley's comet was imaged from a dis­tance of just a few hun­dred kilo­me­tres by the Giotto space­craft. And in 2014 the Rosetta space­craft became the first to orbit a comet, and deploy a lander on the sur­face, send­ing back remark­able images to Earth.
Related: The Greatest Comets of All Time
The sober­ing role of comets in shap­ing plan­e­tary evo­lu­tion was also demon­strat­ed spec­tac­u­lar­ly in 1994 when comet Shoemaker-Levy‑9 col­lid­ed with Jupiter
With the con­stant increase of light pol­lu­tion in the night sky the obser­va­tion of comets with the naked eye is becom­ing much rarer. For now, though, Neowise presents a fan­tas­tic oppor­tu­ni­ty for mil­lions of people to see a night sky phe­nom­e­non which typ­i­cal­ly only presents itself per­haps once in a decade or more. Enjoy the view!
This arti­cle is repub­lished from The Conversation under a Creative Commons license. Read the orig­i­nal arti­cle.
Follow all of the Expert Voices issues and debates — and become part of the dis­cus­sion — on Facebook and Twitter. The views expressed are those of the author and do not nec­es­sar­i­ly reflect the views of the pub­lish­er.