Combating COVID-19 Without China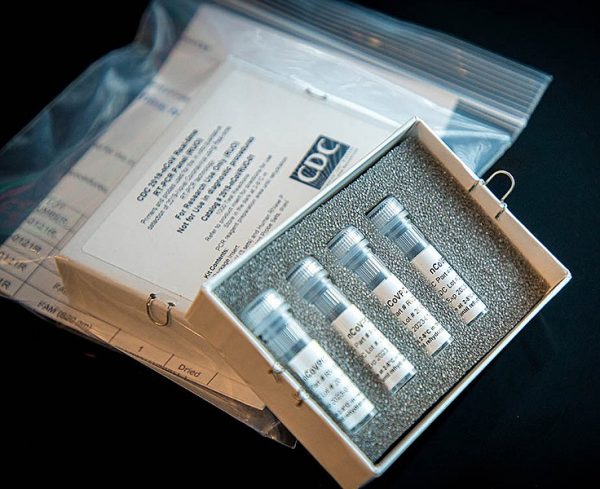 As China charges the United States mil­i­tary with cre­at­ing the coro­n­avirus COVID-19 and seed­ing a global pan­dem­ic, Washington is lead­ing its own efforts to unite sci­en­tif­ic com­mu­ni­ties in the rest of the world to share infor­ma­tion and resources in a race to halt the spread of the novel coro­n­avirus and devel­op a vac­cine to pre­vent it in the future.
In the United States, that col­lab­o­ra­tion is being headed by the White House Office of Science and Technology Policy (OSTP). Calling its efforts "Scientific Diplomacy," the OSTP is coor­di­nat­ing with sci­ence lead­ers and advis­ers in coun­tries around the globe to focus sci­en­tif­i­cal­ly-based solu­tions on the fight against the COVID-19 pan­dem­ic.
Leading the effort for the White House is the president's sci­ence advis­er, Director of OSTP Dr. Kelvin Droegemeier. Droegemeier is a member of President Donald Trump's White House Coronavirus Task Force.
According to the OSTP, Australia, Brazil, Canada, India, Japan, New Zealand, South Korea, Singapore, the United Kingdom, and sev­er­al member nations of the EU have all engaged in tele­con­fer­ences with the United States this month, seek­ing to ensure that max­i­mum resources are mined for infor­ma­tion on the novel coro­n­avirus, and then direct­ed at com­bat­ing the ill­ness and its spread.
Droegemeier, a fierce advo­cate for the joint roles of sci­ence and tech­nol­o­gy in edu­ca­tion, indus­try, and gov­ern­ment, noted at a meet­ing at the White House in early February, "People care a heck of a lot about what sci­ence does, even if they don't care that much about sci­ence itself."
Seven weeks later, those words seem prophet­ic, with the world look­ing to sci­ence to slow and even­tu­al­ly halt the progress of the virus.
The inter­na­tion­al group of sci­en­tists work­ing to combat the virus, led by Droegemeier, has pushed to "make all COVID-19-relat­ed pub­li­ca­tions and asso­ci­at­ed data imme­di­ate­ly avail­able in a public repos­i­to­ry such as PubMed Central." The OSTP reports that "over three dozen and jour­nals answered the call-to-action."
This means that the epi­demi­o­log­ic knowl­edge nec­es­sary to under­stand deeper char­ac­ter­is­tics of the virus and its infec­tion pat­terns will be avail­able to researchers around the world. As open-source infor­ma­tion, that data pre­sum­ably will also be acces­si­ble by coun­tries not par­tic­i­pat­ing in the global forum spon­sored by the White House.
The bureau­cra­cy of American fed­er­al depart­ments and agen­cies that create and carry out U.S. gov­ern­ment sci­ence policy, ini­tia­tives, and research is large and labyrinthine.
The major­i­ty of cab­i­net depart­ments famil­iar to the public (Defense, Energy, and Agriculture, for exam­ple), and sev­er­al well-known inde­pen­dent fed­er­al agen­cies, such as NASA and the Smithsonian, are funded by the U.S. budget to carry out R&D activ­i­ties rel­e­vant to their areas of scope and inter­est.
But the OSTP, a less pub­licly known but no less pow­er­ful exec­u­tive branch entity, over­sees the National Science and Technology Council (NSTC). The NSTC, a Cabinet-level coun­cil chaired by the sit­ting pres­i­dent, "is the prin­ci­pal means within the Executive Branch to coor­di­nate sci­ence and tech­nol­o­gy (S&T) policy across the diverse enti­ties that make up the Federal research and devel­op­ment enter­prise."
The vice pres­i­dent, sec­re­taries of cab­i­net depart­ments, and heads of agen­cies with sig­nif­i­cant S&T respon­si­bil­i­ties are all mem­bers of the NSTC.
Droegemeier co-chairs three of the NSTC's six pri­ma­ry com­mit­tees. Critical U.S. policy affect­ing the econ­o­my, mil­i­tary capa­bil­i­ties, and the com­par­a­tive com­pet­i­tive­ness of the United States is made in his orbit. Ultimately, the dis­cus­sion and the deci­sions taken by these groups speak direct­ly to the nation­al secu­ri­ty of America.
Now, in the face of the pan­dem­ic, the out­comes of their delib­er­a­tions also involve the secu­ri­ty and wel­fare of the world.
China's absence from the inter­na­tion­al COVID-19 dis­cus­sions bro­kered by the White House means it is miss­ing out on oppor­tu­ni­ties to both con­tribute to, as well as learn from, a sig­nif­i­cant forum of global sci­en­tists that is fos­ter­ing coor­di­na­tion and col­lab­o­ra­tion among experts to beat the pan­dem­ic. This is at a time when the Chinese gov­ern­ment says it may now be facing a resur­gence of cases, pri­mar­i­ly among people return­ing to China from abroad.
The result of China's absence from COVID-19 efforts led by the United States means that per­haps the only major forum in which both coun­tries are simul­ta­ne­ous­ly active on mit­i­gat­ing the novel coro­n­avirus is the World Health Organization (WHO).
WHO's chief sci­en­tist, Dr. Soumya Swaminathan, and OSTP's Droegemeier have been col­lab­o­rat­ing "since the start of the COVID-19 out­break," accord­ing to the OSTP.
"OSTP is work­ing with WHO to stream­line inter­na­tion­al infor­ma­tion shar­ing in order to improve pre­dic­tion and fore­cast­ing capa­bil­i­ties, [and] char­ac­ter­ize the virus more rapid­ly," accord­ing to an OSTP press release. They are also "col­lect­ing and shar­ing infor­ma­tion on genet­ic sequenc­ing, serol­o­gy test­ing approach­es, social/behavioral deci­sion-making, and gen­er­al COVID-19 research."
But out­side of that tan­gen­tial rela­tion­ship through the medium of the WHO, China at this point has a dif­fi­cult path to find­ing ways to suc­cess­ful­ly col­lab­o­rate with the United States and many of its allies in bat­tling COVID-19, should it even want to.
As Droegemeier tes­ti­fied in a hear­ing on February 27 to the House Committee on Science, Space, and Technology, the NSTC has cre­at­ed the Joint Committee on Research Environments (JCORE) "to take a whole-of-nation approach to ensur­ing the secu­ri­ty of our research enter­prise, while keep­ing it safe and inclu­sive, reduc­ing the admin­is­tra­tive burden, and enhanc­ing rigor and integri­ty."
"It's an issue of research secu­ri­ty. We are bal­anc­ing with a dif­fer­ent envi­ron­ment today. Particularly China is taking unfair advan­tage. We have put in place poli­cies that address those issues. Universities are taking a lot of actions on this, policy actions… We don't want you here if you don't play by the rules."
Sadly, although American offi­cials have reached out to China since the known onset of the novel coro­n­avirus ear­li­er this year, the return to a closed, defen­sive, and opaque Chinese gov­ern­ment pos­ture, so famil­iar from the 1980s and 1990s, dom­i­nates the envi­ron­ment.
One may imag­ine that a gen­uine will­ing­ness to part­ner with the United States on COVID-19 mit­i­ga­tion would be wel­comed at the OSTP and through­out the American research enter­prise.
Sadly, how­ev­er, the Chinese Communist Party's rep­u­ta­tion of sup­press­ing crit­i­cal infor­ma­tion in times of emer­gency, and com­pro­mis­ing the tech­nol­o­gy of others in times of nor­mal­cy, remains a bar­ri­er to fruit­ful coop­er­a­tion and col­lab­o­ra­tion even, or per­haps espe­cial­ly, in a world­wide health emer­gency.