China Fires Back at US Over Environment, South China Sea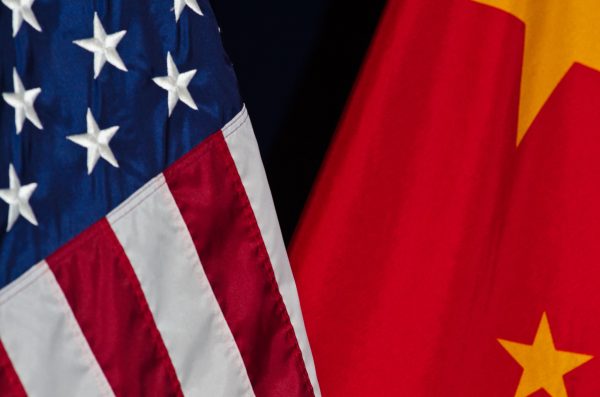 U.S.-China fric­tion flared again Monday, with Beijing firing back at accu­sa­tions by Washington that it is a lead­ing cause of global envi­ron­men­tal damage and has reneged on its promise not to mil­i­ta­rize the South China Sea.
A document issued last week by the State Department cited China's record on issues from green­house gas emis­sions to air and water and soil pol­lu­tion, ille­gal log­ging and wildlife traf­fick­ing.
"While the Chinese people have suf­fered the worst envi­ron­men­tal impacts of its actions, Beijing also threat­ens the global econ­o­my and global health by unsus­tain­ably exploit­ing nat­ur­al resources and export­ing its will­ful dis­re­gard for the envi­ron­ment," the doc­u­ment said.
Department spokesper­son Morgan Ortagus fol­lowed that with a statement Sunday saying China has "pur­sued a reck­less and provoca­tive mil­i­ta­riza­tion" of dis­put­ed out­posts in the South China Sea's Spratly Islands, adding that China's ruling Communist Party "does not honor its words or com­mit­ments."
Foreign min­istry spokesper­son Wang Wenbin respond­ed Monday by asking why the United States was with­draw­ing from the Paris agree­ment on cli­mate change, call­ing the U.S. the "biggest destroy­er of inter­na­tion­al envi­ron­men­tal coop­er­a­tion."
Wang also said U.S. mil­i­tary actions have made it "the biggest threat to the peace and sta­bil­i­ty of the South China Sea."
The trad­ing of accu­sa­tions comes amid dis­putes over trade, tech­nol­o­gy, Hong Kong and Taiwan, spying accu­sa­tions against Chinese diplo­mats and Beijing's asser­tions of ter­ri­to­r­i­al claims in the South China Sea and else­where that have driven the bilat­er­al rela­tion­ship to its lowest point in decades.
The State Department's attack on China's envi­ron­men­tal record fol­lows China's announce­ment to the United Nations General Assembly last week that it aims to have carbon diox­ide emis­sions peak before 2030 and achieve carbon neu­tral­i­ty by 2060, a pledge that won applause from envi­ron­men­tal­ists.
The State Department cited China as "the largest emit­ter of green­house gases; the largest source of marine debris; the worst per­pe­tra­tors of ille­gal, unre­port­ed, and unreg­u­lat­ed fish­ing; and the world's largest con­sumer of traf­ficked wildlife and timber prod­ucts. "
It sin­gled out leader Xi Jinping's sig­na­ture "Belt and Road" global infra­struc­ture build­ing ini­tia­tive as lack­ing "clear envi­ron­men­tal guide­lines, safety stan­dards, and worker pro­tec­tions," and said China is sad­dling host coun­tries with envi­ron­men­tal bur­dens and lead­ing them away from sus­tain­able devel­op­ment.
"Tragically, the Chinese Communist Party repress­es civil soci­ety and a free press, slow­ing changes that would ben­e­fit its cit­i­zens and people all over the world," the State Department doc­u­ment said.
Wang defend­ed China's record on reduc­ing pol­lu­tion, tout­ing China's pro­mo­tion of new energy vehi­cles and cre­ation of new forest cover.
The U.S. is the "great­est danger to the global envi­ron­ment," Wang told reporters at a daily brief­ing. "We advise the U.S. side to stop polit­i­cal manip­u­la­tion and mali­cious slan­der, and to do more prac­ti­cal work and less trou­ble for the global envi­ron­ment."
In her state­ment, Ortagus cited Xi's pledge during a 2015 visit to the White House that "China does not intend to pursue mil­i­ta­riza­tion" of the Spratly Islands. China's deploy­ment of anti-ship cruise mis­siles and advanced sur­veil­lance capa­bil­i­ties on the islands, some of them man-made, and the con­struc­tion of fight­er jet hangars and run­ways showed that it is using such out­posts as "plat­forms of coer­cion to assert con­trol over waters to which Beijing has no lawful mar­itime claim," Ortagus said.
China claims vir­tu­al­ly the entire South China Sea for itself and Wang said it was enti­tled to pro­ceed as it saw fit on the islands, espe­cial­ly when it came to exer­cis­ing its right to self-defense. Infrastructure on the islands also ben­e­fits the world, he said.
"The inter­na­tion­al com­mu­ni­ty and region­al coun­tries must be highly vig­i­lant and res­olute­ly oppose the sin­is­ter plot of some U.S. war­mon­gers to sow chaos in the South China Sea and East Asia," Wang said.
By the Associated Press with links pro­vid­ed by The Diplomat.