China Approves Contentious Hong Kong National Security Law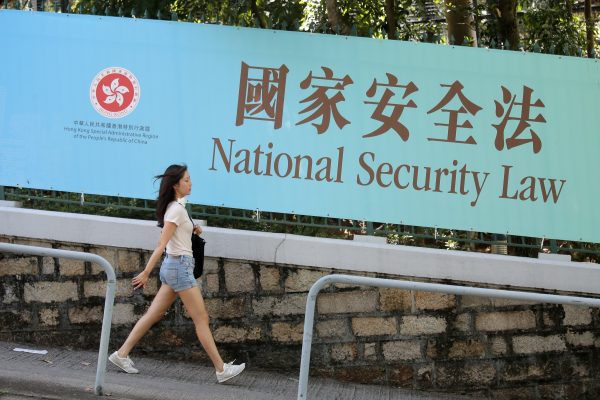 China on Tuesday approved a con­tentious nation­al secu­ri­ty law that will allow author­i­ties to crack down on sub­ver­sive and seces­sion­ist activ­i­ty in Hong Kong, a move many see as Beijing's bold­est yet to erase the legal fire­wall between the semi-autonomous ter­ri­to­ry and the mainland's author­i­tar­i­an Communist Party system.
President Xi Jinping signed a pres­i­den­tial order pro­mul­gat­ing the law after it was approved by the Standing Committee of the National People's Congress, the offi­cial Xinhua News Agency said. It will be added to the Basic Law, Hong Kong's con­sti­tu­tion.
Few details were given but China's liai­son office in Hong Kong issued a state­ment warn­ing oppo­nents of the law not to "under­es­ti­mate the party center's deter­mi­na­tion to safe­guard Hong Kong's nation­al secu­ri­ty" or its will­ing­ness and abil­i­ty to enforce the new rules.
On Wednesday, Hong Kong's gov­ern­ment will mark the 23rd anniver­sary of the territory's pass­ing from British to Chinese con­trol. A series of offi­cial events are sched­uled and a heavy police pres­ence is expect­ed to deter any anti-gov­ern­ment protests of the type that rocked the city for the second half of last year.
"We hope the law will serve as a deter­rent to pre­vent people from stir­ring up trou­ble," said Tam Yiu-Chung, Hong Kong's sole rep­re­sen­ta­tive on the Standing Committee "Don't let Hong Kong be used as a tool to split the coun­try."
Enjoying this arti­cle? Click here to sub­scribe for full access. Just $5 a month.
Tam said pun­ish­ments would not include the death penal­ty, but did not elab­o­rate on fur­ther details.
Passage of the law came amid fears in Hong Kong and abroad that it would be used to curb oppo­si­tion voices in the Asian finan­cial hub. The United States has already begun moves to end spe­cial trade terms given to Hong Kong after the former British colony was returned to China in 1997.
The leg­is­la­tion is aimed at curb­ing sub­ver­sive, seces­sion­ist, and ter­ror­ist activ­i­ties, as well as for­eign inter­ven­tion in the city's affairs. It fol­lows months of anti-gov­ern­ment protests in Hong Kong last year that at times descend­ed into vio­lence.
Speaking in a video mes­sage to the U.N. Human Rights Council in Geneva, Hong Kong leader Carrie Lam said the law would "only target an extreme­ly small minor­i­ty" of law­break­ers, would not be retroac­tive, and that main­land legal bodies would only have juris­dic­tion in "rare, spec­i­fied sit­u­a­tions."
Critics say it is the most sig­nif­i­cant ero­sion to date of Hong Kong's British-style rule of law and the high degree of auton­o­my that Beijing promised Hong Kong would enjoy at least through 2047 under a "one coun­try, two sys­tems" frame­work.
Hong Kong pro-democ­ra­cy activists Joshua Wong, Agnes Chow, and Nathan Law issued state­ments on Facebook saying they would with­draw from their orga­ni­za­tion Demosisto, which then announced that it would dis­band with the loss of its top mem­bers.
Wong said "wor­ry­ing about life and safety" has become a real issue and nobody will be able to pre­dict the reper­cus­sions of the law, whether it is being extra­dit­ed to China or facing long jail terms.
More than a hun­dred pro­test­ers gath­ered at a luxury mall in Hong Kong's Central busi­ness dis­trict, chant­i­ng slo­gans includ­ing "Free Hong Kong, Revolution Now," with sev­er­al hold­ing up a flag rep­re­sent­ing an inde­pen­dent Hong Kong as well as posters con­demn­ing the law.
The law's pas­sage "rep­re­sents the great­est threat to human rights in the city's recent his­to­ry," said Joshua Rosenzweig, head of Amnesty International's China Team.
"The speed and secre­cy with which China has pushed through this leg­is­la­tion inten­si­fies the fear that Beijing has cal­cu­lat­ing­ly cre­at­ed a weapon of repres­sion to be used against gov­ern­ment crit­ics, includ­ing people who are merely express­ing their views or protest­ing peace­ful­ly," Rosenzweig said in a state­ment.
Enjoying this arti­cle? Click here to sub­scribe for full access. Just $5 a month.
Concerns also were expressed in Taiwan, which Beijing claims as its own ter­ri­to­ry to be brought under its con­trol by force if nec­es­sary.
"Democracy and free­dom are shared uni­ver­sal values of Hong Kong and Taiwan," the island's Mainland Affairs Council said, adding that China had betrayed its promis­es to Hong Kong,
The self-gov­ern­ing island recent­ly said it would con­sid­er pro­vid­ing asylum for Hong Kong oppo­si­tion fig­ures who fear arrest.
Ahead of the law's pas­sage, the Trump admin­is­tra­tion said Monday it will bar defense exports to Hong Kong and will soon require licens­es for the sale of items that have both civil­ian and mil­i­tary uses.
"We cannot risk these items falling into the hands of the People's Liberation Army, whose pri­ma­ry pur­pose is to uphold the dic­ta­tor­ship of the [ruling Communist Party] by any means nec­es­sary," Secretary of State Mike Pompeo said in a state­ment.
British Foreign Secretary Dominic Raab said his gov­ern­ment was "deeply con­cerned" over reports of the law's pas­sage, saying that would be a "grave step." Britain has said it could offer res­i­den­cy and pos­si­ble cit­i­zen­ship to about 3 mil­lion of Hong Kong's 7.5 mil­lion people.
"This issue is purely China's inter­nal affairs, and no for­eign coun­try has the right to inter­fere," Chinese for­eign min­istry spokesper­son Zhao Lijian said.
He said China would take nec­es­sary mea­sures to pro­tect its nation­al inter­ests in response to "the wrong acts of the United States."
Under the law, Beijing will set up a nation­al secu­ri­ty office in Hong Kong to col­lect and ana­lyze intel­li­gence and deal with crim­i­nal cases relat­ed to nation­al secu­ri­ty.
Government crit­ics fear Beijing will use the law to pursue polit­i­cal oppo­nents. Some have ques­tioned the legal basis on which China pro­ceed­ed with the leg­is­la­tion, saying it under­mines the Basic Law.
An ear­li­er attempt to pass a secu­ri­ty law in 2003 was dropped after hun­dreds of thou­sands of people marched in Hong Kong's streets against it.
China for years had put off anoth­er such effort. Citing a new urgency after last year's protests, it announced it would bypass the Hong Kong leg­is­la­ture and enact the law on its own.
Chinese offi­cials have railed against what they claim is for­eign inter­fer­ence in the ter­ri­to­ry that they blame for encour­ag­ing the anti-gov­ern­ment protests. Beijing con­demned the protests as an attempt to per­ma­nent­ly split Hong Kong away from China.
Drafting of the law took place amid intense secre­cy, with even top Hong Kong offi­cials report­ed­ly not given advance notice of its specifics.
Questions linger over the effects on Hong Kong's free press, which has come under increas­ing polit­i­cal and finan­cial pres­sure, as well as the oper­a­tions of non­govern­men­tal orga­ni­za­tions, par­tic­u­lar­ly those with for­eign con­nec­tions.
Enjoying this arti­cle? Click here to sub­scribe for full access. Just $5 a month.
The law's pas­sage comes after Hong Kong's leg­is­la­ture in early June approved a con­tentious bill making it ille­gal to insult the Chinese nation­al anthem. Pro-China fig­ures have also been push­ing for more "patri­ot­ic" edu­ca­tion to be intro­duced into the cur­ricu­lum in hopes that will boost their iden­ti­fi­ca­tion with Beijing.
By Zen Soo and Ken Moritsugu for The Associated Press.