Cash-for-Passports in the South Pacific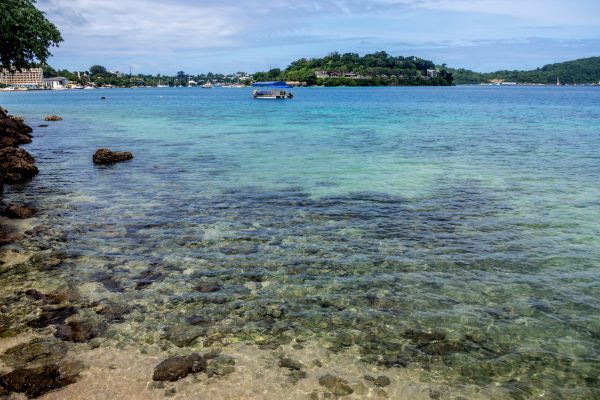 On the side of a dusty high­way less than half-an-hour's drive out­side of Vanuatu's cap­i­tal, Port Villa, is a simple black-and-white sign that reads: Nawesa — an International Elite Community. On the other side of the fence is an empty 363-acre swathe of grass and bush­land.
In the near future, this area is to be devel­oped to accom­mo­date three resorts, nearly 600 villas, and a shop­ping com­plex.
It's the biggest, but not the only, invest­ment project on the way. Just down the road, anoth­er com­plex, the Rainbow International City, while around half the size of the Nawesa devel­op­ment, is expect­ed to pro­vide hous­ing, a shop­ping com­plex, a Buddhist acad­e­my, a hos­pi­tal, a sec­ondary and pri­ma­ry school, a church, a six-star hotel, and a casino.
There are sev­er­al other "mega projects" in the works and while each may differ in size, loca­tion, and ameni­ties, they all have one thing in common: they're all backed by Chinese invest­ment.
This has mostly been made pos­si­ble by Vanuatu's con­tro­ver­sial cit­i­zen­ship by invest­ment scheme, or as it's known local­ly, "cash-for-pass­ports."
Despite the scheme being rife with con­tro­ver­sy, the Solomon Islands is now considering a program of its own.
The idea is in its early days, having first been flagged just three weeks ago when Governor General Sir David Vunagi deliv­ered a speech to mark the open­ing of par­lia­ment, in which he out­lined the new poten­tial rev­enue source for the coun­try.
"The gov­ern­ment is also under­tak­ing due dili­gence at an inno­v­a­tive invest­ment pro­gram that has the poten­tial to bring in huge new rev­enue to our econ­o­my," he said. "This is the cit­i­zen­ship by invest­ment pro­gram."
"A paper is expect­ed to be tabled in cab­i­net later this month to con­sid­er this new and inno­v­a­tive oppor­tu­ni­ty that will require care­ful scruti­ny of the pro­pos­al."
In Vanuatu, there have been numer­ous reports of con­vict­ed crim­i­nals having their appli­ca­tions approved under the scheme, sug­gest­ing the gov­ern­ment isn't prop­er­ly vet­ting the appli­cants.
James Batley, a Pacific Affairs researcher at the Australian National University and a former diplo­mat to Vanuatu and a high com­mis­sion­er to the Solomon Islands, recent­ly shared on Pacific Beat radio his doubts on whether the Solomon Islands has the capac­i­ty to prop­er­ly scru­ti­nize appli­cants and whether it's worth the risk.
"It's become a very impor­tant rev­enue stream for a coun­try like Vanuatu," he said. "But I think it's impor­tant for coun­tries also to con­sid­er what are the costs of these poli­cies as well, not just the finan­cial ben­e­fit."
"There are some gen­uine risks in sell­ing pass­ports to the wrong sort of people and there's also the risk and cost to the nation­al rep­u­ta­tion."
The scheme was first intro­duced in Vanuatu in 2014. It wasn't until a year later, in the after­math of Cyclone Pam, that its poten­tial to gen­er­ate rev­enue was fully real­ized.
Cyclone Pam was one of the worst nat­ur­al dis­as­ters to ever hit Vanuatu. Aid agencies reported at the time that between 50 and 90 per­cent of all homes, schools, church­es, places of busi­ness, and other struc­tures in the coun­try suf­fered some damage from the storm. The United Nations esti­mat­ed that at least 166,000 people required imme­di­ate food aid.
Seeing an oppor­tu­ni­ty, the gov­ern­ment adver­tised the pass­ports as a way to fund its relief. It was a major suc­cess.
Five years on, appli­cants can become a cit­i­zen in mere months, with­out even set­ting foot in the coun­try, and while the gov­ern­ment holds a tight lid on the finer details, it's esti­mat­ed that the scheme has brought in around $600 mil­lion.
A par­lia­men­tary com­mit­tee found last June that more than 4,000 pass­ports had been sold. The Vanuatu Daily Post then went on to report that at least 1,800 had been sold in 2018 alone, making pass­port sales the single largest source of rev­enue for the Vanuatu gov­ern­ment.
It has been report­ed that most of the sales have come from Chinese nation­als. This is despite it being ille­gal in China to hold dual cit­i­zen­ship, rais­ing con­cerns that the Chinese gov­ern­ment may be allow­ing the pri­vate invest­ments as part of its efforts to gain influ­ence in the coun­try.
In August 2019, China's influ­ence over Vanuatu was detailed in a series of arti­cles published by the Vanuatu Daily Post about six Chinese nation­als – four of whom had Vanuatu cit­i­zen­ship – who were arrest­ed in the middle of the night, denied a trial or access to legal coun­sel, escort­ed to an unmarked plane by Chinese police, and deport­ed to China. They have not been heard of since.
The Vanuatu Daily Post wrote at the time that observers sug­gest­ed that instead of a "debt trap," Vanuatu was in a "rev­enue trap."
"By allow­ing the gov­ern­ment to become depen­dent on pass­port-relat­ed rev­enues," they argued, "China can now demand favors in exchange for con­tin­ued benign neglect of the pro­gram."
For decades, Australia has played the part of big broth­er in the region, but accord­ing to the Lowy Institute China donat­ed almost twice as much in aid to Vanuatu as Australia did in 2017.
During the 2018 APEC summit China secretly agreed to give Vanuatu $60 mil­lion for a mys­te­ri­ous new ini­tia­tive called the Container Inspection Equipment Project. This grant rep­re­sent­ed about one-third of the over­all annual aid China gifts to Vanuatu, yet sus­pi­cious­ly there is no pub­licly avail­able infor­ma­tion about what the project is, or what the money will be used for.
Vanuatu was the first Pacific nation to sup­port Beijing's claim in the South China Sea and the rela­tion­ship has been get­ting stronger ever since – boost­ing the sta­bil­i­ty that investors wish to exploit. According to data published by Juwai, China's largest inter­na­tion­al prop­er­ty market web­site, 81 per­cent of Chinese trav­el­ers are in Vanuatu for invest­ment rea­sons.
Fighting over influ­ence in the Pacific is not unique to Vanuatu though.
In May 2019, Australia's then-newly elect­ed Prime Minister Scott Morrison made his mostly sym­bol­ic first overseas visit as head of state to the Solomon Islands, in an assumed effort to bol­ster Australia's "Pacific step up" in the face of Chinese influ­ence.
Just a few months later, though, the Solomon Islands and Kiribati made the diplomatic switch from Taiwan to China.
One of the main con­tentions with the cur­rent pass­port scheme in Vanuatu is the con­cern among locals that they will not have access to the facil­i­ties being devel­oped by big investors.
In the case of the Rainbow International City, known also as "Little Singapore," the first thing to be built was an eight-foot, solid, con­crete wall sep­a­rat­ing the prop­er­ty from its local neigh­bors.
An arti­cle published in the Vila Times news­pa­per said that the "con­crete wall was built around the prop­er­ty to pro­tect it from tres­passers."
Ironically, the paper was found­ed and is run by the same invest­ment com­pa­ny that is behind Rainbow City. They also run a con­sul­tan­cy com­pa­ny offer­ing help to Chinese nation­als in secur­ing Vanuatu cit­i­zen­ship. On its web­site, they highlight the coun­try being a tax haven as a reason to apply.
In the lead-up to last month's nation­al elec­tion in Vanuatu, the gov­ern­ment received a review of the pro­gram and was pre­sent­ed with three options on how to move for­ward: stop cit­i­zen­ship sales com­plete­ly, con­tin­ue the cur­rent pro­gram but fix the issues with screen­ing, or intro­duce a new cit­i­zen­ship invest­ment pro­gram with stricter con­di­tions on con­struct­ing real estate and cre­at­ing jobs.
Foreign Minister Ralph Reganvanu said at the time of the review's release that they would freeze all cit­i­zen­ship sales, stop the cur­rent pro­gram, and do a nation­al con­sul­ta­tion.
This week, how­ev­er, Vanuatu was battered again by a cat­e­go­ry five cyclone, with ini­tial reports sug­gest­ing that between 50 and 70 per­cent of build­ings in Luganville, Vanuatu's second largest city, were dam­aged. Officials are expect­ing the recov­ery to take at least a year, if not longer given the country's lock­down due to the spread of COVID-19.
Questions are now being asked as to whether the gov­ern­ment may yet again look to the visa scheme as a way to cover its losses. For Vanuatu it appears that while the rev­enue remains help­ful in the after­math of nat­ur­al dis­as­ters it may also be the country's Achilles heel, which should serve as a warn­ing to the Solomon Islands ahead of its own dis­cus­sions.