Canadian Coast Guard Welcomes Final OFSV Newbuild
Last week, Seaspan Shipyards offi­cial­ly deliv­ered CCGS John Cabot, the third off­shore fish­eries sci­ence vessel (OFSV) to the Canadian Coast Guard.
The deliv­ery cer­e­mo­ny took place at Seaspan's Victoria ship­yard on 9 October, in com­pli­ance with strict COVID-19 pro­to­cols.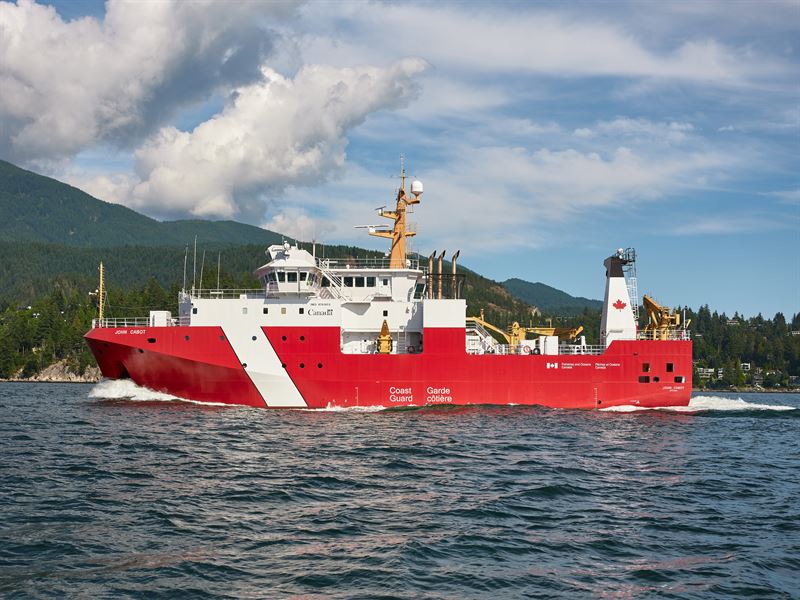 As explained, CCGS John Cabot is the third OFSV deliv­ered by Seaspan Shipyards in the last 15 months and com­pletes the first full class of large ves­sels under Canada's National Shipbuilding Strategy (NSS).
"This is an impor­tant mile­stone in the renew­al of the Canadian Coast Guard fleet and rep­re­sents the first large vessel con­struc­tion project com­plet­ed under the National Shipbuilding Strategy. The Government of Canada will con­tin­ue to work with Seaspan on other impor­tant fleet renew­al projects," Anita Anand, Minister of Public Services and Procurement, com­ment­ed on the occa­sion.
The 63.4‑meter-long new­build­ing, which was launched in early July this year, will now join its sister ships already in ser­vice, CCGS Capt Jacques Cartier, deliv­ered to the coast guard in November 2019, and CCGS Sir John Franklin, deliv­ered in June 2019.
According to the coast guard, the ships will ensure that Fisheries and Oceans' sci­en­tists are work­ing with the best equip­ment to con­duct their vital work on fish­ery resources, other marine species and their envi­ron­ments. The OFSVs will also sup­port envi­ron­men­tal response and search and rescue oper­a­tions, help­ing to ensure marine safety and envi­ron­men­tal pro­tec­tion which are also key com­po­nents of the Government of Canada's $1.5B Oceans Protection Plan.
Following a tran­si­tion period for the vessel's new coast guard com­mand­ing offi­cer and crew, the CCGS John Cabot will set sail to its home­port in St. John's, Newfoundland and Labrador, where it will sup­port sci­en­tif­ic research, search and rescue oper­a­tions and envi­ron­men­tal response.
It is planned to begin sci­ence mis­sions in April 2021.
Wärtsilä's low-noise propulsion solutions for OFSVs
In a sep­a­rate state­ment, Finnish tech­nol­o­gy group Wärtsilä said it had sup­plied spe­cial­ized propul­sion solu­tions for the three OFSVs built by Seaspan.
Low-noise propul­sion is very impor­tant for the ves­sels' pri­ma­ry mis­sion, which is to carry out fish­eries research. As such, Wärtsilä designed the pro­pellers to deliv­er a high-cav­i­ta­tion incep­tion speed to comply with these low under­wa­ter radi­at­ed noise require­ments.
In addi­tion to enabling quiet propul­sion, the company's fully inte­grat­ed solu­tions also reduce both fuel con­sump­tion and emis­sions, Wärtsilä added.
The Wärtsilä scope of supply for each of the three ves­sels includes the propul­sion solu­tion, com­pris­ing the custom-designed fixed pitch pro­peller, the shaft line assem­bly, plus seals and bear­ings, and the trans­verse thruster with e‑motor and vari­able speed drive.