Can Imran Khan Stay in Power?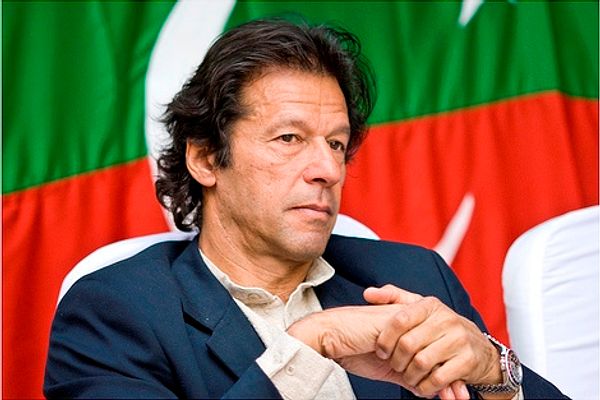 Pakistan's polit­i­cal land­scape is abuzz with rumors about the future of Prime Minister Imran Khan, once the country's most pop­u­lar man. Khan's pas­sion­ate pre-July 2018 dia­tribes against the polit­i­cal elites had endeared him to the country's pow­er­ful mil­i­tary estab­lish­ment, besides earn­ing him a mes­si­ah-like stand­ing in the eyes of a vast major­i­ty of middle-class Pakistanis.
Twenty-two months in gov­ern­ment, how­ev­er, brought Khan face-to-face with an anti-climax. It has proven impos­si­ble to live up to the tall expec­ta­tions that he had stacked over the years by speak­ing from high moral grounds about cor­rup­tion, mis­man­age­ment, unem­ploy­ment, for­eign debts, a fledg­ling econ­o­my, and a bad inter­na­tion­al image.
The once widely held "same page" mantra, which means the elect­ed gov­ern­ment enjoys the back­ing of the mil­i­tary gen­er­als, has now been replaced by the noto­ri­ous "minus one" for­mu­la, which explains the gen­er­als' dis­plea­sure with the "one" on top of the list. There are rumors of a plan to replace Khan with some­one else through an in-house ini­tia­tive.
Khan's June 30 speech to the National Assembly, Pakistan's lower house, and his rare June 28 dinner for party mem­bers and coali­tion part­ners pro­vid­ed cre­dence to the "minus one" chat­ter.
"They don't know that even if minus one hap­pens, the others will not spare them," the Pakistani prime min­is­ter roared in the par­lia­ment, with­out elab­o­rat­ing on whom he meant by "they" and "the others."
Khan's two decades of polit­i­cal strug­gle, backed by his crick­et­ing career and his wel­fare work in con­struct­ing the country's first state-of-the-art cancer hos­pi­tal, won him huge sup­port among the masses. However, his July 2018 elec­tion vic­to­ry against his pow­er­ful oppo­nents was attrib­uted to the good­will of the mil­i­tary estab­lish­ment, also referred to as the "selec­tors," and the judi­cia­ry.
After win­ning power, Khan was expect­ed to launch a relent­less cru­sade against finan­cial cor­rup­tion by bring­ing the so-called looted money back into the nation­al exche­quer, ensur­ing good gov­er­nance, sta­bi­liz­ing the econ­o­my, and improv­ing the country's inter­na­tion­al image, which was bit­ter­ly affect­ed by Pakistan's sup­port for local and inter­na­tion­al jihadists.
However, Khan's anti-cor­rup­tion cru­sade mostly remained focused at jail­ing oppo­si­tion politi­cians, par­tic­u­lar­ly those belong­ing to the Pakistan Muslim League of former pre­mier Nawaz Sharif. This not only dis­tract­ed Khan and his gov­ern­ment from focus­ing on other seri­ous issues such as good gov­er­nance, but also cre­at­ed a neg­a­tive envi­ron­ment for pos­si­ble for­eign invest­ment.
His anti-cor­rup­tion claims received a fur­ther blow as his own party stal­warts and cab­i­net mem­bers were accused of taking part in a scheme to earn huge prof­its by cre­at­ing arti­fi­cial short­ages of wheat flour and sugar and sell­ing the com­modi­ties at high prices in the local market, besides get­ting gov­ern­men­tal sub­si­dies on exports.
Khan's promise of improv­ing the econ­o­my also did not work out well. The International Monetary Fund (IMF) in April this year pro­ject­ed Pakistan's econ­o­my to shrink by 1.5 per­cent during the cur­rent fiscal year. Although the COVID-19 pan­dem­ic played an obvi­ous role in that fore­cast, pre-pan­dem­ic growth in FY2019 was just 3.3 per­cent. According to the country's Finance Ministry, the rev­enue short­fall and increase in public spend­ing has taken the fiscal deficit from the ini­tial target of 7.5 per­cent of GDP to 9.4 per­cent.
There were also hopes for Pakistan's inter­na­tion­al image and the country's rela­tions with its next-door neigh­bor and arch-rival India to improve. Here again, the Khan gov­ern­ment never achieved the bench­marks. Rather, some of Khan's state­ments, par­tic­u­lar­ly his June 26 state­ment call­ing al-Qaeda chief Osama bin Laden a "martyr," fur­ther brought Pakistan's posi­tion vis-à-vis global jihadists under ques­tion on the inter­na­tion­al front.
Despite his all-out efforts, Khan's gov­ern­ment so far could not achieve any break­through with his Indian coun­ter­part Narendra Modi to nor­mal­ize rela­tions. Border skir­mish­es and exchanges of cross-border firing have almost become a rou­tine between the two coun­tries.
Now the Khan government's incon­sis­tent response to the coro­n­avirus pan­dem­ic is seen as his latest fail­ure, both by his oppo­nents and by a major­i­ty of the inde­pen­dent ana­lysts. The COVID-19 fum­bling, many ana­lysts believe, is one of the key rea­sons behind the row between Khan and his uni­formed back­ers.
The rapid increase in COVID-19 cases and the rising number of deaths is attrib­uted to Khan's inde­ci­sive­ness about impos­ing a lock­down in the coun­try. While much of the rest of the world strict­ly imple­ment­ed lock­downs to reduce the spread of the coro­n­avirus, Pakistan's gov­ern­ment flip-flopped from no lock­down to a lock­down to a smart lock­down. The dilly-dal­ly­ing gave the wrong mes­sages to a public already suf­fer­ing from dis­be­lief about the real­i­ty of the virus, which fur­ther wors­ened the sit­u­a­tion.
Now that the cat has already been let out of the bag, there are some key ques­tions about whether Khan will stay in power for the remain­ing three years of his five-year term, and the nature of his rela­tions with the mil­i­tary estab­lish­ment and the oppo­si­tion par­ties.
One set­tled fact about Pakistani pol­i­tics is that no civil­ian gov­ern­ment, how­ev­er pow­er­ful it might be, can stay in power for long if the mil­i­tary estab­lish­ment turns against it.
In Khan's case, the gen­er­als may not be happy with his government's per­for­mance and their "selec­tion," but they have not reached the point of saying "enough is enough." To put it dif­fer­ent­ly, they have not been able to find a suit­able choice to replace him. Thus, Khan may likely con­tin­ue to stay in his seat, despite no longer being on the prover­bial "same page" with the powers that be.
The estab­lish­ment, in fact, seems to be in a bind when it comes to keep Khan float­ing on the waves or let­ting him sink.
In the first sce­nario, every fail­ure of Khan's gov­ern­ment will be cred­it­ed to the mil­i­tary, as a major­i­ty of Pakistanis in gen­er­al (and the well-informed in par­tic­u­lar) believe that it was the gen­er­als who shoul­dered Khan's elec­tion vic­to­ry in July 2018. Hence, Khan's con­tin­u­a­tion in power will con­tin­ue to raise ques­tions about the mil­i­tary role. Every mis­step by his gov­ern­ment will be seen as the fail­ure of the mil­i­tary estab­lish­ment, who are believed to have backed Khan's Justice Movement from behind the scenes.
However, let­ting him go down is an even more seri­ous risk from the military's point of view. Khan's poor per­for­mance has once again increased public sup­port for the Pakistan Muslim League‑N (PML‑N) and Pakistan People's Party (PPP), the two main­stream oppo­si­tion par­ties that inter­mit­tent­ly ruled the coun­try from 1988, but whose lead­er­ship is seen as an anath­e­ma by the mil­i­tary top brass. Khan's pre­ma­ture removal will ben­e­fit the two par­ties, which the mil­i­tary does not see as a viable choice.
The oppo­si­tion par­ties are also not ready to force Imran Khan out of power through an in-house change or street protests. Khan's coali­tion gov­ern­ment barely enjoys a major­i­ty in the 342-member lower house of par­lia­ment fol­low­ing the sep­a­ra­tion of one of its allies, the Balochistan National Party (BNP). Another ally, the Pakistan Muslim League‑Q, has also expressed its unhap­pi­ness with Imran Khan.
Both the PML‑N's and the PPP's lead­er­ship turned down Khan's invi­ta­tion for the June 28 dinner. Yet the oppo­si­tion par­ties are suf­fer­ing from dif­fer­ences and divi­sions when it comes to Khan's removal and their future rela­tion­ship with the mil­i­tary estab­lish­ment.
By not acting against Khan's gov­ern­ment, the hawks among the oppo­si­tion par­ties want to teach a lesson to the mil­i­tary estab­lish­ment so that the gen­er­als stop their polit­i­cal engi­neer­ing and behind-the-scenes polit­i­cal games once and for all.
The third and most impor­tant aspect of Khan being in or out of power is relat­ed to his own party. The Pakistan Tehreek-e-Insaaf minus Imran Khan may not stay united even for a few weeks, let alone months and years.
Divisions and fac­tions among the party's rank and file and the top lead­er­ship are an open secret now. In a recent cab­i­net meet­ing, one min­is­ter accused his two senior cab­i­net col­leagues of fixing their eyes on the prime min­is­ter seat.
Khan is the king­pin that glues the party and the coali­tion gov­ern­ment togeth­er. Take him out and both the coali­tion and the PTI will dis­perse within weeks. If and when push comes to shove on part of the mil­i­tary estab­lish­ment, ana­lysts believe, the most viable option will be the for­ma­tion of a con­sen­sus nation­al gov­ern­ment instead of Khan's removal alone.
But until we reach that point, Khan can relax in his seat — mainly because his oppo­nents don't have the will and his erst­while back­ers don't have a good option to replace or remove him.