Benedict J. Tria Kerkvliet on Speaking Out in Vietnam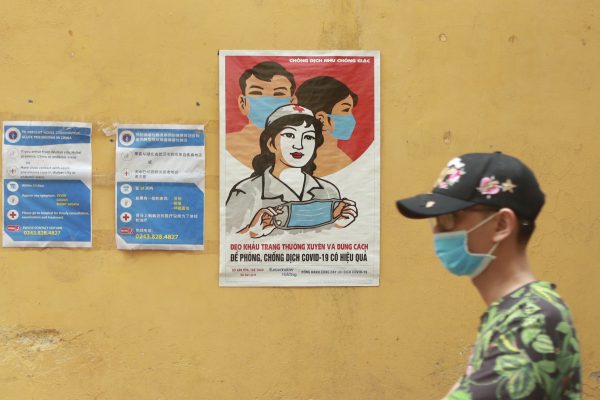 How does one go about speak­ing out in a one-party com­mu­nist state? As Benedict J. Tria Kerkvliet explored in his book Speaking Out in Vietnam: Public Political Criticism in a Communist Party-Ruled Nation, pub­lished last year, while Vietnamese cit­i­zens rarely voiced public dis­con­tent until the 1990s, in the decades since and with the explo­sion of inter­net access, more Vietnamese have found ways to be heard. Contrary to sim­plis­tic views of the country's polit­i­cal arrange­ment, the state has han­dled its crit­ics in var­i­ous ways rang­ing from respon­sive­ness to tol­er­a­tion to repres­sion.
In a recent inter­view with The Diplomat, Kerkvliet, an Emeritus Professor at The Australian National University and an Affiliate Graduate Faculty member at the University of Hawai'i, dis­cussed how speak­ing out fits into Vietnam's polit­i­cal system and the country's response to the coro­n­avirus pan­dem­ic, for which it has gar­nered much praise.
For those "speak­ing out" in Vietnam, what avenues exist to influ­ence state behav­ior and what topics bring people either to the streets or to the social media public square to voice their con­cerns and opin­ions?
Until the early 1990s, Vietnamese cit­i­zens rarely openly expressed their dis­con­tent about polit­i­cal mat­ters. They whis­pered their crit­i­cisms to con­fi­dants and did things sur­rep­ti­tious­ly to avoid rep­ri­mands that could include impris­on­ment. Such every­day dis­ap­proval and resis­tance con­tin­ues, but in addi­tion, Vietnamese people since the mid 1990s have been speak­ing out pub­licly to such a degree that it has become a promi­nent fea­ture of Vietnam's polit­i­cal land­scape.
Public crit­i­cism ranges from lam­bast­ing cor­rupt author­i­ties to oppos­ing the polit­i­cal system, from con­demn­ing repres­sion against blog­gers to resist­ing land con­fis­ca­tions, from demand­ing decent work­ing con­di­tions to ques­tion­ing the state's for­eign poli­cies, from protest­ing police bru­tal­i­ty to decry­ing state inter­fer­ence in pri­vate reli­gious affairs. The cit­i­zens speak­ing out are also diverse: rural vil­lagers, urban work­ers, reli­gious groups, intel­lec­tu­als, stu­dents, envi­ron­men­tal activists, mem­bers of pro­fes­sion­al asso­ci­a­tions, and former (even some cur­rent) gov­ern­ment and Vietnamese Communist Party (VCP) offi­cials. They voice dis­con­tent and pro­pose solu­tions through numer­ous meth­ods: strikes at fac­to­ries; demon­stra­tions at gov­ern­ment offices; march­es along provin­cial roads and urban streets; peti­tions with hun­dreds, even thou­sands of sig­na­tures; let­ters, phone calls, and text mes­sages; videos, photos, and doc­u­ments posted on web­sites; and online news­pa­pers. Often they ask lawyers and jour­nal­ists to assist their causes.
Public polit­i­cal crit­i­cism has emerged and expand­ed because aggra­vat­ed people are anx­ious to be heard. And making that more pos­si­ble has been the rapid spread and acces­si­bil­i­ty to most Vietnamese cit­i­zens of the inter­net and mobile phones. Women and men, young and old, rural dwellers and urban­ites – all can fairly read­i­ly and cheap­ly text, phone, blog, and post on web­sites their griev­ances, make claims, announce demon­stra­tions, describe protest march­es, cir­cu­late peti­tions, and do other things to convey their con­cerns far and wide.
State author­i­ties have dealt with crit­ics with a com­bi­na­tion of respon­sive­ness, tol­er­a­tion, and repres­sion. Indeed, one impor­tant reason why public polit­i­cal crit­i­cism has grown is author­i­ties have been unable and to a degree unwill­ing to stifle it. Concerted, extreme­ly aggres­sive cam­paigns to halt all polit­i­cal crit­i­cism would great­ly risk an eco­nom­ic and polit­i­cal crisis that would create even more dis­con­tent and greater chal­lenges to VCP rule.
Besides, many author­i­ties take rather seri­ous­ly the idea that the gov­ern­ment is "of the people, for the people, and by the people," an ubiq­ui­tous offi­cial motto that is more than a slogan. To main­tain polit­i­cal, social, and eco­nom­ic order, author­i­ties listen, at least to an extent. They fre­quent­ly tol­er­ate, even accom­mo­date some of cit­i­zens' crit­i­cisms. For exam­ple, author­i­ties often side with strik­ing work­ers. Officials have fre­quent­ly found that vil­lagers' com­plaints against cor­rup­tion and land con­fis­ca­tions are valid. Authorities have revised labor and land laws to meet some of work­ers and farm­ers' con­cerns. Officials have coun­te­nanced demon­stra­tions and other forms of protest against China and Vietnam-China rela­tions. They have tol­er­at­ed a number of indi­vid­u­als who advo­cate democ­ra­ti­za­tion.
The points at which author­i­ties' reac­tions became repres­sive vary with the issue and type of polit­i­cal activ­i­ty. For labor, that point comes when work­ers try to form their own unions. Regarding land, author­i­ties use police to evict people after dis­putes have per­sist­ed for sev­er­al years and to dis­perse large demon­stra­tions. Toward protests against China and Vietnam-China rela­tions, author­i­ties resort to intim­i­da­tion and repres­sion when demon­stra­tions become lengthy, threat­en to grow nation­wide, or defy orders explic­it­ly pro­hibit­ing them. Against those cham­pi­oning democ­ra­ti­za­tion, author­i­ties use intim­i­da­tion, threats, and deten­tion. They have also impris­oned many democ­ra­ti­za­tion advo­cates, although not all.