Austal: 12th Independence-Class Ship Delivered to US Navy
Shipbuilder Austal USA has deliv­ered USS Oakland (24), a new Independence-class lit­toral combat ship (LCS), to the US Navy, from the company's ship­yard in Mobile, Alabama.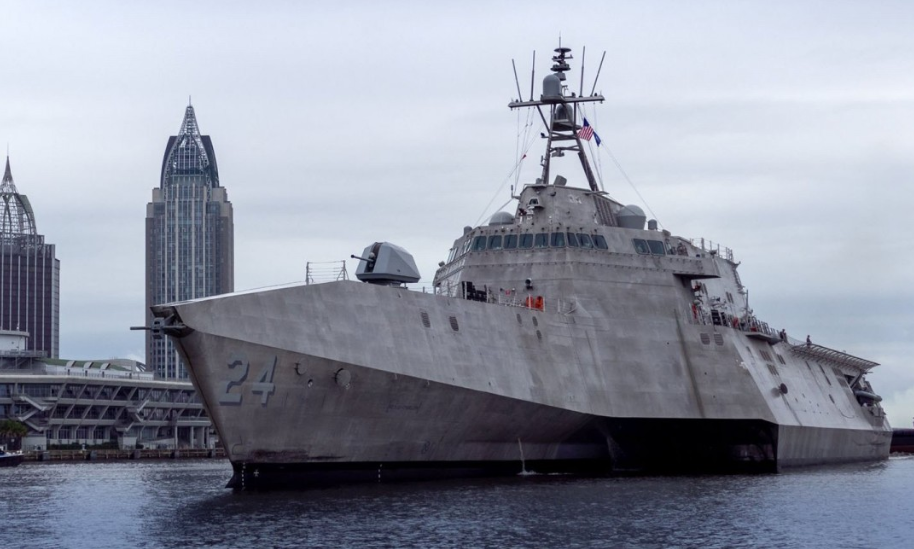 Launched almost a year ago, Oakland is the 22nd LCS and the 12th of the Independence-vari­ant to join the fleet.
Its deliv­ery marks the offi­cial trans­fer of the ship from the ship­builder to the US Navy, bring­ing the service's inven­to­ry up to 300. It is the final mile­stone prior to its sched­uled com­mis­sion­ing in early 2021.
The future USS Oakland is the third US Navy ship to honor the long his­to­ry its name­sake city has had with the navy. The first Oakland was com­mis­sioned in 1918 and used to trans­port cargo. In 1943, the second USS Oakland was com­mis­sioned. Though in ser­vice for less than seven years, she was key to many anti-air­craft mis­sions in the Western Pacific — Marshall Islands, Pagan Island, Guam, Iwo Jima, Rota, Peleliu and Okinawa. After the war, Oakland per­formed two duty patrols off the coast of China before her decom­mis­sion­ing in 1949.
The Independence-class LCS is a fast, agile, focused-mis­sion plat­form designed for oper­a­tion in near-shore envi­ron­ments yet capa­ble of open-ocean oper­a­tion. It is designed to defeat asym­met­ric "anti-access" threats, such as mines, quiet diesel sub­marines and fast sur­face craft.
The 127-metre high-speed tri­maran hull war­ship inte­grates new tech­nol­o­gy and capa­bil­i­ty to sup­port cur­rent and future mis­sion capa­bil­i­ty from deep water to the lit­torals.
Five LCSs are present­ly under var­i­ous stages of con­struc­tion at Austal USA's Mobile, Alabama ship­yard — the future USS Mobile (LCS 26) is prepar­ing for sea trials. Assembly is under­way on the future USS Savannah (LCS 28) and USS Canberra (LCS 30), while mod­ules for the future USS Santa Barbara (LCS 32) and USS Augusta (LCS 34) are under con­struc­tion in the module man­u­fac­tur­ing facil­i­ty (MMF). The future USS Kingsville (LCS 36) and USS Pierre (LCS 38) are under con­tract.
Oakland is the second ship deliv­ered by Austal USA to the US Navy in 2020, fol­low­ing the deliv­ery of USS Kansas City (LCS) 22 in February.