Assessing a Potential Coronavirus Lockdown in Indonesia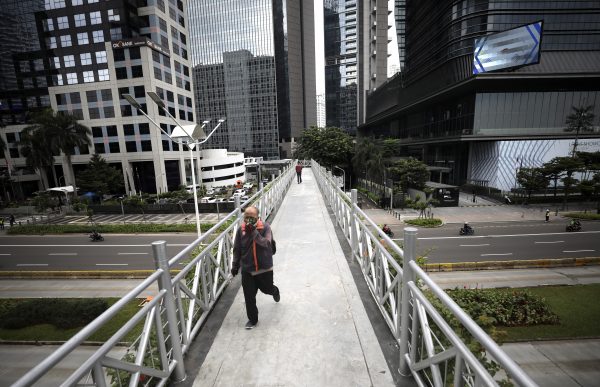 Coronavirus dis­ease, COVID-19, cases in Indonesia have sky­rock­et­ed since two tested pos­i­tive on March 2. The number of cases has grad­u­al­ly climbed to 50 between March 2 and 13, dou­bled to 100 cases by March 17, rose to 300 cases as of March 19, and had reached 790 cases by March 25.
COVID-19 cases remain geo­graph­i­cal­ly con­cen­trat­ed in Jakarta (463) and the rest of Java island (246), but the virus has spread to nearly the entire arch­i­pel­ago. The sit­u­a­tion has become increas­ing­ly grim. Facing short­ages of per­son­al pro­tec­tion equip­ment, sev­er­al med­ical doc­tors have already passed away from the coro­n­avirus, mean­while photos of exhaust­ed med­ical per­son­nel lying on hos­pi­tal floors in Indonesia have cir­cu­lat­ed on social media.
According to the Centre for Mathematical Modelling and Simulation at the Bandung Institute of Technology, COVID-19 cases in Indonesia could exceed 8,000 by mid April. Based on cur­rent trends, Indonesia will need to take strong action now to slow the spread and avoid over­whelm­ing its health­care system.
Current Measures and Growing Calls for a Lockdown
The Indonesian gov­ern­ment is cur­rent­ly pur­su­ing a one-month sus­pen­sion of all for­eign­er arrivals and the seg­men­ta­tion of sus­pect­ed cases into house quar­an­tine and hos­pi­tal quar­an­tine. Hospital quar­an­tine is being imple­ment­ed for cases with more severe symp­toms (mild to severe pneu­mo­nia) or those who have had con­tact with people test­ing pos­i­tive for the coro­n­avirus.
In antic­i­pa­tion of the increased case­load, the cen­tral gov­ern­ment has also con­vert­ed the Kemayoran Athlete House, used to host ath­letes for the 2018 Asian Games, into a med­ical facil­i­ty with an esti­mat­ed capac­i­ty of 3,000 patients at any one time.
At the epi­cen­ter of the virus out­break in Indonesia, Jakarta Governor Anies Baswedan declared a state of emer­gency for two weeks and announced mea­sures to cur­tail social inter­ac­tions. During this period, all places of recre­ation and enter­tain­ment are to be closed, busi­ness­es and offices are to imple­ment work from home mea­sures, and oper­at­ing hours for public trans­porta­tion, shop­ping cen­ters, and restau­rants have been reduced.
There have also been grow­ing calls for a lock­down by Indonesian politi­cians and med­ical pro­fes­sion­als. An area quar­an­tine or lock­down, based on legal pro­vi­sions in the Law on Health Quarantine No. 6/2018, would involve move­ment restric­tions for res­i­dents inside a quar­an­tine line to be enforced by police and health­care per­son­nel.
The Jakarta gov­ern­ment has pro­posed soft lock­down and hard lock­down sce­nar­ios to the cen­tral gov­ern­ment. In a soft lock­down, con­ve­nience stores and phar­ma­cies will remain open and public trans­porta­tion sys­tems will oper­ate at reduced capac­i­ty. A hard lock­down would mean a total public trans­port shut­down with only one person in every family per­mit­ted to buy daily neces­si­ties every two to three days.
Analysis: How a Lockdown Could Look Like in Jakarta
Unlike lock­downs imple­ment­ed in Italy and India, a nation-wide lock­down across Indonesia's 17,000 islands would be dif­fi­cult and inef­fec­tive. At this junc­ture, Jakarta appears to be the most likely can­di­date for a city-wide lock­down. It is both the epi­cen­ter of the coro­n­avirus out­break in the coun­try and a lock­down could limit the spread to out­ly­ing regions.
The cen­tral gov­ern­ment has been reluc­tant to put a lock­down in place because of imple­men­ta­tion chal­lenges and the sig­nif­i­cant socioe­co­nom­ic costs. Even if public trans­porta­tion is stopped, pro­hi­bi­tions for Jakartans trav­el­ling out­side the city cannot be enforced as many res­i­dents have per­son­al vehi­cles — with­out a nation­al level direc­tive they'd still be able to travel.
Furthermore, the urban infra­struc­ture in the sprawl­ing city, with many small roads and alley­ways, will make a lock­down dif­fi­cult to enforce. Conceivably, it is pos­si­ble to main­tain a city-wide lock­down with mil­i­tary or police per­son­nel to close the main entry and exit points. This could pre­vent the spread of the coro­n­avirus to out­ly­ing regions, but it would still be chal­leng­ing to ensure every­one stay at home. A par­tial lock­down by iden­ti­fy­ing clus­ters and quar­an­ti­ning spe­cif­ic neigh­bor­hood units simul­ta­ne­ous­ly across the city is also pos­si­ble.
Additionally, a lock­down would deeply affect the infor­mal sector. Fifty-five per­cent of Indonesians work in the infor­mal sector and sub­sist on daily wages. These people would have no income in a lock­down and no emer­gency med­ical leave. This includes those work­ing in shops, street food ven­dors, and ven­dors in tra­di­tion­al mar­kets. Foot traf­fic at Tanah Abang Market (a major tex­tile market) in Jakarta has fallen by 80 per­cent, deeply affect­ing the liveli­hoods of thou­sands of sell­ers and tex­tile pro­duc­ers already.
To sup­port a lock­down, gov­ern­ment aid to the poor­est house­holds and those sur­viv­ing on daily wages would also have to be enhanced. The cen­tral gov­ern­ment has already pledged to expand food assis­tance for 15.2 mil­lion needy house­holds start­ing in April. More help would be needed as pover­ty rates will likely widen in an eco­nom­ic down­turn. To do so, the gov­ern­ment may have to pass an inter­im emer­gency law to expand gov­ern­ment deficit spend­ing above the legal limit of 3 per­cent of GDP.
Need for Caution: Assessing the Unanticipated Impact of a Lockdown
While it is true that a lock­down would be a deci­sive step to con­trol the pan­dem­ic, hasty or poor imple­men­ta­tion could exac­er­bate exist­ing inequal­i­ties and social ten­sions. Indeed, Indonesia's finance min­is­ter has said that although funds have been pre­pared, there would be tremen­dous man­pow­er chal­lenges in deliv­er­ing essen­tial sup­plies to res­i­dents in a lock­down.
Additionally, the social impact of a pan­dem­ic has tended to fall hard­est on cer­tain groups, espe­cial­ly minori­ties. In the United States, report­ed cases of harass­ment and racial dis­crim­i­na­tion against Chinese and Asian Americans have surged after President Donald Trump called COV-19 s the "Chinese virus."
In Indonesia, a per­fect storm of panic buying induced by a lock­down, infor­mal work­ers with razor-thin finan­cial buffers, and inad­e­quate logis­ti­cal sup­port, could lead to scarci­ty and hard­ship for many. This could also gen­er­ate racial dis­crim­i­na­tion and stigma­ti­za­tion against Chinese Indonesians or Chinese for­eign work­ers as COVID-19 "car­ri­ers," either in Java island or beyond.
The bottom line is that while a lock­down could dras­ti­cal­ly slow the coro­n­avirus out­break in Indonesia, there is a real risk that eco­nom­ic, social, and racial ten­sions that had pre­vi­ous­ly been papered over by pros­per­i­ty could burst to the sur­face if poli­cies are imple­ment­ed with­out taking them into con­sid­er­a­tion.
Jefferson Ng is a senior ana­lyst, Indonesia Programme, at the S. Rajaratnam School of International Studies (RSIS), Nanyang Technological University, Singapore.