As Mongolia Welcomes China's Foreign Minister, Citizens Protest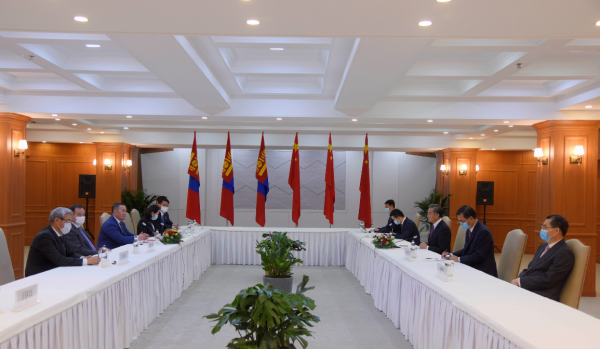 China's Foreign Minister Wang Yi paid a two-day visit to Mongolia on September 15 and 16, hold­ing meet­ings with Mongolian President Battulga Khaltmaa, Prime Minister Khurelsukh Ukhnaa, and Foreign Minister Enkhtaivan Nyamtseren. What would have been a fairly straight for­ward diplo­mat­ic exchange between neigh­bors, how­ev­er, took on added sig­nif­i­cance amid Mongolian anger over a new lan­guage policy unveiled ear­li­er this month in the Chinese region of Inner Mongolia.
The policy, announced just ahead of the start of the new school year on September 1, requires schools to use new Chinese language national textbooks, replac­ing Mongolian lan­guage books. That sparked out­rage among ethnic Mongolians in China, who fear the sidelin­ing of Mongolian lan­guage edu­ca­tion will even­tu­al­ly resign their native lan­guage to obliv­ion. Parents and stu­dents alike took the streets in protest, and many stu­dents boy­cotted the start of the school year. Beijing responded with force, arrest­ing pro­test­ers and attempt­ing to pres­sure stu­dents to return to class­rooms. Estimates of the number of those detained range from "hundreds" to "4,000 to 5,000."
The new lan­guage policy – and result­ing crack­down — also sparked an unusu­al amount of atten­tion across the border in Mongolia, according to Julian Dierkes, a pro­fes­sor at the University of British Columbia. Writing on his Mongolia Focus blog for UBC, Dierkes noted that the new lan­guage policy was attract­ing more atten­tion on Mongolian social media than he had seen before on Inner Mongolia topics, with numer­ous com­men­ta­tors speak­ing out against the policy on Twitter.
Offline, that surge of inter­est result­ed in more protests. According to Reuters, around 100 pro­test­ers gath­ered in front of the Government Palace in Ulaanbaatar on the first day of Wang's visit, chant­i­ng slo­gans such as "Let's pro­tect our native lan­guage" and "Wang Yi go away." The pro­test­ers were hoping to nudge their gov­ern­ment into rais­ing the issue with China – some­thing it has not done, at least pub­licly, thus far.
"Our lead­ers need to speak up," one pro­test­er told Reuters. "If our gov­ern­ment keeps silent in the name of inter­na­tion­al rela­tions and eco­nom­ic sta­bil­i­ty, one by one Mongolians are being pressed out and Mongolia will cease to exist."
In the Chinese read-out of his meet­ing with Mongolian Foreign Minister Enkhtaivan, Wang listed three main goals for his visit: strength­en­ing and extend­ing coop­er­a­tion in the fight against COVID-19; extend­ing coop­er­a­tion on "eco­nom­ic and social devel­op­ment" and the Belt and Road Initiative (includ­ing Wang's bid to "pro­mote the resump­tion" of key Chinese-invest­ed projects in Mongolia); and "work[ing] togeth­er to ensure the long-term healthy and stable devel­op­ment of China-Mongolia rela­tions."
The last point took on the most salience given the protests await­ing the Chinese for­eign min­is­ter upon his arrival in Mongolia.
While Wang did not specif­i­cal­ly men­tion the back­lash in Mongolia against the new edu­ca­tion policy, he laid spe­cial stress on the need for the two sides to "in par­tic­u­lar respect each other's nation­al sov­er­eign­ty and ter­ri­to­r­i­al integri­ty, and refrain from inter­fer­ing in each other's inter­nal affairs." Doing so is the "anchor" for a healthy bilat­er­al rela­tion­ship, Wang added. The mes­sage was clear: Mongolia's gov­ern­ment should resist public pres­sure to speak out about China's ethnic poli­cies in Inner Mongolia.
"China and Mongolia are per­ma­nent neigh­bors and should also be per­ma­nent friends," Wang stressed. "This is the only right and the best choice for the two coun­tries."
According to the Chinese read-out, Wang secured a com­mit­ment on this point from his Mongolian coun­ter­part: "The two for­eign min­is­ters reit­er­at­ed and con­firmed that China and Mongolia will respect each other's sov­er­eign­ty, inde­pen­dence and ter­ri­to­r­i­al integri­ty and will not inter­fere in each other's inter­nal affairs."
The meet­ing sum­maries from MONTSAME, a Mongolia-based news agency, did not include many hints that the topic of Inner Mongolia had come up at all – exact­ly as China would prefer. Instead, the focus was on COVID-19 coop­er­a­tion, boost­ing bilat­er­al trade, and some deliv­er­ables in the form of a new agree­ment to estab­lish three additional railway border ports. There was a ghost of a ref­er­ence, how­ev­er, in the read-out from President Battulga's meeting with Wang: "The dig­ni­taries also shared their opin­ions on some human­i­tar­i­an issues, and agreed on the impor­tance of main­tain­ing the prin­ci­ple of mutual respect."
That vague approach is appar­ent­ly the far­thest Ulaanbaatar feels com­fort­able going in broach­ing the topic of China's treat­ment of ethnic Mongolians. As Dierkes noted in his blog post, "Any offi­cial pro­nounce­ments from the Mongolian gov­ern­ment about the fate of Mongolian [lan­guage] – never mind Mongolians – in Inner Mongolia, would likely be met with a some­what vio­lent reac­tion, vio­lent not in the sense of actual phys­i­cal or ter­ri­to­r­i­al vio­lence, but most likely in lan­guage and pos­si­ble sanc­tions like inter­rup­tions to trade flows and the like." He added that the gov­ern­ment in Ulaanbaatar was unlike­ly to take that risk – "at least not until reac­tions in Mongolia itself get louder and more numer­ous and until there is some inter­na­tion­al sup­port for a reac­tion."
The reason for Mongolia's ret­i­cence is obvi­ous: The coun­try is eco­nom­i­cal­ly depen­dent on China. According to World Bank data, in 2018 China bought a whop­ping 92 per­cent of Mongolia's exports – mostly min­er­als and ores, notably coal. China's ambas­sador hinted that trade could be at risk in an inter­view with a Mongolian news­pa­per. Reuters summarized his comments as fol­lows: "China's demand for Mongolian coal — its biggest export earner — was shrink­ing. Though ship­ments have con­tin­ued, they were piling up because there was no market for them."
Given China's record of eco­nom­ic coer­cion against coun­tries from Norway to South Korea to Australia, the impli­ca­tion is clear: Don't rock the boat, lest coal imports come to an unfor­tu­nate halt.
In that sense, there are echoes of Kazakhstan's dilem­ma vis-à-vis the deten­tions of ethnic Kazkahs in China's Xinjiang region: Public out­rage, fos­tered by shared ethnic iden­ti­ty, takes on a nation­al­ist bent – but is fun­da­men­tal­ly at odds with what the gov­ern­ment sees as in the country's best inter­ests (read: avoid­ing fric­tions with Beijing to main­tain eco­nom­ic sta­bil­i­ty). Thus far, Mongolia has fol­lowed Kazakhstan's choice to side­line its cit­i­zens' demands rather than cross­ing one of Beijing's red lines.