Arecibo Observatory Weathers Tropical Storm Isaias to Track Potentially Dangerous Asteroid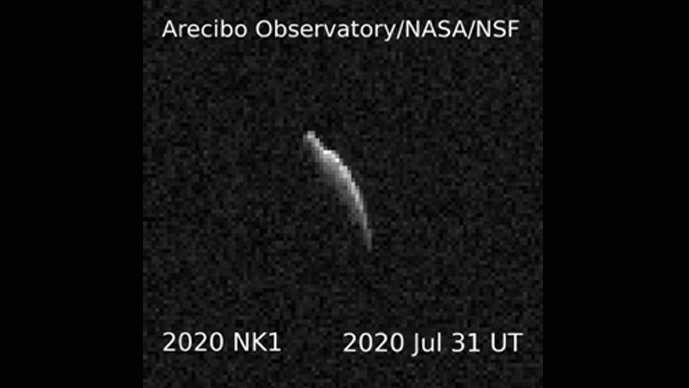 A famed radio tele­scope over­came Tropical Storm Isaias to deter­mine the threat level of a space rock zoom­ing by Earth. In both cases, hap­pi­ly, every­thing worked out just fine.
Astronomers with the Arecibo Observatory in Puerto Rico were­sup­posed to observe the close-flying aster­oid 2020 NK1 from July 30 to 31, when the object — which sci­en­tists first spot­ted in early July — would be within close range (5 mil­lion miles or 8 mil­lion kilo­me­ters) of the radar-prob­ing tele­scope. Unfortunately, that timing fell exact­ly when Tropical Storm Isaias was sup­posed to crash into Puerto Rico. Arecibo, which was hit hard by Hurricane Maria in 2017 and closed due to an earthquake this past winter, shut down once again to min­i­mize harm to their staff and observ­ing equip­ment.
Parts of the island did lose power from Isaias, but Arecibo was not impact­ed as badly. This allowed the tele­scope to safely swing into action after the trop­i­cal storm came through.
Related: Satellites watch Tropical Storm Isaias batter eastern US
"Fortunately, the storm passed quick­ly with­out damage to the tele­scope or the radar system, and the main­te­nance and elec­tron­ics teams were able to acti­vate the tele­scope from hur­ri­cane lock­down in time for the obser­va­tions," Sean Marshall, an obser­va­to­ry sci­en­tist who led the team during the radar obser­va­tions of 2020 NK1, said in a statement from the University of Central Florida, which man­ages Arecibo.
The observ­ing team watched the aster­oid for 2.5 hours to deter­mine how likely it is to hit Earth. Before the obser­va­tions to improve knowl­edge of its orbit, the aster­oid was thought to have a 1‑in-70,000 chance of impact­ing the Earth between 2086 and 2101, making it a pri­or­i­ty obser­va­tion. It was spot­ted in early July by astronomers with the Asteroid Terrestrial-impact Last Alert System survey team at the University of Hawaii.
The new work shows that the aster­oid "is not expect­ed to get close enough to Earth to pose a danger in the future," Arecibo offi­cials said in the same state­ment. The clos­est approach of 2020 NK1 will be in 2043 when it will pass by Earth at a dis­tance of 2.25 mil­lion miles (3.6 mil­lion km), or the equiv­a­lent of more than nine times the dis­tance between the Earth and the moon.
The new obser­va­tions show "that we have very quick response times and high-pre­ci­sion range, motion, and-size mea­sure­ment capa­bil­i­ties in spite of storms, the COVID-19 pan­dem­ic and earth­quakes with which Puerto Rico has dealt with this year," Anne Virkki, head of Arecibo's plan­e­tary radar group, said in the same state­ment.
The radar images also revealed the size and shape of the aster­oid, which is described as elon­gat­ed with its longest dimen­sion at 0.6 miles (nearly 1 km). The aster­oid's com­po­si­tion was not dis­closed in the state­ment; more than 75 percent of known asteroids are car­bona­ceous, with the rest being sil­i­ca­ceous or metal­lic.
NASA and numer­ous part­ner obser­va­to­ries keep a close eye on the sky for poten­tial­ly haz­ardous aster­oids, and have cat­a­logued many thou­sands of space rocks in their decades-long effort. NASA's Planetary Defense Coordination Office also is work­ing with United States and inter­na­tion­al enti­ties on ideas to move or break up aster­oids that pose an immi­nent prob­lem to Earth. Fortunately, no imme­di­ate threats to Earth are known, but sci­en­tists remain on the look­out just in case.
Follow Elizabeth Howell on Twitter @howellspace. Follow us on Twitter @Spacedotcom and on Facebook.