Are Australians Buying Chinese Goods Produced With Forced Labor?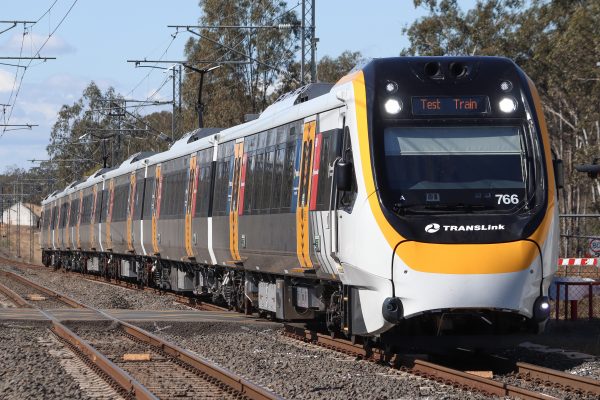 Australian state gov­ern­ments and pri­vate com­pa­nies are having to review con­tracts with for­eign com­pa­nies amid alle­ga­tions that they may be sourc­ing mate­ri­als pro­duced in fac­to­ries using forced labor in China.
Queensland's Transport and Main Roads Minister Mark Bailey direct­ed his depart­ment last week to review whether the state's New Generation Rollingstock (NGR) trains contain parts pro­duced in Xinjiang, China, where experts esti­mate more than a mil­lion Uyghurs and mem­bers of other Turkic Muslim minori­ties have dis­ap­peared into a vast net­work of "re-edu­ca­tion camps" in recent years.
The Queensland gov­ern­ment has an ongo­ing rela­tion­ship with KTK, a com­pa­ny that the U.S. gov­ern­ment black­list­ed ear­li­er this month, after find­ing it was impli­cat­ed in human rights vio­la­tions, such as forced labor in Xinjiang. KTK Australia said in a state­ment that the alle­ga­tions "are based on no offi­cial doc­u­ments, inter­views or tes­ti­mo­ny."
But a recent report by the Australian Strategic Policy Institute (ASPI) found mount­ing evi­dence that many Uyghurs — fol­low­ing months, if not years, of polit­i­cal indoc­tri­na­tion, forced renun­ci­a­tion of their reli­gion and cul­ture, and even tor­ture — are then being trans­ferred from Xinjiang to fac­to­ries across the coun­try, includ­ing fac­to­ries oper­at­ed by KTK.
KTK also has ongo­ing con­tracts with the Victorian and New South Wales gov­ern­ments.
The ASPI report also named Hubei Haixin Protective Products Group Co Ltd, which has con­tin­ued to sell face masks to Australia through­out the pan­dem­ic. Around the same time that Victorian author­i­ties man­dat­ed masks be worn in public, reports emerged that as many as 200,000 masks pro­duced by Hubei Haixin had entered the Australian market.
The state-run Hubei Daily newspaper report­ed ear­li­er this year that the com­pa­ny, in agree­ment with the Chinese gov­ern­ment, had trans­port­ed 131 Uyghur women aged 19 to 31 from their home in Xinjiang to the company's fac­to­ry in Hubei by train, a dis­tance of more than 3,200 km.
Overall, the ASPI report iden­ti­fied 27 fac­to­ries in nine Chinese provinces that are using Uyghur labor and found that many of the fac­to­ries claim to be part of the supply chain of 83-well known global brands, includ­ing Adidas, Apple, Microsoft, Google, Huawei, Nike, Mitsubishi, Sony, Volkswagen, and Zara.
Last year, an investigation by the ABC revealed that retail­ers in Australia includ­ing Target, Cotton On, Ikea, and H&M had sourced cotton in Xinjiang and detailed links between Australian uni­ver­si­ties and Chinese tech com­pa­nies over­see­ing the sur­veil­lance appa­ra­tus mon­i­tor­ing Uyghurs.
In a state­ment respond­ing to the rev­e­la­tion of state gov­ern­ments sourc­ing mate­r­i­al from com­pa­nies using forced labor, a spokesper­son for the Department of Home Affairs said that pro­cure­ments were a matter for state and ter­ri­to­ry gov­ern­ments and had noth­ing to do with the fed­er­al gov­ern­ment.
"The Australian gov­ern­ment encour­ages state and ter­ri­to­ry gov­ern­ment to take action to respond to modern slav­ery risks in their supply chains," the state­ment said. "The Modern Slavery Act 2018 requires the Australian gov­ern­ment and Australian busi­ness­es to pub­licly account for how they respond to modern slav­ery risks in global oper­a­tions and supply chains."
But the fed­er­al gov­ern­ment has also come under scruti­ny for its deal­ings with Chinese com­pa­nies. In April, the fed­er­al gov­ern­ment accept­ed 10 mil­lion COVID-19 tests man­u­fac­tured by the Beijing Genomics Institute (BGI), a com­pa­ny that some reports sug­gest has pro­vid­ed gene tech­nol­o­gy to Chinese police for sur­veil­lance of Uyghurs in Xinjiang.
Just last week the U.S. Department of Commerce added BGI to an Entity List in con­nec­tion with "con­duct­ing genet­ic analy­ses used to fur­ther the repres­sion of Uyghurs and other Muslim minori­ties."
Vicky Xiuzhong Xu, the author of the ASPI report, told the ABC that she believed the way both the fed­er­al and state gov­ern­ments respond­ed to this issue was a test of Australia's com­mit­ment to human rights.
"An inves­ti­ga­tion into KTK Group and their con­tracts with Australian state gov­ern­ments is over­due," she said. "But I think given the response from the United States, we are look­ing to see and test if Australia's modern slav­ery act will be able to pro­tect us from slave labor and do what it says, which is to safe­guard our values on human rights."