Amid Coronavirus Pandemic, Myanmar's Armed Forces Soldier On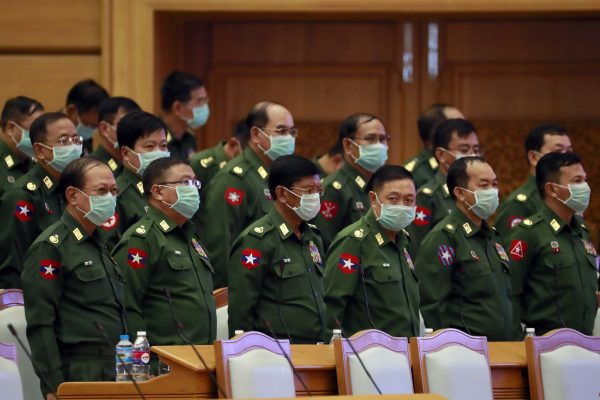 The Tatmadaw (Myanmar's armed forces) has post­poned the long-await­ed and long-planned cel­e­bra­tion of the 75th anniver­sary of its found­ing – its "dia­mond jubilee" — due to the COVID-19 out­break. The deci­sion to post­pone the cel­e­bra­tion and mil­i­tary parade was swift and strate­gic, announced a week before the World Health Organization declared the dis­ease a global pan­dem­ic.
Since early March, the Tatmadaw had pre­pared for the out­break by real­lo­cat­ing resources for mil­i­tary hos­pi­tals and now mobi­liz­ing combat medics to Chin state for quar­an­tine. All of these crisis response mea­sures are a polit­i­cal state­ment. Army offi­cers even took the bold step of wear­ing sur­gi­cal masks during par­lia­men­tary ses­sions debat­ing the con­sti­tu­tion­al amend­ments pro­posed by the National League for Democracy. The mes­sage from Myanmar's mil­i­tary was loud and clear: The Tatmadaw is a single united entity, which is always pre­pared for a crisis. With its tri­umph over the attempt­ed con­sti­tu­tion­al amend­ments, which sought to limit the role of the mil­i­tary in pol­i­tics, the Tatmadaw is now focus­ing on other fronts, such as insti­tu­tion build­ing and the peace process.
Beyond its COVID-19 response, mil­i­tary oper­a­tions in Rakhine state and Northern Shan state are still on track. With the dec­la­ra­tion of Arakan Army as a ter­ror­ist orga­ni­za­tion on March 23, the Tatmadaw kept up the momen­tum of its oper­a­tions in Rakhine state. A cease­fire there is not in the fore­see­able future. Meanwhile, in coop­er­a­tion with inter­na­tion­al agen­cies, anti-nar­cot­ic oper­a­tions were con­duct­ed in Northern Shan state and dis­abled most of the major drugs pro­duc­ers in the region. These pro­duc­tion facil­i­ties were inter­twined with the local people's mili­tia.
The Tatmadaw cut ties with its former local allies and depart­ed from decades worth of people's war doc­trine in favor of stan­dard­ized forces with con­ven­tion­al capa­bil­i­ties: the Standard Army reform.
The 75th anniver­sary tele­vi­sion minis­eries, with its own his­tor­i­cal inter­pre­ta­tion, clear­ly artic­u­lat­ed the military's way of think­ing to the public.
Keeping its old slo­gans, the vision for the 75th anniver­sary recit­ed the old three main causes and six prin­ci­ples for peace. Thus it is clear that the Tatmadaw's posi­tion on the peace process and nego­ti­a­tions remains unchanged.
Along with the COVID-19 out­break, a planned peace con­fer­ence may delay and impact the ongo­ing peace process, which remains ori­ent­ed toward a nation­wide cease­fire agree­ment. Without con­ven­ing nation­al dia­logues and Union Peace Conferences, nego­ti­a­tions on secu­ri­ty sector devel­op­ment through the peace process will be chal­leng­ing.
However, that does not mean that Tatmadaw will pause in insti­tu­tion build­ing; rather it will keep up its own agenda on the Standard Army reform.
Indeed, upgrad­ing the Tatmadaw's arse­nal is at the top of Standard Army reform list. Myanmar's first Kilo-class sub­ma­rine is expect­ed to be com­mis­sioned in the upcom­ing months, along with other domes­ti­cal­ly devel­oped equip­ment. Still one puzzle piece is miss­ing: the new defense white paper, the public policy doc­u­ment to address the Tatmadaw's strate­gic pro­jec­tion in the region and secu­ri­ty chal­lenges.
Undeniably, when it comes to both domes­tic pol­i­tics and strate­gic posi­tion, the Tatmadaw is keep­ing its old spot as the "Savior of the Nation" —  with a new twist amid the COVID-19 pan­dem­ic.
Amara Thiha is the Senior Research Manager at Myanmar Institute for Peace and Security (MIPS) and a non­res­i­dent fellow at the Stimson Center. The views and opin­ions expressed here do not nec­es­sar­i­ly reflect the poli­cies or posi­tions of MIPS and Stimson Center.