Air Force Dispatches Natural Disaster Recovery Team to Guam After Typhoon
A task force of the Air Force's Natural Disaster Recovery Team is enroute to Andersen Air Force Base, Guam, to assess the condition of the facilities there and advise the 36th Wing commander in the wake of Super Typhoon Mawar, which struck the island May 24 with the force of a Category 4 hurricane.
The team is expected to be in place in the next few days and will provide an initial assessment to the wing commander at Andersen in the following week, according to Col. Robert L. Bartlow, Jr., chief of the Air Force's Civil Engineer Center Natural Disaster Recovery Division at Tyndall Air Force Base, Fla.
The tropical cyclone came ashore at Andersen at the northeast part of the island. The island was hit with winds of up to 140 miles per hour, two feet of rain, a storm surge, flooding, downed trees, utility outages, and building collapses. While some minor injuries have been reported, no deaths have been attributed to the storm.
In preparation for the storm, Andersen aircraft were either evacuated or secured in hangars, and naval vessels were sent out to sea. Thus far, no aircraft damage has been reported.
The Air Force's Natural Disaster Recovery Team (NDRT), which consists of Active-Duty military, government civilians, and contractors, numbers about 80 personnel, five of whom have been dispatched to Guam. They will assess damage, augment the base's own civil engineering capacity, and recommend both immediate and long-term action, Bartlow told Air & Space Forces Magazine.
To get to Guam, the team is making its way first to Joint Base Pearl Harbor-Hickam, Hawaii, by commercial air, and then by military transport to the island, as Won Pat International Aiport is damaged and not expected to be back in operation until May 30 at the earliest.
The Navy has also ordered the USS Nimitz aircraft carrier and its strike group—now in the vicinity of Japan—to Guam to assist with recovery. The vessels should reach Guam by May 29. The Federal Emergency Management Agency deployed 130 staff to the island ahead of the storm.
It hasn't been determined how long the assessment team will be on site, Bartlow said, but its findings will help form the basis for any special needs or requests made to Pacific Air Forces, and, if necessary, Headquarters Air Force.
"We've had this capability for between a year and two years now," Bartlow said.
When a natural disaster occurs—or is imminent—the team has the authority to mobilize for a response, Bartlow said. The Guam assessment marks the third time the team has done so.
"We first mobilized a team last October in response to Hurricane Ian, that hit South Florida," he noted. It was expected that Ian would do serious damage to MacDill Air Force Base, Fla., but would up shifting course. While MacDill "did sustain some serious damage," it wasn't catastrophic, Bartlow said, and "we set the team down for five or six days to assist the base there."
The second deployment was to Little Rock Air Force Base, Ark., in the wake of a winter storm in December 2022 that resulted in tornados and heavy snow.  
This response to Guam, however, has "a little more the impact [as it is] more severe than what we saw on the previous two," Barlow said.
Because Guam's location is subject to frequent cyclones, "the facilities and infrastructure … are probably better prepared for a storm of that magnitude than, say, the facilities at Tyndall," he observed.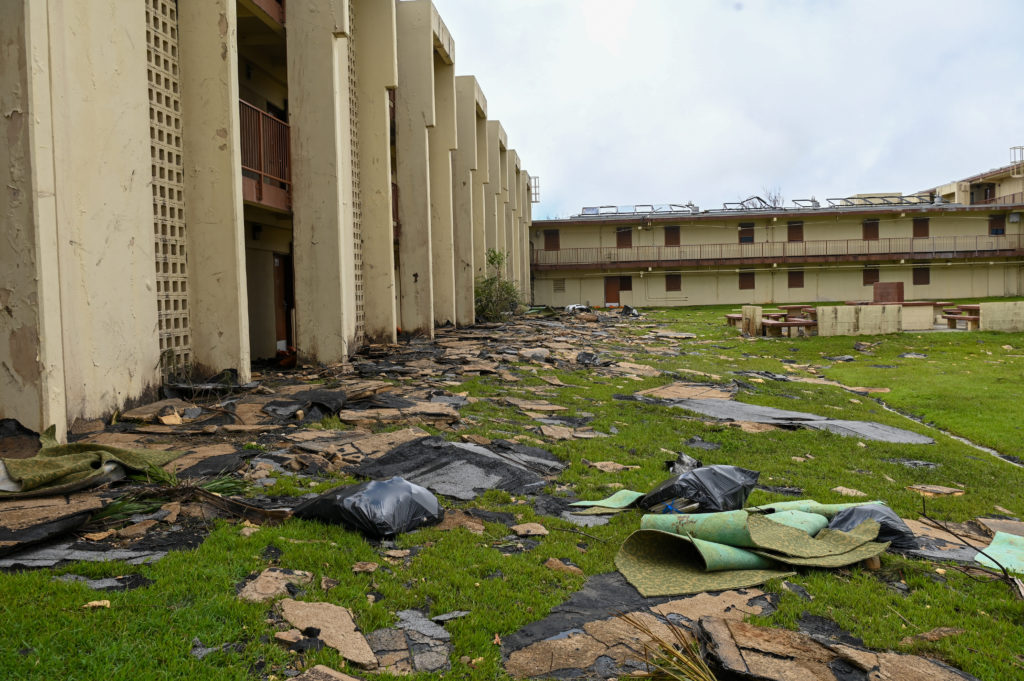 While the 36th Wing's own civil engineering staff will conduct assessments, the disaster team "brings in some unique expertise that you don't typically have at an installation … and we're sending that to assist them," Bartlow said. The 36th Wing commander specifically requested their presence, even as his base works to ensure they can properly support personnel.
With their expertise assessing and contracting for remediation and recovery at Tyndall and Offutt, the team has unique insight into "the cost and scope of what the recovery will be," Bartlow said—they are knowledgeable about the cost and timing needed to fix runways, rebuild hangars, repair or rebuild the water and electrical systems, and more.
The goal is for a full assessment to be complete in 30 days, he said, which will include cost estimates and "preliminary programming documents completed for those recovery projects." But it will depend on the scope of the damage.
The team will focus on permanent repairs but can help with short-term mitigation efforts, he said. PACAF will then work with the Pentagon "to source those additional requirements that can't be sourced from within the command."
If necessary, the task force, or others from the NDRT, will stay on site and assist the local civil engineering shop beyond the assessment, but they likely won't be overseeing the management and execution of the repair projects, Bartlow said.
"Again, that's part of what we do in natural disaster recovery; there is a long-term requirement to assist and augment the installation [personnel]," he said.
With natural disasters increasing in frequency and severity—one of the reasons why the NDRT was stood up in the first place—Bartlow said the organization is structured to be able to scale up if necessary.
"Today, we have exactly what we need. But if called upon to take on another installation, it would be relatively simple for us to scale up and take that on," he said.
Much of the organization's work thus far has centered on the reconstruction at Tyndall and Offutt, and Bartlow said those projects have hit an "inflection point."
"Within about eight months … we moved from the majority of the programs still in acquisition to now, [where] we have over 90 percent of the program actually on contract and under construction. So that's a big step," he said.
At Tyndall alone, 55 projects are underway, with only a few left to award in 2024, Bartlow said. The first major project—a new Child Development Center—will be finished in August.
Given the scope and cost to rebuild at Tyndall and Offutt, the team was directed "not to build what we had before"—officials have said they want to build "installations of the future" that are capable of withstanding extreme weather. On both bases, the elevation of key buildings is being raised so they will remain above either flood stage or storm surge levels of the magnitude expected for 100 years, Bartlow said.
At Tyndall, construction includes new facilities to house a wing with three squadrons of F-35s, including the "associated support, personnel and capabilities to go with that," Bartlow said. "It certainly will not be an austere base."
At Offutt, only a third of the base was destroyed, but that third took down "largely the mission-related facilities along the flightline. So we're … building back to meet the mission." Much of the Air Force's intelligence, surveillance and reconnaissance fleet, along with U.S. Strategic Command, are based there.
The 2019 flood established a new baseline for how high facilities had to be. Bartlow said the Army Corps of Engineers and contractors brought in "hundreds of thousands of cubic yards of fill" to raise the levels of the re-built facilities and to strengthen levees to protect them.
The post Air Force Dispatches Natural Disaster Recovery Team to Guam After Typhoon appeared first on Air & Space Forces Magazine.