A Year After Article 370's End, a Dangerous Silence in Kashmir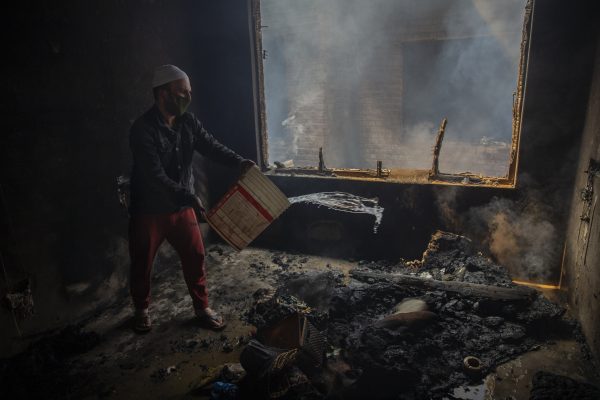 SHOPIAN, KASHMIR – On this day last August, the Hindu nation­al­ist Indian gov­ern­ment, run by Prime Minister Narendra Modi and his Bhartiya Janta Party (BJP), abro­gat­ed two key aspects of the Indian Constitution, leg­is­la­tion that had pre­vi­ous­ly allowed Jammu and Kashmir to have a sep­a­rate con­sti­tu­tion, make laws inde­pen­dent­ly from the Indian par­lia­ment, and bar Indians from out­side the region from either buying prop­er­ties or taking gov­ern­ment employ­ment. The region was also split into fed­er­al­ly-ruled ter­ri­to­ries – Ladakh, and Jammu and Kashmir – an insult to the erst­while prince­ly state that was vir­tu­al­ly inde­pen­dent when India and Pakistan were coming into being.
Since then, Jammu and Kashmir has been direct­ly under the con­trol of New Delhi, which wiped out the scope for any middle par­ties.
To avoid any reac­tion to the move, harsh months-long restric­tions were imposed by the cen­tral gov­ern­ment.
All modes of com­mu­ni­ca­tion were cut off. About 7,000 people were arrest­ed before and after August 5, 2019, includ­ing nearly the entire pro-seces­sion and pro-Indian polit­i­cal lead­er­ship.
Before August 5, 2019, Kashmir was a nom­i­nal­ly autonomous region. After August 5, it has become vir­tu­al­ly a set­tler colony in the making. Kashmir thus became an annexed ter­ri­to­ry where all exist­ing struc­tures, the major­i­ty of them Indian-made, were dis­solved so they could fit into the vision of India held by the ruling BJP, whose found­ing fathers were never com­fort­able with the unique con­sti­tu­tion­al status of the only Muslim-major­i­ty state.
Thus now, the media – whether local, Indian, or for­eign — are effec­tive­ly work­ing in a new ecosys­tem, in which even the pre­tens­es of free­dom have fallen away.
A year has passed since the deci­sion, which was jus­ti­fied as "rec­ti­fy­ing a his­tor­i­cal blun­der" and jus­ti­fied as paving the way for pros­per­i­ty, peace, and devel­op­ment in the region. But on the ground, the change not only divid­ed the parts of the region along com­mu­nal lines, but also gave free rein to the military's heavy-handed approach.
During the past year, the BJP's approach to Kashmir — that a mus­cu­lar mil­i­tary response to dis­sent is the way to peace — turned out to be coun­ter­pro­duc­tive. The BJP opposed any talks with Pakistan, which also claims the region, or pro-free­dom lead­ers, fur­ther widen­ing the gap between New Delhi and Srinagar.
Continuing Changes
Prominent econ­o­mist and Jammu and Kashmir's former finance min­is­ter, Haseeb A. Drabu told The Diplomat that Kashmir has changed in many ways. Policies like the domi­cile law (a new law that gives out­siders the right to become a res­i­dent of J&K), the media policy, and other new laws that are being flood­ed in from New Delhi were bound to happen.
"The whole con­tention of abro­ga­tion of Article 370 was to impose such poli­cies in Kashmir. It was expect­ed as they [the BJP] have been talk­ing about it," he explained.
Drabu pre­dicts that this heavy-handed approach will not end. He senses that these deci­sions are far more sig­nif­i­cant for the party than even the abro­ga­tion of Article 370 in the first place.
"They are oper­at­ing deci­sions and these are what to change sit­u­a­tion oper­a­tive­ly on the ground. This is far more seri­ous and has a greater impact."
Raja Waheed, a foot sol­dier of People's Democratic Party (PDP), expressed that snatch­ing the con­sti­tu­tion­al status of Jammu and Kashmir was a "brutal step" from the BJP.
Hailing from the volatile area of Kashmir's south, in Shopian, some 55 kilo­me­ters from the cap­i­tal city Srinagar, 42-year-old Waheed's polit­i­cal jour­ney has been dead since last August.
He believes that the idea of the main­stream that was formed decades ago has been com­plete­ly uproot­ed by the BJP. With no polit­i­cal activ­i­ty vis­i­ble on the ground, common people have been sub­ject­ed to brutal poli­cies thrust for­ward by New Delhi with­out any hin­drance.
The "BJP cre­at­ed a choked envi­ron­ment for other par­ties here. They alone are run­ning the show and for others, they have installed huge bar­ri­ers aiming to not give space to float their activ­i­ty. There is a vis­i­ble autoc­ra­cy," Waheed said, in a pes­simistic tone.
The "Agenda of Alliance" and Murder of the Mainstream
Drabu in a recent article with Outlook, expressed that, for local polit­i­cal work­ers, the BJP exist­ed "nei­ther in their ter­ri­to­ry nor on their minds. No polit­i­cal field worker or sup­port­er saw the BJP as an oppo­nent, let alone a seri­ous adver­sary." But that was in 2014, and as Drabu noted the sit­u­a­tion soon began to change.
After the 2014 elec­tions, the BJP made inroads as a coali­tion part­ner with the region­al PDP, then headed by the late Mufti Mohammad Sayeed, to form a gov­ern­ment, much against the wishes of voters who gave the PDP a man­date. It was a crit­i­cal polit­i­cal devel­op­ment for Kashmir.
Back then, Drabu nego­ti­at­ed the alliance among the PDP and the BJP. The late Mufti knot­ted a bond with the BJP termed the "Agenda of Alliance" to address the long-pend­ing Kashmir issue.
The main points of that agenda were that BJP will not make any changes in the spe­cial status of Jammu and Kashmir guar­an­teed under Article 370, and they will bring sep­a­ratists and Pakistan to the table for talks.
With the death of Mufti, how­ev­er, he was suc­ceed­ed by his daugh­ter, Mehbooba Mufti. The sit­u­a­tion soon slipped out of her grasp.
On June 19, 2018, the BJP final­ly pulled out of the coali­tion gov­ern­ment, claim­ing that "Mehbooba failed to handle the sit­u­a­tion in the valley." Pulling out of the coali­tion was fol­lowed soon after by the abro­ga­tion of Article 370, in direct vio­la­tion of the pre­vi­ous promise.
With no elect­ed gov­ern­ment in the region, Drabu explains that there are only two things left in Kashmir now, "sep­a­ratists and stooges." He con­tin­ues: "There is no main­stream now. India killed the idea of the main­stream in the region. So, how can any­body now even pick the main­stream? The middle ground has been oblit­er­at­ed and, as I see it, this was a major con­se­quence of the move."
Waheed thinks back to 2010, when he joined main­stream pol­i­tics after work­ing in the social sector since his col­lege days. He was fas­ci­nat­ed by the idea of the late Mufti, who empha­sized the idea of "self-rule" as a way for­ward for the Kashmir prob­lem.
"We worked hard to inject the idea of rec­on­cil­i­a­tion and main­stream among people. It was a very dif­fi­cult jour­ney to make people believe in elec­toral pol­i­tics," he told The Diplomat.
But, in his telling, all that hard work proved to be in vain once all the promis­es and assur­ances that were made by the main­stream par­ties over the years turned out to be false. In Jammu and Kashmir, people are direct­ly blam­ing main­stream par­ties for the abro­ga­tion of Article 370.
A major­i­ty of Kashmiris believe that the PDP paved the way for the BJP in the state by form­ing a coali­tion gov­ern­ment with them.
On the ground in Kashmir, one could easily sense there are no more hopes or expec­ta­tions for main­stream lead­ers. All of them have lost cred­i­bil­i­ty and are dis­con­nect­ed from the major­i­ty of people.
On the other hand, based on the state­ments of former senior polit­i­cal lead­ers, it seems they have also aban­doned their hopes for a revival of the orig­i­nal jour­ney toward main­stream pol­i­tics.
"Is there any road map from any polit­i­cal party to over­come the cur­rent sit­u­a­tions?" Waheed won­dered. "We are living a life where one could easily see a bleak future."
Collapsed Economy and Rise in Militancy
Sitting on the veran­da of his two-story house, Waheed said that after the abro­ga­tion of Article 370, thou­sands of people were left job­less. The father of two expressed that the abro­ga­tion of the state's spe­cial status not only jolted people emo­tion­al­ly, but it also had seri­ous neg­a­tive impacts on them – not at once, but grad­u­al­ly.
Kashmiris are yet to recov­er from the blow dealt by the Modi gov­ern­ment on August 5. The evac­u­a­tion of all tourists from the region and the lock­down in the abrogation's after­math ensured the crum­bling of the busi­ness sector as well as halt­ing the trans­port system in Kashmir. Work was dif­fi­cult to find.
"This is what the BJP was aiming to do with Kashmiris – crush them eco­nom­i­cal­ly and men­tal­ly and show the entire world that every­thing is normal in Kashmir," said Waheed.
According to Kashmir Chamber of Commerce and Industry (KCCI) President Sheikh Ashiq, Kashmir had suf­fered eco­nom­ic losses worth 400 bil­lion Indian rupees (rough­ly $5.3 bil­lion) since August last year. Talking to The Diplomat, he said that the econ­o­my is sink­ing and "near­ing col­lapse."
Professor Nasir Ali, a promi­nent Kashmir-based econ­o­mist, agreed that Kashmir's econ­o­my is in sham­bles. He expressed that for the last many years, there has been an unfa­vor­able busi­ness cli­mate in the region due to pro­longed unrest.
"It wors­ens fur­ther after August 5. Every sec­tion is facing crises in the cur­rent times," said Ali. The eco­nom­ic tur­moil "will have grave social impact."
The move also gave a new impe­tus to the rebel move­ment in the region. After the killing of pop­u­lar rebel com­man­der Burhan Wani, south Kashmir became a hotbed for new-age mil­i­tan­cy. Now the mus­cu­lar policy from the BJP and ill-treat­ment of locals by the Indian forces have widened militancy's roots from south to cen­tral and north Kashmir.
According to a report by Jammu and Kashmir Coalition of Civil Society (JKCCS), a human rights orga­ni­za­tion work­ing in Indian-admin­is­tered Jammu and Kashmir, the first seven months of 2020 have wit­nessed at least 347 killings in dif­fer­ent inci­dents of vio­lence, includ­ing the killings of 74 civil­ians.
From January 1 to August 1, more than 197 mil­i­tants were gunned down in dif­fer­ent coun­terin­sur­gency oper­a­tions, of which 83 per­cent were locals. As per the offi­cial data, there has been a surge in mil­i­tant killings com­pared to 2019, in which 159 mil­i­tants were killed in the entire year, with 80 civil­ian killings.
The Diplomat spoke to locals, includ­ing rebel fam­i­lies in south­ern Kashmir, to under­stand the reason for rebel recruit­ment in the area. Most of them expressed that the ill-treat­ment and con­tin­u­ous harass­ment by Indian forces, in var­i­ous forms, has given a strong reason to take up arms.
Many crit­i­cize the cur­rent gov­ern­ment for giving a free hand to the secu­ri­ty forces and neglect­ing any polit­i­cal dia­logue over the Kashmir prob­lem.
Waheed believes that the grow­ing mil­i­tan­cy – and, more impor­tant­ly, the killing of mil­i­tants — actu­al­ly work in favor of the BJP gov­ern­ment. In a dis­ap­point­ed tone, he won­ders who is insti­gat­ing the youth to join rebel groups.
"The BJP's ide­ol­o­gy is to insti­gate youth for mil­i­tan­cy and present their killings as big achieve­ments in main­land India. And it actu­al­ly works," he said sadly.
A Dangerous Silence
As coun­terin­sur­gency oper­a­tions have surged, the valley's inter­nal pol­i­tics are also in tur­moil. The region has been torn apart polit­i­cal­ly since the fall of the gov­ern­ment in 2018, when the BJP with­drew its sup­port for the PDP.
As it turned out, the change in the BJP's Kashmir policy not only pre­pared the ground for the abro­ga­tion of Article 370, but ensured no oppo­si­tion from Kashmiri politi­cians. Being placed under arrest for months made most of them keep silent.
Waheed said that he sees no road map ahead for Kashmir polit­i­cal­ly. "As a polit­i­cal worker, I don't see any future in the main­stream. The sit­u­a­tion had already slipped from bad to worse."
Drabu explained it in more aca­d­e­m­ic terms in a recent article: "The August 5 abro­ga­tion has, in the words of Perry Anderson, destroyed their "seri­al­i­ty" — the social con­struct that under­lies their polit­i­cal exis­tence."
"The limits of main­stream polit­i­cal lead­er­ship in [Jammu and Kashmir] have been bru­tal­ly exposed. No wonder, in the last one year, no polit­i­cal for­ma­tion has taken shape, despite quite a few failed attempts," he added.
Drabu added that Kashmir's rela­tion­ship with India is now back again in con­ver­sa­tion — hushed at the moment, but very much audi­ble.
The abro­ga­tion, he argued, has only inten­si­fied sep­a­ratist sen­ti­ments. "It has pro­vid­ed them with a renewed jus­ti­fi­ca­tion. But more than that, it has strength­ened the sen­ti­ment of sep­a­ratism among people. How this will find expres­sion in local pol­i­tics is a big impon­der­able. A year down the line, it appears that while slay­ing a shadow, the sil­hou­ette has been sharp­ened."
Speaking to The Diplomat, Drabu pre­dict­ed that the ulti­mate results of the move will not come out imme­di­ate­ly. He cited a Kashmiri adage: "Anyone who eats beans does not show imme­di­ate results; the results appear later."
"The pic­ture of Kashmir is suf­fo­cat­ing. There is anx­i­ety, fear, con­cern, and uncer­tain­ty. I think this is the lowest ever psy­cho­log­i­cal pres­sure that a Kashmiri is facing today. But it can't go on for­ev­er like this," he expressed sadly.
Experts believe that the silence of people about the dras­tic changes in Kashmir should not be ignored. Developments have been coming hard and fast: the abro­ga­tion of Article 370, the bifur­ca­tion of the state, a down­grade to a union ter­ri­to­ry, domi­cile law changes, delim­i­ta­tion of con­stituen­cies, noti­fy­ing "strate­gic areas" for use by the army, a six-month polit­i­cal logjam fol­lowed by a pan­dem­ic lock­down, and a con­nec­tiv­i­ty embar­go. All these moves are fan­ning the flames of pop­u­lar anger and it sooner or later it will burst out in a dis­as­ter. At the point, han­dling the result­ing crisis would be an uphill task for New Delhi.
Kaisar Andrabi is an inde­pen­dent jour­nal­ist from Srinagar. He was for­mer­ly with The Kashmir Walla and has con­tributed for Foreign Policy, Huffington Post, The Wire, FirstPost and others. He can be reached on Twitter at @KAndrabi