55 Dead, a Dozen Missing in Japan Floods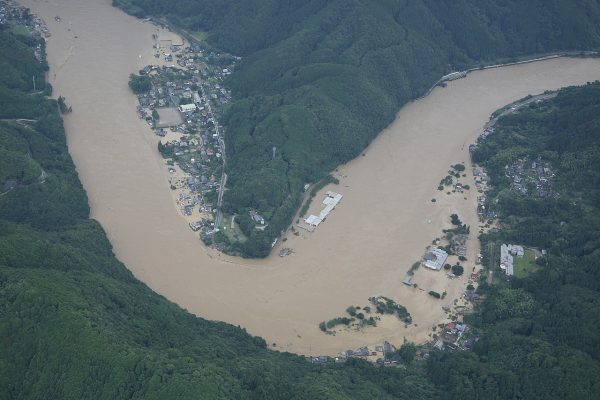 Soldiers used boats to rescue res­i­dents as flood­wa­ters flowed down streets in south­ern Japanese towns hit by heavy rains that were expand­ing across the region on Tuesday. At least 55 people have died and a dozen remain miss­ing.
Pounding rain since late Friday in the south­ern region of Kyushu has trig­gered wide­spread flood­ing. More rain was pre­dict­ed in Kyushu and the west­ern half of Japan's main island of Honshu as the rain front moved east.
In Fukuoka, on the north­ern part of Kyushu, sol­diers waded through knee-high water pulling a boat car­ry­ing a mother, her 2‑month-old baby, and two other res­i­dents.
"Good job!" one of the sol­diers said as he held the baby up to his chest while the mother got off the boat, Asahi video showed. Several chil­dren wear­ing orange life vests over their wet T‑shirts arrived on anoth­er boat.
An older woman told public broad­cast­er NHK that she start­ed walk­ing down the road to evac­u­ate, but flood­wa­ter rose quick­ly to her neck. Another woman said, "I was almost washed away and had to grab a elec­tri­cal pole."
The Fire and Disaster Management Agency said 49 vic­tims were from river­side towns in Kumamoto pre­fec­ture. Another victim was a woman in her 80s found inside her flood­ed home in anoth­er pre­fec­ture.
About 3 mil­lion res­i­dents were advised to evac­u­ate across Kyushu, Japan's third-largest island.
Tens of thou­sands of army troops, police, and other rescue work­ers mobi­lized from around the coun­try worked their way through mud and debris in the hard­est-hit river­side towns along the Kuma River. Rescue oper­a­tions have been ham­pered by the flood­wa­ter and con­tin­u­ing harsh weath­er.
Japan is at high risk of heavy rain in early summer when wet and warm air from the East China Sea flows into a sea­son­al rain front above the coun­try. In July 2018, more than 200 people, about half of them in Hiroshima, died from heavy rain and flood­ing in south­west­ern Japan.
In Kuma vil­lage in Kumamoto pre­fec­ture, dozens of res­i­dents took shel­ter under a roofed struc­ture in a park with no walls or floor. They sat on blue tarps spread on the dirt ground, with no par­ti­tions. The vil­lage office's elec­tric­i­ty and com­mu­ni­ca­tions had been cut.
Among the fatal­i­ties were 14 res­i­dents of a nurs­ing home next to the Kuma River, known as the "raging river" because it is joined by anoth­er river just upstream and is prone to flood­ing. Its embank­ment col­lapsed, let­ting water gush into the nurs­ing home.
By Mari Yamaguchi for The Associated Press.